Red Mirage Kushner has approached Trump about conceding the election, because BBQ, Beer, Freedom
5 min read
Darn crime families and their damn raccoons. Now they're using Sharpiestm. Because concessions are where you get your Barbecue and Beer, frothy beer.
— Renato Mariotti (@renato_mariotti) November 8, 2020
— Jonathan Mann (@songadaymann) November 6, 2020
Onetime GOP Sen. Rick Santorum argued on CNN on Saturday night that President Donald Trump won't simply concede because he lost the presidential race.
— Alec MacGillis (@AlecMacGillis) November 5, 2020
Trump was the

most unpopular president

of modern times: Divisive and alienating, he rarely sought to reach out to the middle and his erratic behavior and harder-edged policies were strongly opposed by most Americans. Even before this year, his reelection would have been difficult.

But the president finally lost, aides and allies said, because of how he mismanaged the virus. He lost, they said, over the summer, when the virus didn't go away as he promised; when racial unrest roiled the nation in the wake of George Floyd's death and protesters ran rampant through the streets; and when federal and local authorities gassed largely peaceful demonstrators in Lafayette Square across from the White House so Trump could stage a photo op. And he lost, they said, during a roughly three-week stretch from late September to mid-October, when an angry and brooding Trump heckled and interrupted his way through the first debate and then, several days later, announced he had tested positive for the coronavirus.

He also lost, aides added, after years of confrontational and incendiary conduct turned off independent voters, who finally said they had seen enough.

The same impulses that helped lift him to victory in 2016 — the outsider ethos; the angry, burn-it-all-down cri de coeur; the fiery and controversial rants; the false reality forged through untruths and deception — contributed to his undoing just four years later. Exhausted voters in Michigan, Wisconsin and Pennsylvania, who once gave Trump a shot, turned on him Tuesday.
— Barry Petchesky (@barry) November 8, 2020

— Sam Stein (@samstein) November 8, 2020
— Four Seasons Hotel Philadelphia at Comcast Center (@FSPhiladelphia) November 7, 2020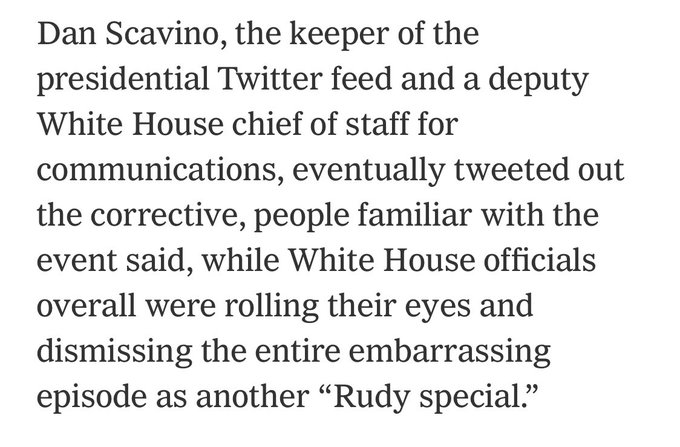 This was an American pantomime.
In the Four Seasons Total Landscaping parking lot the cameras were assembled, the sound levels checked, the pens were poised and the gates were closed. The world's press waited for the evidence that would blow this big scam wide open. The sun shone brightly.
Then, out of nowhere, a man with a European accent announced the news. "CNN has called the election for Biden!"
The assembled journalists were paralysed for a moment. Phones started to ring and calls were made. Some were given instructions to leave and started to do so.
Soon after, the sound of car horns honking and cheers in the street began to drift into the backlot of Four Seasons Total Landscaping.
[…]
Across the road, Kelisha Carter was jubilant. She had come down with two of her daughters and a giant Biden flag to soak up the atmosphere.
"Relief! There's some hope coming. God, I prayed for this," she said, when asked how she felt about the victory.
"It's not even that I don't like that man, I just don't like his tactics," she said of Donald Trump. "He just divides everybody. He brings the racists out of the closet. It's scary for Black people, it's scary for a lot of people. I have daughters and I have a husband that goes out every day and I want him to come home at night."
Her daughter Jada, who had earlier argued with the Trump supporters from her car, was too excited to stand still. She performed a backflip in the middle of the road.
The owner of the Fantasy Island adult book store had come out onto his porch to watch the circus. He stood and stared in disbelief until a customer jolted him awake again.
"Are you open?"
"Yes," he said, before following him inside.
It felt like an ending.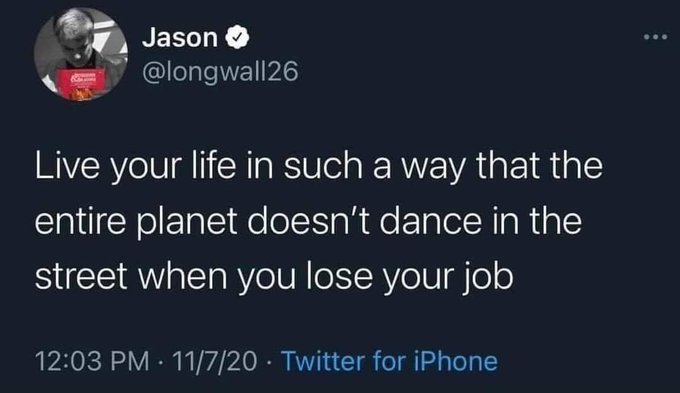 — Wear Mask: Save Lives (@DonaDickinson) November 8, 2020
— The Lincoln Project (@ProjectLincoln) November 7, 2020
<
p class="is-empty-p">