Last updated on March 3, 2021
CPAC showed that the GQP will go all Weekend at Bernies with Trump's carcass. Some of us don't care and hope he'll be alive enough to get prosecuted. But Trump's CFO, Allen Weisselberg needs to stay away from windows, negronis, and Fifth Avenue. "Weisselberg was given (limited) immunity for his testimony in the SDNY in 2018."
We immediately noticed the sweat pouring off (Trump) from the beginning and we noticed the usual slurring of speech. At this point, it would be a bigger surprise had he not slurred his words than when he had. But while we focused primarily on what he was saying, others picked up on tics that might indicate other more nuanced health problems. Below, Trump seems to get caught mid-sentence with some nervous-system spasm of some kind, always the right shoulder moves out of control, he gets stopped mid-word, and instead of saying "Corporatist… " it comes out "cop," or "coup" mispronounced, and then completes the sentence with an obvious slurred version of "corporatists."

It was an unusual tic, as he stopped, his shoulder raised and his breath seemed to suck-in. Odd. And worth noting in a man that says he wants to be president until 2028. (It is the second or Aaron's tweets down).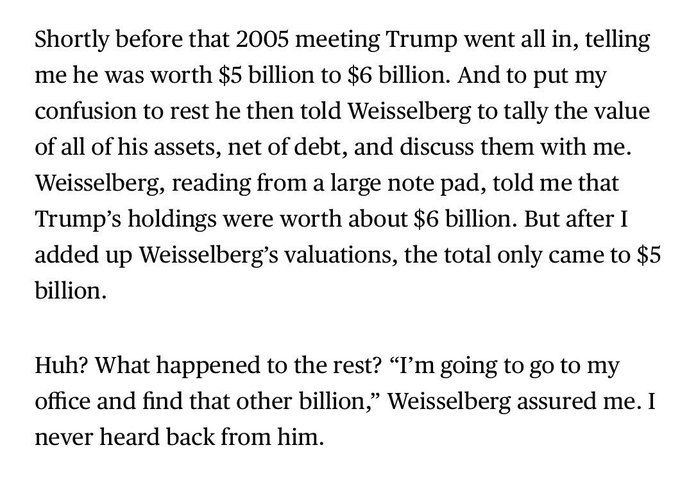 Today was big. We heard from NY that they are pursuing Weisselberg. And we heard from Georgia that the litany of potential charges they are pursuing includes racketeering.

— Duty To Warn 🔉 (@duty2warn) March 2, 2021
Why Weisselberg matters: "It was a forensic accountant — the guy who knew all the boring details about taxes and buried financial bodies — who ultimately brought down Al Capone."

Prosecutors have ample reasons – and leverage – to try flipping Weisselberg. https://t.co/0gKLGeoTMR

— Tim O'Brien (@TimOBrien) March 2, 2021
"They have also been looking at Jack Weisselberg, a director at Ladder Capital Corp., a commercial real estate lender that made several loans to the Trump Organization in the past decade." https://t.co/eTnPPizqrX

— overit (@Stephaniefishm4) March 2, 2021
No sooner did I tweet an article about Weisselberg, when here comes another name I wanted to hear – this one a potential cog in Trump's money laundering — Felix Sater.https://t.co/0rvZabvafx

— Duty To Warn 🔉 (@duty2warn) March 2, 2021
---
The Politicus is a collaborative political community that facilitates content creation directly on the site. Our goal is to make the political conversation accessible to everyone.
Any donations we receive will go into writer outreach. That could be advertising on Facebook, Twitter, and Reddit or person-to-person outreach on College campuses. Please help if you can:
---