FBI Director Wray to be questioned by Senate Judiciary Committee – look for GQP disinformation
Today will feature questioning of Christopher Wray about the intelligence on the Insurrection of 1/6. It's true that not ACAB, but an armed bunch of them showed up to foment sedition on 1/6. Accordingly, some GOP members of the judiciary committee will likely proclaim that they were shocked, shocked that anyone would contest the results of the election and seek to delay its certification in concert with a demonstration, march, and storming of the Capitol.
FBI Director Wray expected to face questions from Congress on Tuesday about whether his intelligence analysts missed warning signs before the riot at the US Capitol and how the bureau plans to confront the rising threat of domestic terrorism. https://t.co/L07VLuONPM

— NBC News (@NBCNews) March 2, 2021
@Acosta: Much of Wray hearing devoted to knocking down bogus conspiracy theories about Capitol siege, peddled by Trump apologists including several members of Congress.
The insurrectionists believed that "Law Enforcement Members of Oathkeepers" who were "10 minutes out" would serve as a "heavy" "Quick Reaction Force" (implying armed backup was available). It is why some of them were arrested in or near the Capitol carrying loaded magazines, but no firearms. Not all of them wanted a bloodbath but some were definitely ready to shed blood for The Donald.
Anti-government "Oath Keepers" militia members had planned to have an armed "quick reaction force" staged outside D.C. and ready "to fight hand to hand" on January 6 if ordered by Trump, prosecutors said.
The federal government's "working understanding" is that the Oath Keepers had a "quick reaction force" stationed outside the District of Columbia, with weapons, on January 6.https://t.co/svAzVsi51u via @jvgarrison

— George W. Papajohn (@GeorgeWPapajohn) February 26, 2021

A federal prosecutor said Friday that the federal government's "working understanding" is that the Oath Keepers had a "quick reaction force" stationed outside the District of Columbia on Jan. 6, prepared with weapons during the siege at the Capitol.
Speaking in open court, prosecutors provided few additional details of what would represent evidence of a much larger threat to Congress and then–vice president Mike Pence on that day than previously known. None of the Oath Keepers charged so far are accused of carrying or using weapons, but the suggestion that they had a plan to access arms raises the specter that the insurrection could have been even more violent and dangerous for police and lawmakers inside the Capitol.
After US District Judge Amit Mehta pressed for more information, he and Assistant US Attorney Ahmed Baset quickly moved into an off-the-record session to discuss the government's evidence.
The comments came during a detention hearing for Jessica Watkins, 38, the member of the Oath Keepers from Ohio charged with conspiracy and other crimes for leading others from that group into the Capitol. Watkins is facing some of the most serious charges to come out of the insurrection. A grand jury indicted her and eight others associated with the Oath Keepers on charges of descending on the Capitol in "an organized and practiced fashion" to stop Congress from certifying the election of Joe Biden as president.
Many white nationalists brought military and law enforcement tactics to the Capitol riot. They learned on the job. https://t.co/DhcMADzExZ

— Slate (@Slate) March 2, 2021
https://twitter.com/robert2112o/status/1364307707918909440?ref_src=twsrc%5Etfw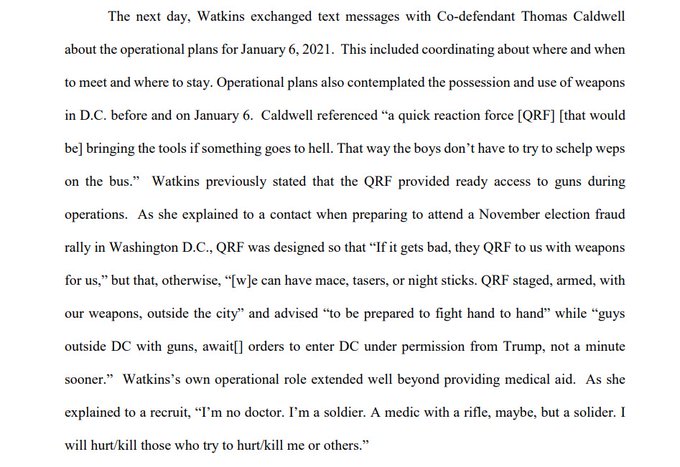 "I hear people say that Republicans are afraid of Donald – no they're not. They ARE him," says @MaryLTrump. They are sticking with the guy who gives them permission "to be their worst selves."
Did insurrectionists rely on more than a few a few insiders.
Black Cops Warned About Racist Capitol Police Officers for Years https://t.co/iGUOvMwIgM

The Capitol Police are the weakest link in the security failure of January 6. They must be carefully investigated & bad officers rooted out. More African Americans must be hired.

— Bill Both (@BCISLEMAN) January 15, 2021
NEW VIDEO: #ArmedInsurrection TURN UP SOUND!

Ron Johnson said this week that the January 6 attack "didn't seem like an armed insurrection." This was an inexcusable lie—and as short as attention spans can be, we can't let it disappear unnoticed. Can you help share this tweet? pic.twitter.com/aTp4LsB1EA

— Ben Wikler (@benwikler) February 18, 2021
Johnson prefaced this comment by claiming that Democrats are painting a picture of every Trump voter being a violent rioter. Certainly not everyone in the crowd was armed. And many clearly came intending only to peacefully protest.
But claiming this was not an armed insurrection goes well behind this line of thinking.
Many in the crowd attacking the Capitol have said their intent was to stop the vote confirmation and keep Trump in office despite the election results. That's an insurrection.
That leaves us with his objection to the word "armed."
Yes, carrying a gun would constitute being armed. But the definition of the word is much more broad, referring simply to carrying a weapon. So the question is whether this insurrection involved people carrying weapons.
And it certainly did.
"The cops weren't searching people," Mark Jones, a former agent of the Bureau of Alcohol, Tobacco, Firearms and Explosives with 20 years of counterterrorism experience told NBC News in a Jan. 13, 2021, story. "I'd speculate that there were many, many more firearms that were there that were not uncovered."
But news and official reports are filled with accounts of armed people at the Capitol.
Fourteen people tied to the Jan. 6 attack are facing federal charges related to bringing or using dangerous weapons inside the building and two are facing firearms-related charges, according to the U.S. Attorney's Office for the District of Columbia.
NBC News reported that within a week after the attack a dozen guns and thousands of rounds of ammunition had been found on seven people arrested before and after the Capitol riot.
Cleveland Grover Meredith, drove to Washington from Colorado with an assault-style Tavor X95 rifle with a telescopic sight, a Glock 9 mm with high-capacity magazines and more than 2,500 rounds of ammunition, including at least 320 rounds of armor-piercing bullets, NBC reported. Reuters said Meredith texted "War time" after hearing Vice President Mike Pence would count electoral votes from states Trump lost.
In the trunk of Lonnie Coffman's vehicle, police found an AR-15-style rifle, a shotgun, a crossbow, several machetes, smoke grenades and 11 Molotov cocktails, Reuters reported. Another man, Christopher Alberts of Maryland, was stopped as he left the Capitol grounds after a police officer spotted a loaded handgun on his hip.
Unfortunately there were official and unofficial Quick Reaction Forces that might have clashed and for some insurrectionists, there was the hope that there would be a Trumpian moment of unity.
Trump's Acting Secretary of Defense issued the following guidance for January 6.

Despite the known threats to security of the Capitol Building, the last paragraph begins "You may employ the Quick Reaction Force only as a last resort." pic.twitter.com/KPOkS74LcE

— November Coalition (@11coalition) January 31, 2021

Perhaps other police operational practices need to be examined, especially in the victimless crimes.
"The undercover can have a nice, cold beer and watch a girl take her clothes off — and he's getting paid for it."https://t.co/NTh3QknPkw

— ProPublica (@propublica) March 2, 2021
House Tees Up Vote on Election and Police Reform Bills @JackRodgersCNS https://t.co/nApsWuIKgm

— Courthouse News (@CourthouseNews) March 2, 2021