Last updated on September 6, 2020
More Trump nonsense, perpetuating a lie, and Trump will bring it Tuesday to Kenosha, Wisconsin.
America has always been at war with Eastasia. Portland and Kenosha. You'd think someone would have noticed all those decades of a burning Portland. then again "Trump says Biden is controlled "by people who are in the dark shadows".
Trump is scheduled to spend 1 hour and 45 minutes in Kenosha, Wisconsin.
Trump will visit "property affected by recent riots" and an emergency operations center.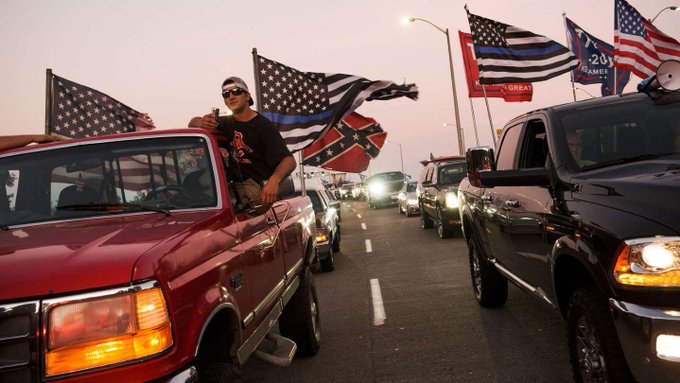 All of this derives from one central tension: Violence is occurring while Trump is president. As with everything else, Trump insists it's not his fault, just as the faltering economy is the coronavirus pandemic's fault and just as the pandemic is China's fault. Since it's not his fault, it has to be someone else's, and it's useful to say that the fault lies with Biden and the Democrats.
Again, no one argues that violent acts have occurred. Where disputes arise is in scale: Trump and boosters such as Fox News's Tucker Carlson often conflate violence and protests broadly, while Democrats draw distinctions. Disputes also arise regarding culpability. Trump claims that there's nothing he can do about the violence and a lot that Biden can, so the president argues that he should be reelected so that he can do something about it while Biden wouldn't.
Trump compares killing an unarmed black civilian to missing a three foot putt in a golf tournament…
On the eve of his visit to Kenosha, Pres Trump cited the police shooting of Jacob Blake, asking whether the police could have "done something different?" "Couldn't you have wrestled him?" the Pres told @IngrahamAngle. But then said, "he might have been going for a weapon."
---
The Politicus is a collaborative political community that facilitates content creation directly on the site. Our goal is to make the political conversation accessible to everyone.
Any donations we receive will go into writer outreach. That could be advertising on Facebook, Twitter, and Reddit or person-to-person outreach on College campuses. Please help if you can:
---