another Trump lie: "Portland has been burning for many years, for decades it's been burning"
6 min read
More Trump nonsense, perpetuating a lie, and Trump will bring it Tuesday to Kenosha, Wisconsin.
America has always been at war with Eastasia. Portland and Kenosha. You'd think someone would have noticed all those decades of a burning Portland. then again "Trump says Biden is controlled "by people who are in the dark shadows".
Trump is scheduled to spend 1 hour and 45 minutes in Kenosha, Wisconsin.
Trump will visit "property affected by recent riots" and an emergency operations center.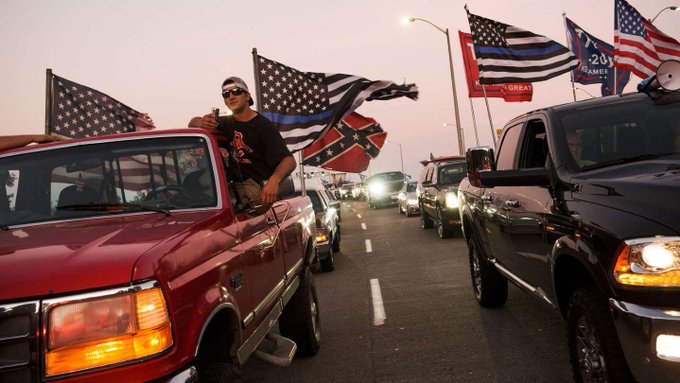 Trump begins his hour-long interview Laura Ingraham by saying "Portland has been burning for many years, for decades it's been burning," which is a lie pic.twitter.com/wbzMqy6Uyj

— Aaron Rupar (@atrupar) September 1, 2020
Trump tells Laura Ingraham that Portland has been burning for "years," "years and years of burning," then amends it to "decades." (This is all nonsense.) He says it's like "a city someplace in the world that's not so good" but that he won't name that not-so-good city.

— Daniel Dale (@ddale8) September 1, 2020
We can stipulate a few things as we get underway here. One is that there have been incidents of violence in several U.S. cities this summer, including looting and arson. Another is that some of those incidents have followed or accompanied protests focused on police accountability and race. Another is that most protests that have occurred over the past few months have not resulted in such acts.
We can also stipulate something relatively noncontroversial: The president of the United States is, as of writing, Donald Trump.
In other words, the violence that has occurred has occurred with Trump in the White House. Which makes it quite hard for Trump to argue that the United States must reelect him in November so that he can constrain the violence. If it is unconstrained currently, and he is president currently, it's not clear how his being in the White House necessarily makes things better.
All of this derives from one central tension: Violence is occurring while Trump is president. As with everything else, Trump insists it's not his fault, just as the faltering economy is the coronavirus pandemic's fault and just as the pandemic is China's fault. Since it's not his fault, it has to be someone else's, and it's useful to say that the fault lies with Biden and the Democrats.
Again, no one argues that violent acts have occurred. Where disputes arise is in scale: Trump and boosters such as Fox News's Tucker Carlson often conflate violence and protests broadly, while Democrats draw distinctions. Disputes also arise regarding culpability. Trump claims that there's nothing he can do about the violence and a lot that Biden can, so the president argues that he should be reelected so that he can do something about it while Biden wouldn't.
Trump responds to Biden's remark that he's too weak to denounce his own violent supporters: "Look, he's a weak person. He's been weak all his life but now he's really weak. He shouldn't be running for president. He should not be there."

— Sahil Kapur (@sahilkapur) September 1, 2020
Asked if he wants his supporters to confront protesters, Trump says, "I want to leave it to law enforcement, but my supporters are wonderful, hardworking, tremendous people and they turn on their televisions and they look at a Portland or a Kenosha … they can't believe it." pic.twitter.com/tlFC1PvOp5

— Aaron Rupar (@atrupar) September 1, 2020
This is among the most bad faith arguments of all time. Trump's entire pitch is that if you don't vote for him, the country will become a Mad Max hell hole. But if Biden says it, it's "extortion"? https://t.co/HxA56hjM3V

— Sam Stein (@samstein) August 31, 2020
he's out of his mind pic.twitter.com/gsOW0go5BV

— Aaron Rupar (@atrupar) September 1, 2020
Trump compares killing an unarmed black civilian to missing a three foot putt in a golf tournament…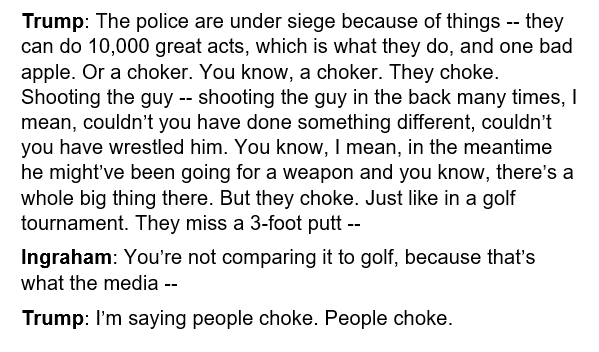 What the absolute fck??? https://t.co/NzFceR0NR9

— Charles P. Pierce (@CharlesPPierce) September 1, 2020
This appears to be an extension of the viral "Antifa is coming to the suburbs" trope that went wildly viral on Facebook and text messages in June.

The Idaho Statesman and Payette County Sheriff's office debunked this specific viral rumor.

h/t @DoktorZoomhttps://t.co/zA221Cl68c

— Ben Collins (@oneunderscore__) September 1, 2020
https://twitter.com/realDonaldTrump/status/1300420725837266944?ref_src=twsrc%5Etfw
Kenosha after curfew. pic.twitter.com/lmsOr3RHoX

— Richard Hall (@_RichardHall) September 1, 2020
A Kenosha police officer asked me if I was exempt from curfew as a reporter.

He asked repeatedly, in a rhetorical way, as though he wanted me to agree with him.

As far as I understand it, working press have 1st amendment rights that would trump any curfew order. https://t.co/FukZL3gIgh

— Jonathan Ballew (@JCB_Journo) September 1, 2020
The National Guard is rolling into Kenosha. As am I #Kenosha #KenoshaProtests pic.twitter.com/mDP1ZNvBqO

— Brendan Gutenschwager (@BGOnTheScene) September 1, 2020
On the eve of his visit to Kenosha, Pres Trump cited the police shooting of Jacob Blake, asking whether the police could have "done something different?" "Couldn't you have wrestled him?" the Pres told @IngrahamAngle. But then said, "he might have been going for a weapon."
102 of 175 arrested in Kenosha were not from Kenosha. the murderer drove from Illinois.

an Idahoan organized the caravan of antagonists who drove from Clackamas through Portland.

Trump warns violent crime will be driven from cities to suburbs, but the opposite has been true. https://t.co/TiA3ThONuu

— Jesse Lehrich (@JesseLehrich) August 31, 2020
Breaking: There was nothing routine about Donald Trump's visit to Walter Reed Hospital last November. NY Time Michael Schmidt reports Mike Pence was put on standby when Trump was taken to Walter Reed suddenly on suspicion of having a stroke. https://t.co/RyCa44R5j1

— Zev Shalev (@ZevShalev) August 31, 2020
Yes, Donald Trump is actually defending the right-wing vigilante that murdered two people. https://t.co/dsMIePLjyv

— Rep. Mark Pocan (@repmarkpocan) September 1, 2020
Speaking of not getting the full story. https://t.co/KHA8NwFO44

— Jennifer Cohn ✍🏻 📢 (@jennycohn1) September 1, 2020
https://twitter.com/7im/status/1300637842356363265?ref_src=twsrc%5Etfw
.@joshscampbell in Portland: "Today, I went to a Starbucks downtown, ate lunch at one of the city's famous downtown food trucks, and bought a new pair of shoes at the mall. As I write this, I'm looking out of my hotel room at a bike tour riding by outside on the downtown street." https://t.co/hj4Zke3Ss7

— Daniel Dale (@ddale8) September 1, 2020
NYT confirms reporting by myself and @RPeavyhouse that Aaron J. Danielson attended the Trump 2020 caravan staging area, Clackamas Town Center mall https://t.co/kgg1WB1itC

— Zane Sparling (@PDXzane) September 1, 2020
I urge President Trump to join me in saying that while peaceful protest is an important right — violence is wrong. Period.

If he can't say that, then he is unfit to be President. https://t.co/W4sjpF0Z3V

— Joe Biden (@JoeBiden) September 1, 2020