Last updated on April 14, 2020
Trump is barely conscious of the need for COVID-19 testing because he knows that more accurate data tanks his re-election. By displacing the activity to the states, he can attempt to segregate his responsibility for the damage done by his 70-days of deadly delay from his search for blame-targets.
Total US covid-19 deaths as of Fri, April 10: 18,693
Increase in the last 24 hours: 2,021 (+12%)
–> Single deadliest day in the US epidemic
–> 28 days to reach 2,000 deaths total (3/1-3/28)
–> 24 hours to add 2,000 deaths (4/10)
A national plan to fight the coronavirus pandemic in the United States and return Americans to jobs and classrooms is emerging — but not from the White House.

Instead, a collection of governors, former government officials, disease specialists and nonprofits are pursuing a strategy that relies on the three pillars of disease control: Ramp up

testing

to identify people who are infected. Find everyone they interact with by deploying contact tracing on a scale America has never attempted before. And focus restrictions more narrowly on the infected and their contacts so the rest of society doesn't have to stay in permanent lockdown.

But there is no evidence yet the White House will pursue such a strategy.

Instead, the president and his top advisers have fixated almost exclusively on plans to reopen the U.S. economy by the end of the month, though they haven't detailed how they will do so without triggering another outbreak. President Trump has been especially focused on creating a

second coronavirus task force

aimed at combating the economic ramifications of the virus.
Trump: "We have to get our country open."

Question: "Will you say, sir, what metrics you will use to make that decision?"

Trump: "The metric's right here." [Points to head] pic.twitter.com/f7WWnHwW4Y

— The Hill (@thehill) April 11, 2020
2,500 Americans died storming the beaches on D-Day.

2,000 Americans died today of COVID-19.

But the ratings are good. https://t.co/Zjg0Bid8NC

— Chris Murphy (@ChrisMurphyCT) April 11, 2020
Trump says he doesn't think a massive testing protocol will be necessary because "people are not going to go to the hospital, people are not going to get sick" — completely overlooking that asymptomatic people can spread the coronavirus pic.twitter.com/skP97TcEsq

— Aaron Rupar (@atrupar) April 10, 2020
Fauci Refuses to Say When It Would Be Safe to Reopen Trump's Mouth: "The problem, Jake, is that, when his mouth is closed, we start making progress," Fauci said. "Keeping his mouth closed is the one thing we know that works." Lol #trumpcovidfails https://t.co/e4nAqAbQIj

— Duty To Warn 🔉 (@duty2warn) April 11, 2020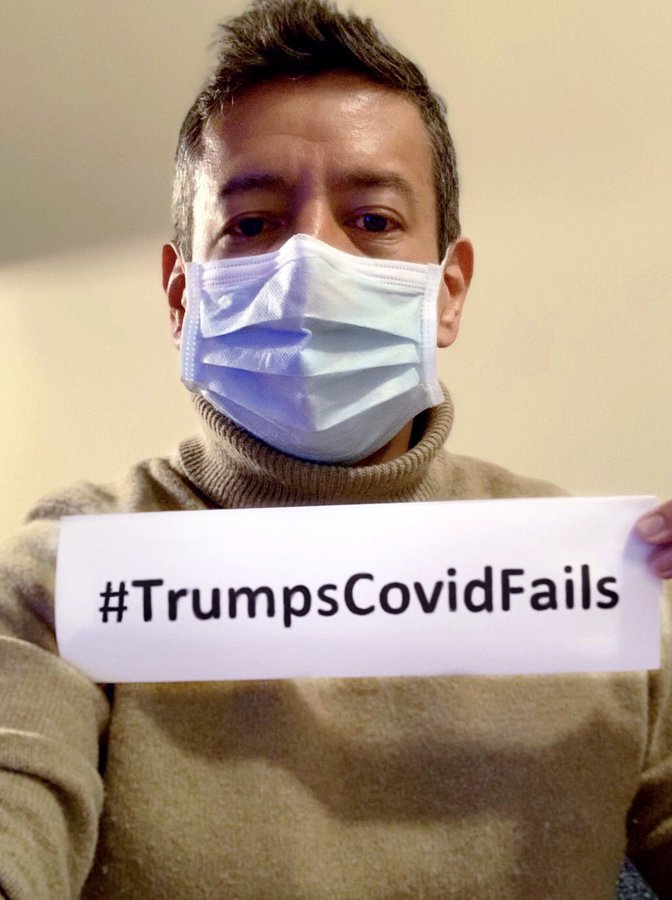 We're not there yet. There are places in the US where people can get tested at drive-through sites – but there are also places where it's extremely difficult to get a test unless you're hospitalized. And the US still hasn't run as many tests per capita as hard-hit Italy. (20/23) pic.twitter.com/hTObDcD8bj

— Dr. Sanjay Gupta (@drsanjaygupta) April 10, 2020
2/ It's a bitter example of what can go wrong when local governments try to buy supplies on the open market from unknown manufacturers. https://t.co/snyw8mgdfU

— Texas Tribune (@TexasTribune) April 10, 2020
---
The Politicus is a collaborative political community that facilitates content creation directly on the site. Our goal is to make the political conversation accessible to everyone.
Any donations we receive will go into writer outreach. That could be advertising on Facebook, Twitter, and Reddit or person-to-person outreach on College campuses. Please help if you can:
---