'You really drank the Kool-Aid', says greater risk to US election integrity than foreign rivals
Just another news day and at least one or two more news cycles with 54 days left.
How pathological is this tweet.
— John Harwood (@JohnJHarwood) September 10, 2020
— CNN Opinion (@CNNOpinion) September 9, 2020
— Max Bergmann (@maxbergmann) September 10, 2020
— Andrew C Laufer, Esq (@lauferlaw) September 10, 2020
Why it matters: We get a torrent of tweeted and spoken words from Trump — far more public musing, riffing and ranting than from any president, ever. But it's not always clear what to believe, what matters, or what will endure. Now, we can read and hear Trump free-associating for history.

Woodward tapped Trump's vanity and insecurity to secure an astonishing 18 interviews, totaling nine hours, with the most powerful man in the world.

Woodward was allowed

to record all the on-the-record sessions. Audio

snippets

were released yesterday along with

extensive excerpts

from the book, out Tuesday.

We know Trump likes to talk to famous people — he complained publicly after he wasn't interviewed for Woodward's brutal 2018 Trump book, "Fear."

And we know Woodward

is seductive. "Every president does a Bob Woodward book … and then later comes to regret it," Karl Rove

told

Fox News.
So now we have the president

— as he fights for reelection 54 days before Election Day — admitting that he deliberately "played down" the coronavirus, at a time when more urgency could have saved lives … blithely rejecting Woodward's suggestion that white privilege is isolating, and that "we have to work our way out of it to understand the anger and the pain … black people feel" ("You really drank the Kool-Aid … I don't feel that at all") … and once again using a "p"-word variant, this time to

refer to generals

instead of genitals.
— Jonathan Lemire (@JonLemire) September 10, 2020
Where is this coming from.
Why would Trump retweet fat jokes about himself.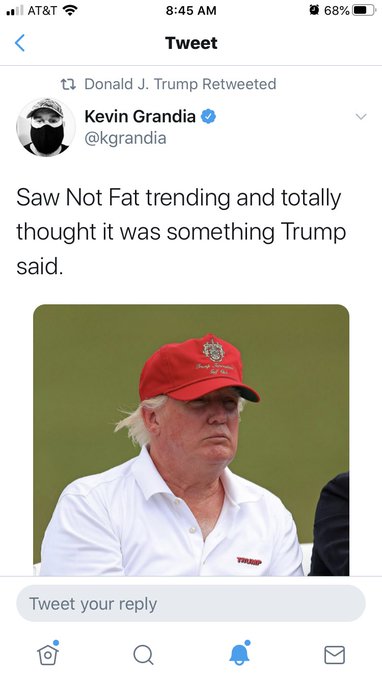 <
p class="is-empty-p">