Wut? Trump flees to Mar-a-Lago, which should be St. Helena, not Elba.
Following through on his Twitter threats, @realDonaldTrump has officially vetoed the NDAA. Regardless there will be a likely congressional override. He has now set off for Mar-a-Lago, threatening Iran with a tweet while in the air.
After Congress overrides, he'll call the override "the biggest crime in the history of our great country." https://t.co/xcxkH8dObe

— Bob Cesca (@bobcesca_go) December 23, 2020
The NDAA passed both chambers of Congress by margins large enough to override the veto, though some Republicans may decide against challenging the president. Congress has until Jan. 2 to override the veto, which would be the first during the Trump admin. https://t.co/nCqYbcfbWt

— MSNBC (@MSNBC) December 23, 2020
"Complete clusterf—," summarized one top Republican Hill aide.
The repercussions of inaction could be dramatic. If lawmakers and White House aides can't convince the president to sign a funding and Covid relief package by Monday, the government will enter the fourth shutdown of Trump's presidency. And millions of Americans had been told to expect another round of direct payments from the government shortly, while businesses across the country were expecting more financial assistance.
Yet Trump is getting out of town Wednesday afternoon, set to leave for his South Florida Mar-a-Lago resort, where he plans to stay through the new year. And no one seems to know what will happen next.
The sudden limbo reflects how Trump has combatively approached his final days in office. Trump's main goal, said those close to the president and White House, is to grab attention and send a message to his base that he's more supportive of Americans than Congress as he plots a run for reelection in 2024. And, in some ways, the strong GOP support for the bill has given Trump little reason to publicly support it. The measure is expected to eventually become law, whether by Trump relenting, Congress overriding a veto or President-elect Joe Biden entering office.
— ptothed🗡⚖️🇺🇸⚖️🗡 (@ptothed1) December 23, 2020
https://twitter.com/realDonaldTrump/status/1341862955604975617?ref_src=twsrc%5Etfw
The manner of President Trump's departure from power has clarified why he must never hold power again, @MJGerson writes https://t.co/erPraKAPBH

— Washington Post Opinions (@PostOpinions) December 23, 2020
Looking on the bright side of a humiliating national disaster, the manner of President Trump's departure from power has clarified why he must never hold power again.
In leaks to a variety of news organizations, senior Trump administration officials reported: 1) Rudolph W. Giuliani urging the federal government to illegally seize Dominion voting machines; 2) presidential consideration of deranged conspiracy-monger 
Sidney Powell
 as a special counsel investigating nonexistent election fraud; and 3) a White House meeting involving disgraced former national security adviser 
Michael Flynn
 at which Trump discussed the imposition of martial law.
These accounts indicate the emergence of two distinct factions within Trump's inner circle. On one side are the lunatics — among them Giuliani, Powell and Flynn — who want Trump to violate laws and assume authoritarian powers. On the other side are sycophants who supported Trump's spurious legal challenges to the election result but apparently draw the line at treason. By most accounts, Trump's sympathies lie with the lunatics.
[…]
In the Trump presidency, the worst days are always the most authentic days. And each day now seems more revealing than the last. Desperation has shown Trump's instincts and nature as never before. He is an authoritarian wannabe. Those who love our system of government must now share one, overriding goal: to ensure that Mar-a-Lago is Trump's St. Helena, not his Elba.
This isn't a policy fight, they say. This is a reaction to being abandoned.

IT'S NOT CLEAR who has the president's ear at this point — if anyone does at all. He's leaving for Florida this afternoon in the 4 p.m. hour.

— Jake Sherman (@JakeSherman) December 23, 2020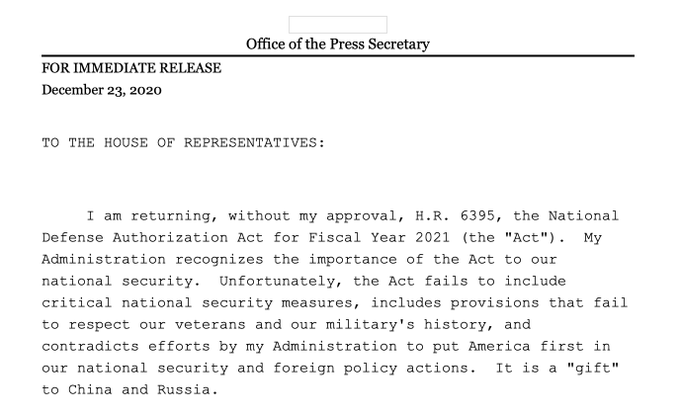 "And the reality is is that this is an act of sedition. This president is engaging in illegality, and the fact that he would even consider martial law is an affront to our values, and to the Constitution."

During an interview with SiriusXM's Dean Obeidallah that aired on Wednesday, New York Attorney General Letitia James claimed that Donald Trump's attempt to overturn the 2020 election results amounts to "an act of sedition," Mediaite reported.

"The days of President Trump are closely coming to an end," she said.
Donald Trump Has Committed 'An Act Of Sedition,' New York Attorney General Says #USPolitics https://t.co/xpu2t5Kgfv

— The Inquisitr (@theinquisitr) December 23, 2020
Putin Grants Lifetime Immunity to Russian Ex-Presidents (like himself) and Their Families
(Donald, are you listening?) https://t.co/pOPD0gT9eb

— Mike Walker (@New_Narrative) December 23, 2020
Impressive. Maria Bartiromo Tricked by Animal Activist Posing as Meat Company CEO https://t.co/xvrc6IN7qv via @thedailybeast

— Dom Beveridge (@dombeveridge) December 23, 2020

This is the Trump administration:
No. Way… https://t.co/xpWoois7cp

— Rex Chapman🏇🏼 (@RexChapman) December 23, 2020