Philip Bump has the goods: it is nearly impossible for the fraud claimed by Trumpists to have occurred in 2020. No evidence has emerged to support an already conspiracy-ridden and ignorance-addled group of crypto-fascists bent on creating a dictatorship for a game-show demagogue. Yet they are even grifting money from the "alternate electors" lists created for some GOP Congressional stunt in January.
Over and over again, the same pattern holds: There are no anomalous vote totals in counties in the swing states. If anything, large counties like Milwaukee in Wisconsin or Philadelphia in Pennsylvania had more Trump-friendly outcomes than other places or smaller increases in vote totals. That's because Biden's win was powered not by swings in big cities in swing states as much by growth in suburban areas, as we

documented

last week.

The graph (above) compares the change in vote margin from 2016 with the change in the number of votes cast. Higher circles are counties where the vote total increased more; circles at the left are counties where the vote margin shifted more to Biden. What you'll notice is that, in most states, there's a fairly uniform increase in turnout and a disparate shift in the vote margin, though one that generally moves to Biden — as you'd expect, given that he won.

[…]

If you think that Michigan created enough votes to hand Biden the election — 155,000 or so — you have to figure out where those votes show up in the totals. If it wasn't in Wayne County, perhaps they were divvied up across the state's 83 counties somehow. But that then implies a widespread conspiracy of the sort outlined above, and dramatically increases both the burden of proof for those making the allegation and the likelihood that evidence of the conspiracy would have shaken loose.

[…]

Over the course of the past five weeks, there have been enormous numbers of allegations made, none of which —

none

— has been shown to actually represent any significant fraud. There has been no court case in which a judge was compelled to throw out any presidential votes and no evidence presented publicly which proves that presidential votes should be considered as suspect. There have been repeated promises that such evidence exists and will be presented at the appropriate time as the process of certifying Biden as the election's winner continues without interruption.

Our political process depends heavily on our sharing an understanding of what has and what hasn't happened. What happened in the 2020 presidential contest is that 7 million more Americans voted for Biden than Trump, in part because Trump was a

deeply polarizing president

. What hasn't been demonstrated to have happened was that substantial fraud occurred, casting a shadow over the outcome.

It is on those who allege that fraud did occur to prove their case, which they have not so far been able to do. It is also on those who make such allegations to disentangle their claims from any benefit they receive from elevating such claims without evidence.
— Between The Lines (@BTLRadioNews) December 15, 2020
— Xeni Jardin (@xeni) December 15, 2020
— Danny Blanchflower (@D_Blanchflower) December 15, 2020
— Vox (@voxdotcom) December 14, 2020
Yet the president seems to have other ideas. White House senior adviser Stephen Miller said on Fox Monday that Trump's team planned to support an "alternate" set of electors in key states Biden won, which Trump is continuing to baselessly dispute.
"As we speak, today, an alternate slate of electors in the contested states is going to vote and we're going to send those results up to Congress," Miller said. "This will ensure that all of our legal remedies remain open."
And Trump's chosen electors did indeed meet in states including Georgia, Pennsylvania, Wisconsin, Nevada, and Michigan to cast their votes for Trump — though some involved tried to downplay the significance of this move, calling it merely a legal formality.
In fact, it's a legally frivolous and baseless action. The legitimate and legally recognized electors in states Biden won have had their appointments certified by each state governor, in accordance with the vote totals in each state. The president's "alternate" electors were acting with no legal authority whatsoever, apparently because Trump doesn't want to acknowledge the election is over and that he's lost.
The move is a preview of further shenanigans when Congress meets to count the electoral votes on January 6 — the final constitutional step before the winner is inaugurated. There, Trump allies plan to file challenges to the results in states Biden won. Yet those challenges will fail because Democrats will control the House.
So overall, any "alternate slate of electors" should mainly be understood as a stunt, to deceive Trump's voters into thinking he still has a chance and keep the grift (and massive fundraising) that accompanies that deception going for another few weeks.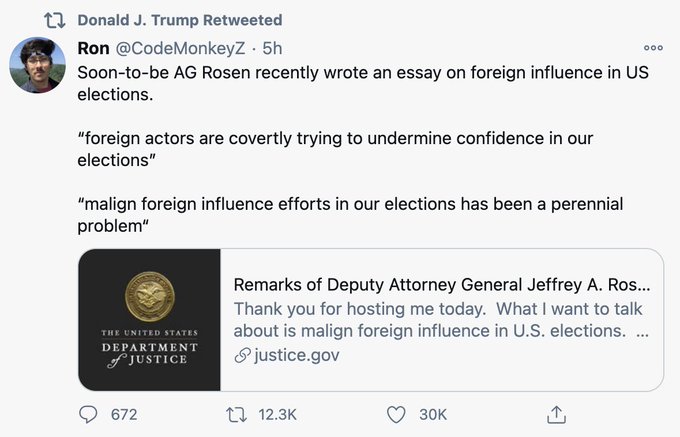 — Kara Swisher (@karaswisher) December 15, 2020
— Keith Olbermann (@KeithOlbermann) December 15, 2020
<
p class="is-empty-p">