Trump's tweeted over 60 times so far today. He's counting on the disinformation firehose and gaslighting, as well as some malign efforts like pickup truck parades.
x
Trump retweeted a Q supporter this morning disputing the number of COVID deaths. How disrespectful to the over 180,000 dead on his watch. pic.twitter.com/IR1ugo49dA— MeidasTouch.com (@MeidasTouch) August 30, 2020
x
Trump retweeted two tweets featuring an egregious false claim about Covid data.

One was from a supporter of the QAnon idiocy; now been deleted. The other was from campaign advisor Jenna Ellis, who linked to a piece by conspiracy site Gateway Pundit, which cited the QAnon tweet.
— Daniel Dale (@ddale8) August 30, 2020
— Christopher Bouzy (@cbouzy) August 30, 2020
— Le mirage (@Lemirageabuja) August 30, 2020
x
Trump has already linked to this video of his own supporters riding around a U.S. city firing paintballs and pepper spray.https://t.co/be3La3Fzqz
— John Cassidy (@JohnCassidy) August 30, 2020
x

Donald Trump is inciting violence and holding our cities hostage for political gain. He doesn't care about the death and destruction he causes along the way. Just another mafia-style quid pro quo shakedown. Truly vile and loathsome. pic.twitter.com/GYHOSAKLMU
— MeidasTouch.com (@MeidasTouch) August 30, 2020
x
Me, Erik Prince and a couple former CIA agents would sit in Abu Dhabi and talk about how to create this type of chaos in…Iran. Looks like Erik successfully brought the playbook to America. Law Enforcement both Feds and Local need to do their goddamn jobs. https://t.co/qCsBzHWsz1
— Gregg Smith 🇺🇸 (@10milesbadroad) August 30, 2020
x
🚨Last warning for today (maybe).
Prince said on Fox News radio that #BLM is using burner phone and cryptocurrency to coordinate operations. That's likely projection, so assume his mob is using same. Also BOLO for James O'Keefe and one of his bullshit set-up jobs. Duly warned.
— Gregg Smith 🇺🇸 (@10milesbadroad) August 30, 2020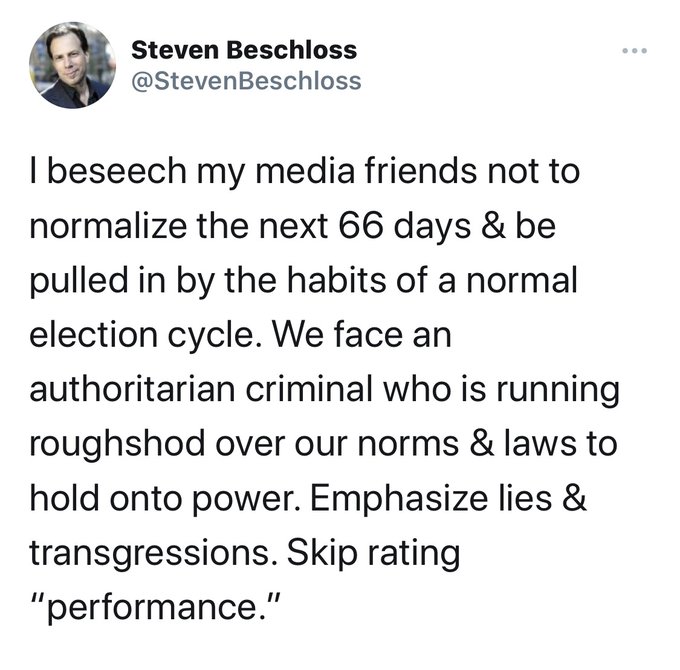 — Mark Hamill (@HamillHimself) August 30, 2020
x
Republican Ratcliffe (DNI) is now attempting to hide from Congress info about Russian attempts AGAIN to get Trump elected. Just as they did in '16 when McConnell & company hid Russia's attempts to help Trump while other gov't actors hung HRC's missteps on the line for all to see.
— Glenn Kirschner (@glennkirschner2) August 30, 2020
x
Despite presenting a mostly united front during the Democratic convention, opposing sides of the party are clashing over health care, climate change, police reform and primary challenges https://t.co/iaqJI1f5Ya
— POLITICO (@politico) August 30, 2020
Some Democrats argue that Biden could be an ideal mediator between the two sides as the Democratic establishment finds itself staring down an ascendant left. Instead of stymieing them, some progressives think he could end up repackaging progressive policies as palatable solutions on issues ranging from climate change to police reform.
"You're not mopping fast enough. (Laughter) That's a socialist mop. (Laughter and applause) Grab a mop — let's get to work." – Barack Obama (2009); "Soyez réalistes, demandez l'impossible!"