Ukraine Invasion Day 21: both sides have 90% of combat power available in a violent 'pause'
The war continues with Russian troops hiding among hospital facilities in the south using staff as cover or shields. They exhibit slow progress toward Kiev even as talks continue and the PR offensive remains solid with Zelensky speaking to the Canadian Parliament and the Prime Ministers of Czechia, Poland, and Slovenia. Kyiv is not yet encircled but missile and artillery strikes have hit numerous apartment blocks in many cities. The limitations of air defenses as well as troop morale have been discovered as another Russian general has perished and refugee numbers continue to rise.
Disinformation reigns over the situation as some analysts think the current bombardment is meant to force quicker compliance despite threats of using chemical weapons. New US weapons may yet get into the pipeline.
No decisions have been made, but the officials said the White House is mulling whether to equip Ukraine with explosive-laden "loitering missiles," called Switchblades, as part of a new package of military aid President Biden is expected to discuss on Wednesday.
#Russian forces are unlikely to launch offensive operations to encircle Kyiv larger than the scattered Russian attacks observed northwest of #Kyiv targeting Irpin on March 14 and Guta-Mezhyhirska on March 15 within the coming week but may launch further tactical attacks. (2/8)
#Russian forces continued to assault Mariupol from the east and west. (3/8)

#Russian forces did not conduct major offensive operations toward northeastern Kyiv in the past 24 hours. (4/8)

#Russian forces attempting to encircle Kharkiv continue to face supply shortages, particularly regarding ammunition. (5/8)

The #Russian military falsely claimed to have captured the entirety of Kherson Oblast on March 15 but did not conduct any major operations toward either Zaporizhya or Mykolayiv. (6/8)

#Russia is unlikely to launch an unsupported amphibious operation against Odesa until Russian forces secure a ground line of communication to the city, but Russian Naval Infantry retain the capability to conduct a landing along the Black Sea coast. (7/8)

…

To find out more, RFE/RL spoke with Gustav Gressel, a former Austrian defense official and Russian military expert at the European Council on Foreign Relations.

Gressel: The first blitzkrieg version of the war failed. That's fair to say. It basically collapsed within the first week of the war and now they're reorganizing.

We are at a very decisive time and our actions now will determine the course of the war in the coming weeks and whether Ukraine has a chance or not to [keep] standing.

[Russia] will try to fight this war now in [a] more traditionally Soviet [way] than the way they were thinking you'd [normally] fight a fast, lightning war in the 21st century because a lot of their assumptions on that have proven wrong.

We are also [seeing] that a lot of the stuff they did in Syria on a small scale or in Donbas on a small scale, they could not replicate [for] the size of a war in Ukraine, which is substantially larger as a military operation than anything they have done before.

The problem is that switching gears is difficult because they have not brought a lot of the organizational elements that they have at home [into the military theater] in Ukraine, so they actually need to restructure and reorganize the forces very deeply, which is why I think we are seeing such a pause in combat.
"On day 20 of Russia's war, we continue to assess limited to no progress by Russian ground forces in achieving their objectives."
"Kyiv remains under bombardment by long range fires, with civilian targets – to include residential areas – being struck with increasing frequency.  But leading elements of Russian forces have not appreciably advanced on the city."
"We estimate Russian forces are still about 15-20km to the northwest and about 20-30km to the east. Ukrainians hold Brovary and are still defending Kyiv."
"Chernihiv remains isolated, but we still assess that Ukrainians are working to keep a line of communication open.
"Mariupol is likewise isolated and still suffering heavy bombardment."
"Russian forces are still on the outskirts of Kharkiv, where, as before, they face stiff Ukrainian resistance.
"We've observed no apparent movement toward or past Mykolaiv."
"While we have observed some LSTs operating in the northern Black Sea, we are not seeing any imminent amphibious movement toward Odesa."
"There are no changes to the air picture to report. The Russians have now fired more than 950 missiles. There are no new strikes into western Ukraine to report."
"We assess that the Russians have approximately 90% of their combat power available to them; same for the Ukrainians."
"We have seen no movement of Russian forces stationed elsewhere in Russia being deployed to the west to reinforce the BTGs the Russians already have in Ukraine. And we've seen no evidence of Russian efforts to flow in additional supplies from inside Russia or from elsewhere."
"But we have reason to believe the Russians are considering their resupply and manning options.
"We still have no indications of Belarus inserting troops or preparing to do so."
"We have no updates on the convoy. It is still stuck.
"We have nothing to report with respect to Russian chemical or biological weapons."
"We cannot confirm Ukrainian reports of the deaths of senior Russian officers."
"Security assistance from the United States and other nations continues, to include over the last 24 hours. We will not detail the specifics, but these shipments did include weapons."

• • •
— Glasnost Gone (@GlasnostGone) March 15, 2022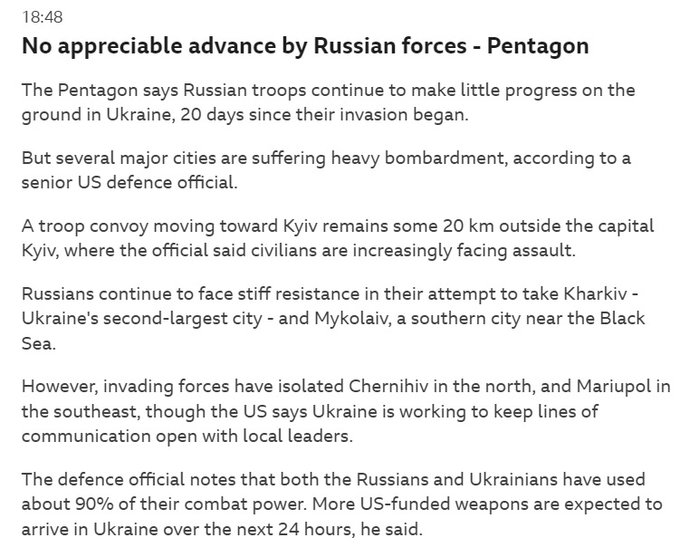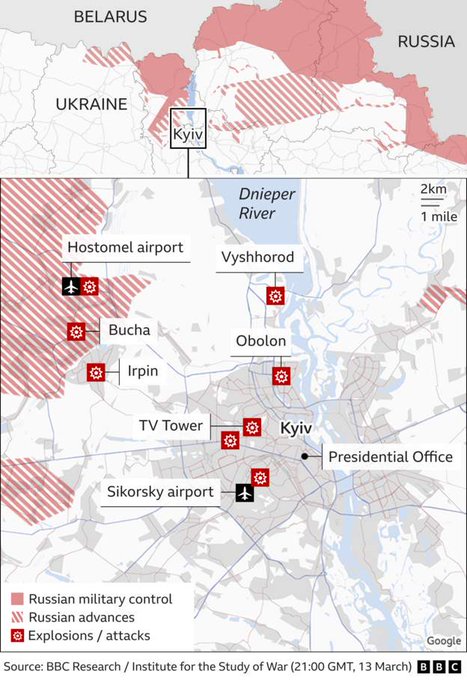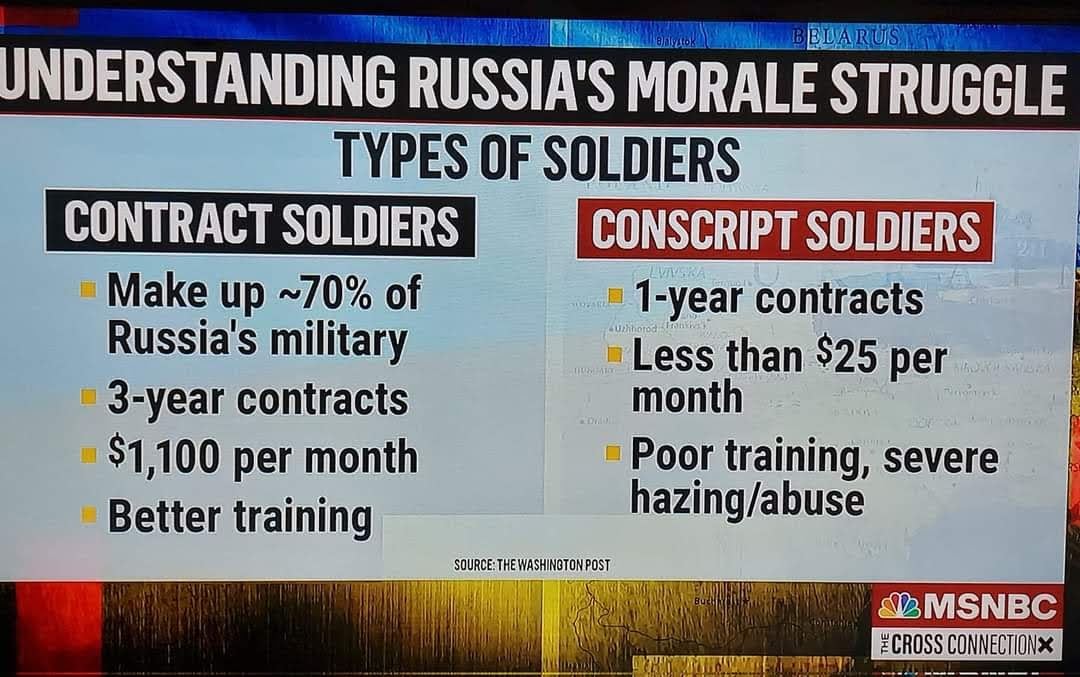 Beirut (AFP) – Besieging cities, shelling civilian infrastructure and arranging "safe corridors": the tactics used by Russia in its war on Ukraine mirror those it tested and fine-tuned to drain resistance in Syria's conflict.
But unlike its Syria play book, the challenge Russia faces from a Western-backed army in Ukraine dwarfs that of Syrian rebels who lacked military might or broad international backing, analysts said.
Russia entered Syria's civil war in 2015 on the side of President Bashar al-Assad's regime, allowing Damascus to clock up decisive victories in the decade-long conflict.
Since President Vladimir Putin ordered an invasion on February 24, tens of thousands of Russian troops have swarmed into Ukraine, where they have shelled urban centres and forced people to flee, sparking international outrage.
Moscow denies targeting civilian areas in Ukraine, despite widespread evidence suggesting otherwise, with Western powers and rights groups accusing it of committing possible war crimes.
A French military source said Russia's operations in Ukraine marked a "change of scale".
A key champion in the Russian media of Vladimir Putin's illegal attack on Ukraine served up a troubling threat on Monday: this war will go beyond Ukraine.
State television host Vladimir Solovyov is well-known as a fanatical pro-Putin propagandist and a top cheerleader for the war with Ukraine. He claims the Russians are acting in self-defense and liberating a Ukraine that poses an existential threat to Russia. Last month he railed against sanctions imposed on Russia, perhaps because they affected his ownership of villas in the Lake Como region of Italy. This week, he said that the sanctions should be answered with nuclear strikes, exclaiming, "I still think that those who took our money should be told, you have 24 hours to unfreeze our funds, or else we'll send you what you know we've got. Your choice. Tactical or strategic, take a pick. You took our money, you're the thieves, our talk is short with you: a bullet to the head."
Bluster is his style. And on his broadcast, The Evening with Vladimir Solovyov, he also recently proclaimed that the attempted conquest of Ukraine is only the beginning of Putin's grand plan. In keeping with Putin's brazen disinformation campaign, he depicted the Russian invasion as a crusade against Nazism. He compared recent events in Germany in which Ukrainian refugees have shouted, "Glory to Ukraine, glory to the heroes, death to enemies," to Nazi rallies where Germans once yelled, "Heil Hitler." He also told the West to stick the next round of sanctions "up your ass."
"It must be remembered that victory is always achieved not only by the material, but also by the spiritual resources of the people, by their unity and desire to oppose aggression with all their might." -Valery Gerasimov
Like recent revelations about falsified intelligence on Ukraine, the President of Russia was probably kept in the dark about deficiencies in the Russian military.
If Putin had invested hundreds of billions of dollars in the military over the previous decade, who was going to tell him it wasn't working?
However, experienced Russia observers in the West were saying as early as 2017 that the power of the Russian military was overestimated, it was challenged by overstretch and was technologically backward. These observers have been proved right in the past two weeks.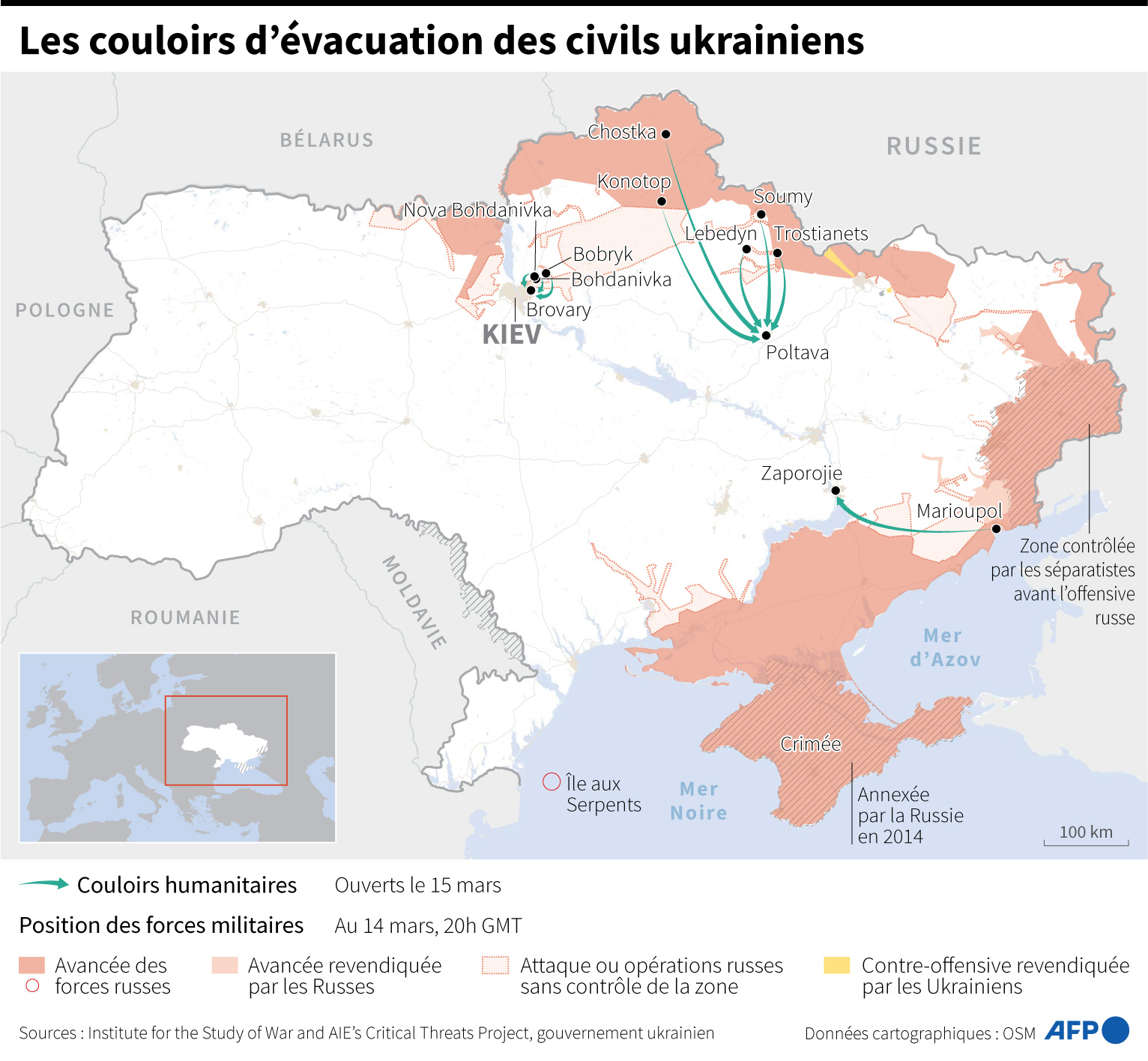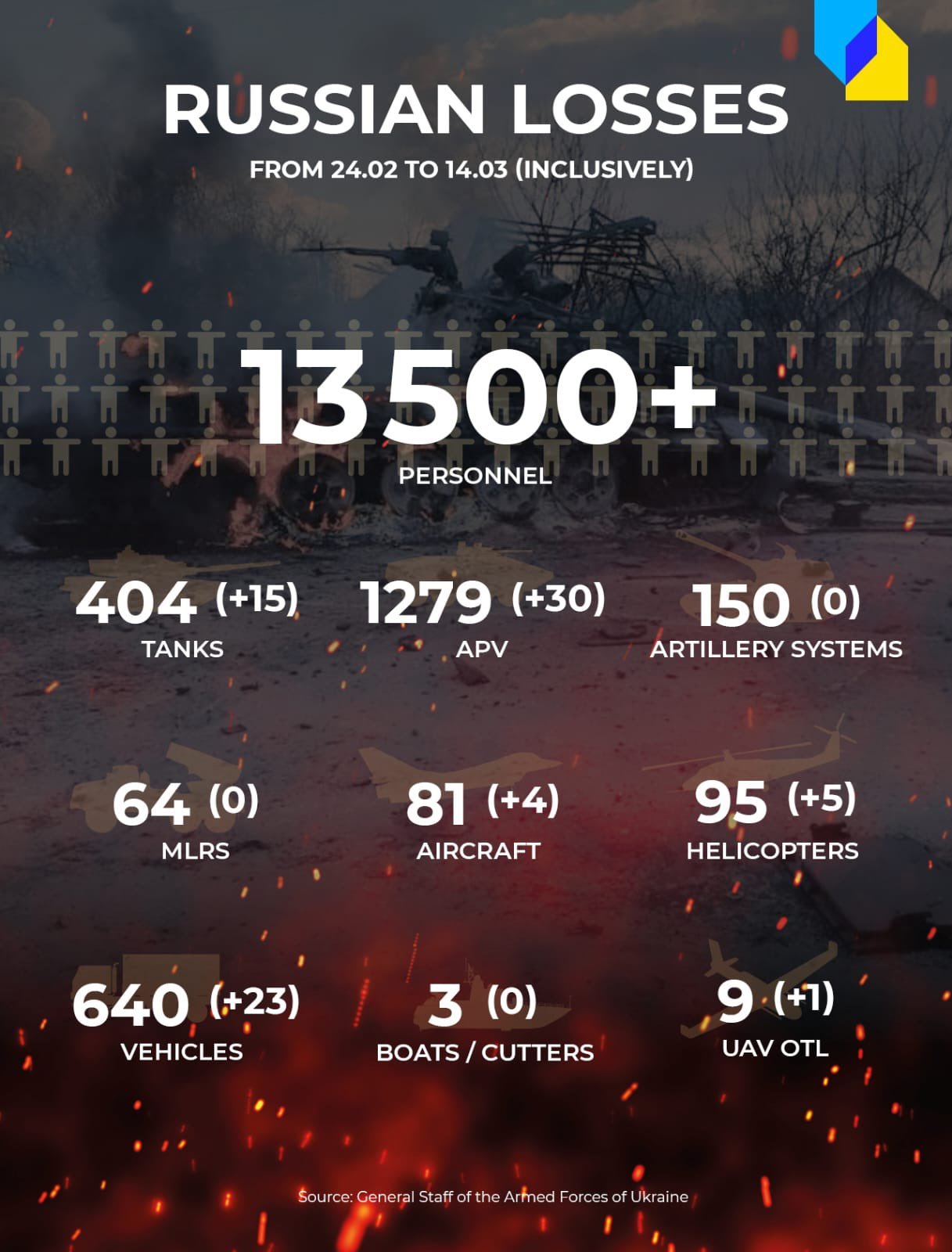 "there have been more Russian combat fatalities in just about two weeks of war in Ukraine than the US had in both Iraq and Afghanistan in 20 years."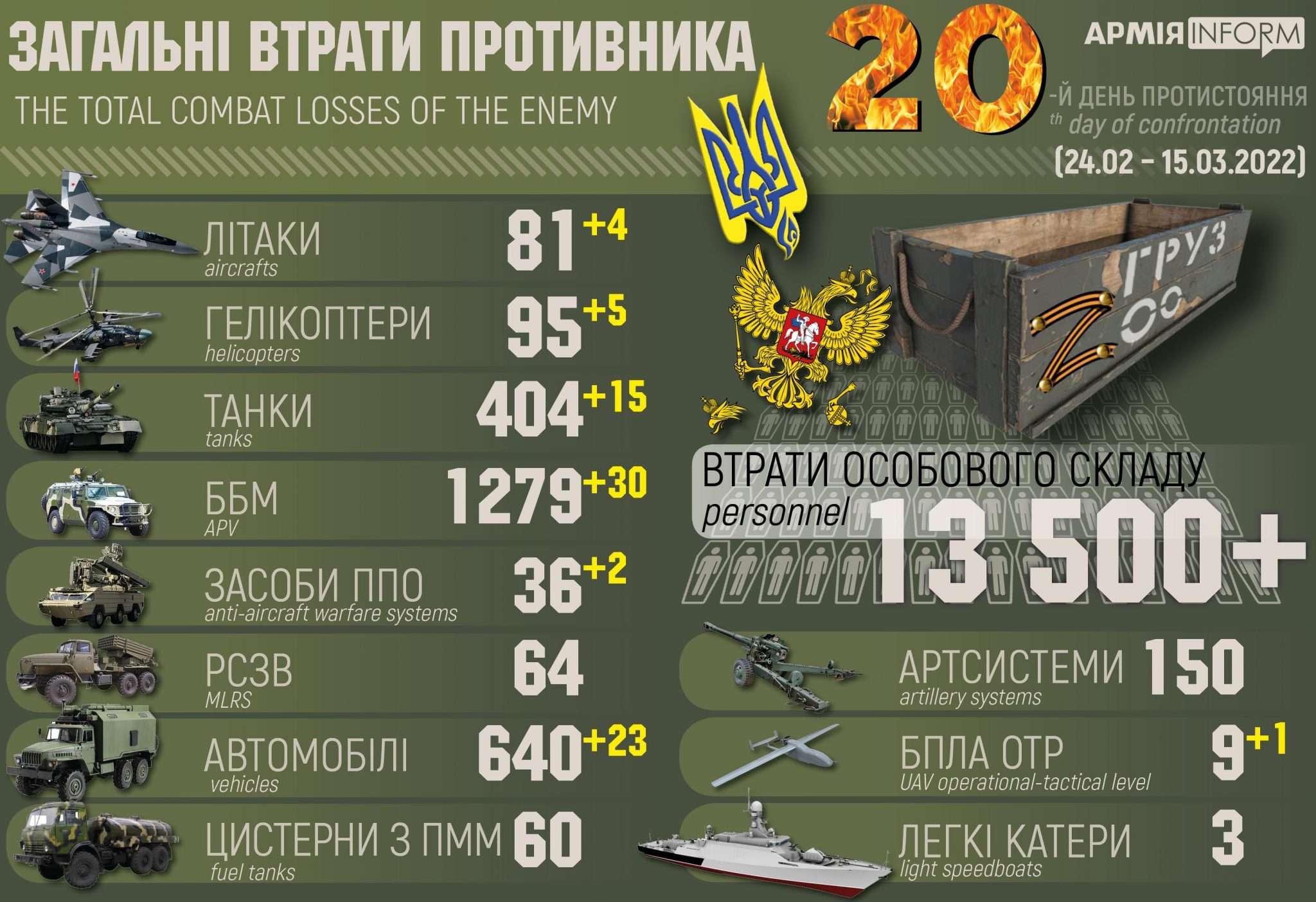 — Will Saletan (@saletan) March 15, 2022
— Eliot Higgins (@EliotHiggins) March 15, 2022
— Hybrid Warfare Analytical Group/UCMC (@hwag_ucmc) March 15, 2022
2/7 🇺🇦Armed Forces are inflicting devastating blows on groups of troops and the rear infrastructure of the occupiers.
During the past 24hrs, four helicopters, one plane were hit by the Air Force of UA Armed Forces, and a fighter shot down an enemy cruise missile.
3/7 The enemy continues to launch missile and bomb attacks on critical infrastructure, uses a network of health care facilities in the temporarily occupied territories of #Ukraine to treat wounded personnel. 
4/7 Due to the inability to maintain the functioning of institutions and organizations to ensure the livelihood of settlements in the temporarily occupied territories of 
#Donetsk
 and 
#Luhansk
 regions, the occupiers are forced to suspend the mobilization of communal workers.
5/7 The enemy is trying to capture 
#Mariupol
. 🇺🇦soldiers successfully repulsed the invaders' attacks. The total losses of the enemy amounted to ~150 people, 2 tanks, 7 infantry fighting vehicles and one armored personnel carrier. The occupiers stopped the offensive and retreated
6/7 Artillery and aircraft inflicted fire damage on the accumulation of military equipment and enemy columns on the advance routes. According to the available information, as a result of the artillery fire, 12 units of motor vehicles were destroyed.
7/7 The enemy's battalion tactical groups from the 336th Separate Marine Brigade and the 11th Separate Assault Brigade also suffered.
No signs of preparation for a naval landing operation were detected in the 
#BlackSea
 and Azov operational zones.
• • •
— John Spencer (@SpencerGuard) March 15, 2022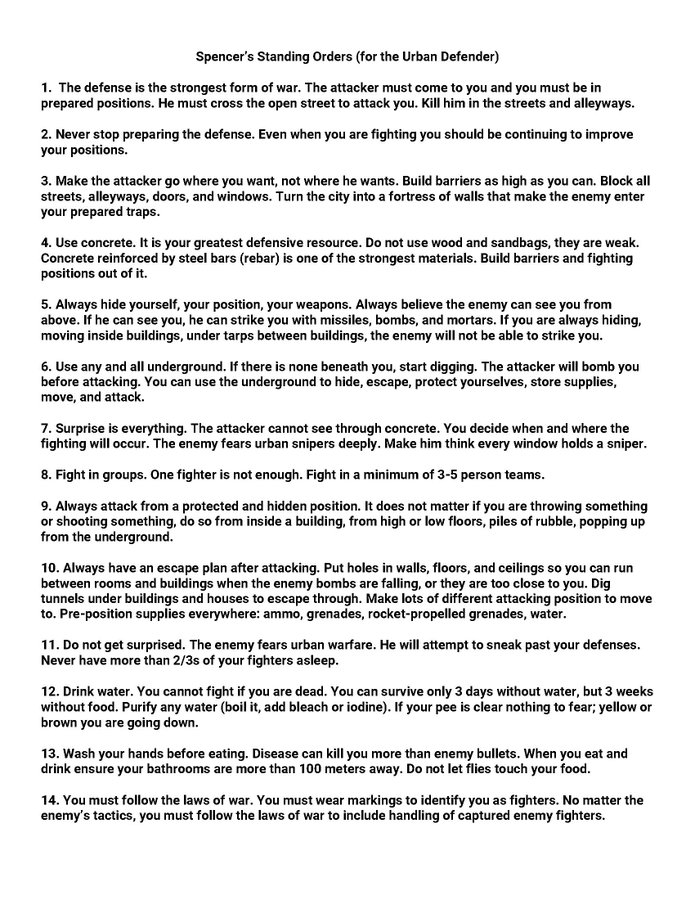 — Soviet Sergey (@SovietSergey) March 15, 2022
— Sarah Ashton-Cirillo (@SarahAshtonLV) March 15, 2022
— Inna Sovsun (@InnaSovsun) March 15, 2022
— Alec Luhn (@ASLuhn) March 14, 2022
— Zoya Sheftalovich (@zoyashef) March 16, 2022
[That was Zelenskyy pointedly referring to the back and forth by the EU, US and Poland over sending fighter jets to Ukraine. You can read more about it here: politico.com/news/2022/03/1…] 13/
Notes Russian losses, including a general. Talks about attacks on Ukrainian civilian areas. Says Russian artillery has killed another two journalists in Ukraine: Ukrainian Oleksandra Kuvshynova and representative of America's Fox News Pierre Zakrzewski. Another badly injured 2/
(3) Switches to Russian: "Citizens of Russia. Any one of you who has access to truthful information would by now have realized how this war will end for your country. Shame, poverty, long-term isolation, a very cruel, repressive system that will treat citizens of Russia exactly
the same way, as inhumanely, as you, the occupiers, have treated Ukrainians. What happens next depends on your actions," Zelenskyy says. (4)
"I want to tell it to you straight, to all the functionaries of the Russian Federation, all those who are close to those who are now in power. If you remain in your posts, if you don't come out against the war, the international community will strip you of everything." 5/
"Everything you have earned over these last long years. They're already working on it. A similar fate awaits those working in the propaganda ecosystem, the fourth branch of the governance of Russia." 6/
"If you continue working on propaganda, you're submitting yourself to a much higher risk than if you just leave. Just quit. You risk sanctions and an international tribunal for propagandising in favor of an aggressive war. For justifying war crimes." 7/
"Quit," Zelenskyy says to Russian officials and propagandists. "A few months of unemployment is definitely better for you, than a whole life of international persecution." 8/
Zelenskyy switches to Ukrainian. "In Kyiv today arrived the prime ministers of three countries, three partners, three friends – friends – of Ukraine, the leaders of Poland, Czech Republic and Slovenia." 9/
Zelenskyy specifically name-checks Jarosław Kaczyński, the leader of Poland's ruling Law and Justice party and broadly known to be the de-facto ruler of Poland, who was also a member of the delegation (they arrived by train). Zelenskyy refers to Kaczyński as the vice-premier 10/
Zelenskyy says, of the delegation: "I was glad to meet in person, glad to talk live in our capital … This is significant support, it is bold to come and meet with us here … That is leadership." 11/
Zelenskyy then adds: "I invite all friends of Ukraine to visit Kyiv. It can be dangerous here, as it is not yet closed from Russian missiles and aircraft. The decision to strengthen our arsenal in the air has not yet been made. We have not received aircraft." 12/
Zelenskyy continues: "But you know that the eyes of all people in the world are on Ukraine." Adds: "Everyone who is with us has a chance to become a real hero." 14/
(15) Says he spoke in Canadian parliament, thanks Canada for support. But says Ukraine needs help "not with words but with actions, with weapons and new sanctions against the Russian Federation,
as well as an active moral stance in relation to all international businesses that remain in Russia. That sponsor the war. That sponsor terrorism." (16)
Mentions his speech to Congress. Zelenskyy says: "I want to thank President Biden and all the friends of Ukraine in the United States for the new sanctions package" and for the support bill which will send billions to Ukraine. 17/
Says Ukraine's parliament met today to approve economic reforms such as tax breaks to save Ukrainian jobs and allow businesses to continue operating, and an extension of martial law, which "is necessary to effectively defend our state." 18/
Zelenskyy adds that the overwhelming support for his measures in Ukraine's parliament "destroys one of the main myths of the occupiers, that the Ukrainian government allegedly does not represent the will of the Ukrainian people." 19/
Says Ukraine will continue trying to unblock the humanitarian convoy that is trying to reach Mariupol. "We will not give up trying to save our people," he says. Talks about Ukrainian forces who have been recognized in latest round of medals and awards. Ends. 20/21
Ah, now here's the video with English subtitles:
• • •
— Ricky Davila 🌻🇺🇦 (@TheRickyDavila) March 15, 2022
— Mark Hucke 🇳🇿 🇵🇹 🇺🇦 (@markhucke) March 15, 2022
— David Frum (@davidfrum) March 15, 2022
— Liubov Tsybulska (@TsybulskaLiubov) March 15, 2022
— Petri Mäkelä (@pmakela1) March 15, 2022
— Task & Purpose (@TaskandPurpose) March 15, 2022