Ukraine Invasion Day 18: Zelensky – "Look for ways to cause maximum damage"
An "operative lull" seems now ready to end. Bombardment resumes and the messaging about "foreign fighters" increases with the slowing of the Russian advance to take major cities. Smaller cities that have been captured are being repressed by Russians and some proxies with brutal efficiency. The war continues to be about logistics and continuing chaos as refugees now are at 2.6 million. Russia now announces that they will attack supply shipments, as they continue to suppress social media outlets and threaten to invoke reciprocal economic sanctions.
Zelenskiy also claimed on Saturday that the Russian army had suffered its biggest losses in decades.

He said

31 Russian battalion tactical groups have now been rendered incapable of combat.
Seven civilians have died after coming under Russian fire while trying to flee fighting near Kyiv.

Ukraine initially accused Russia of firing at a convoy of civilian evacuees from the village of Peremoha while they were in a designated humanitarian corridor,

but later said it was not such a route.
The Ukrainian ministry of defence

says Russia's generals are uncertain about their "strategic objectives" and have been hindered by fierce resistance from Ukrainian forces.

The latest intelligence update

says the Russians were regrouping and trying to assess the strength of Ukraine's defences.
Nato secretary-general Jens

Stoltenberg

says

Russia may use chemical weapons

following its invasion of

Ukraine

and that such a move would be a war crime. He told a German newspaper that Russia could manipulate false claims of possible western deployment of such weapons as a pretext for its own use of them.
France's president, Emmanuel Macron, and the German chancellor, Olaf Scholz, spoke to Russian president Vladimir Putin

by phone on Saturday and urged him to order an immediate ceasefire.

But a French official said: "We did not detect a willingness on Putin's part to end the war."
New satellite imagery of Mariupol is showing the widespread damage suffered since Russian forces surrounded the city 12 days ago.

More than 1,500 civilians have been killed, and humanitarian aid groups say those remaining have not had access to water or medications in days.
The rate of refugees crossing the Ukrainian border has slowed,

but neighbouring countries are still struggling to provide shelter for the estimated 2.6 million who have fled since the Russians invaded last month. About 13,000 refugees were evacuated through humanitarian corridors today.
At least 79 children have been killed

and more than 100 have been injured so far in the war, according to Ukrainian officials.

— Michael Weiss 🌻🇺🇸🇮🇪 (@michaeldweiss) March 13, 2022
— Chris Vickery (@VickerySec) March 13, 2022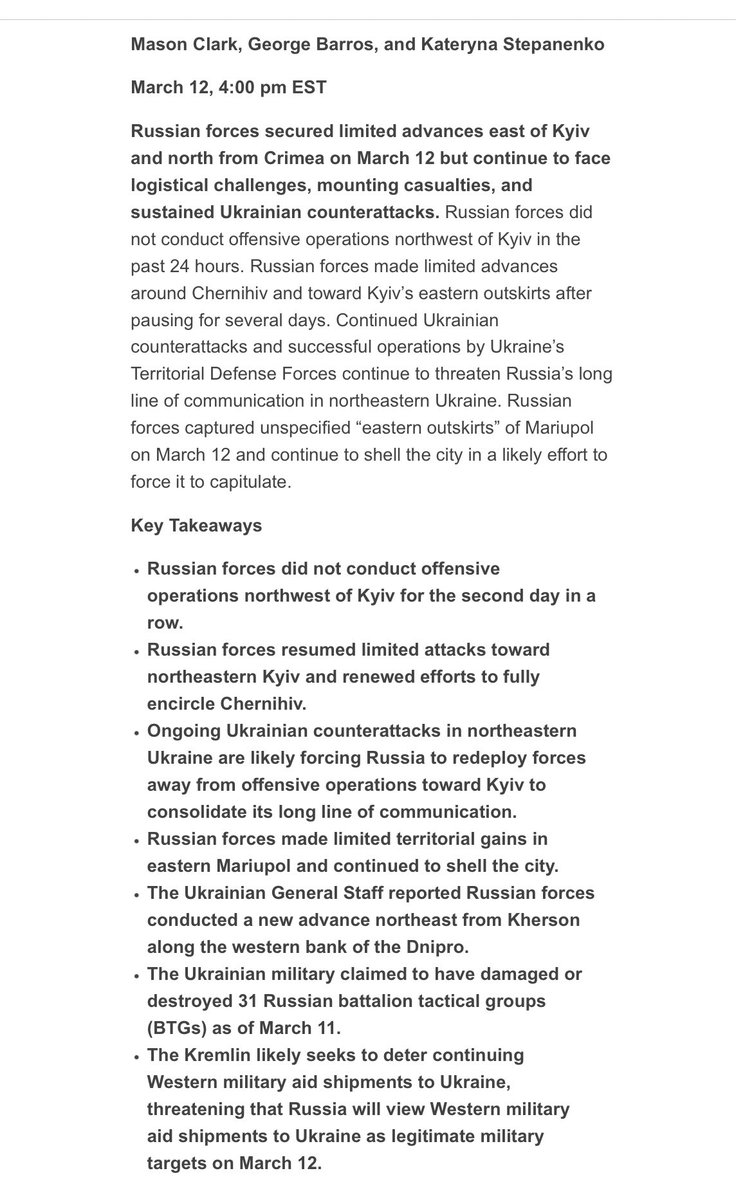 — Phillips P. OBrien (@PhillipsPOBrien) March 12, 2022
— Christopher Miller (@ChristopherJM) March 12, 2022
— Christopher Miller (@ChristopherJM) March 12, 2022
— EMPR.MEDIA (@EuromaidanPR) March 13, 2022
— Veli-Pekka Kivimäki (@vpkivimaki) March 12, 2022
— Clint Ehrlich (@ClintEhrlich) March 13, 2022
The war has drawn clear moral lines. Any attempt to understand Russian security interests — or to integrate the country into Europe, economically or otherwise — suddenly appears in Germany as naïveté at best, or as cynical, agenda-driven ignorance of the longstanding imperial plans of Putin at worst.
[…]
Putin is also letting himself attack because the American government and the other NATO member states announced in advance that they would not defend Ukraine. The United States does not want to risk a direct confrontation over Ukraine with a nuclear-armed Russia. This reveals Russia's real security guarantee: not in the neutrality of its neighbours, but the possession of nuclear weapons.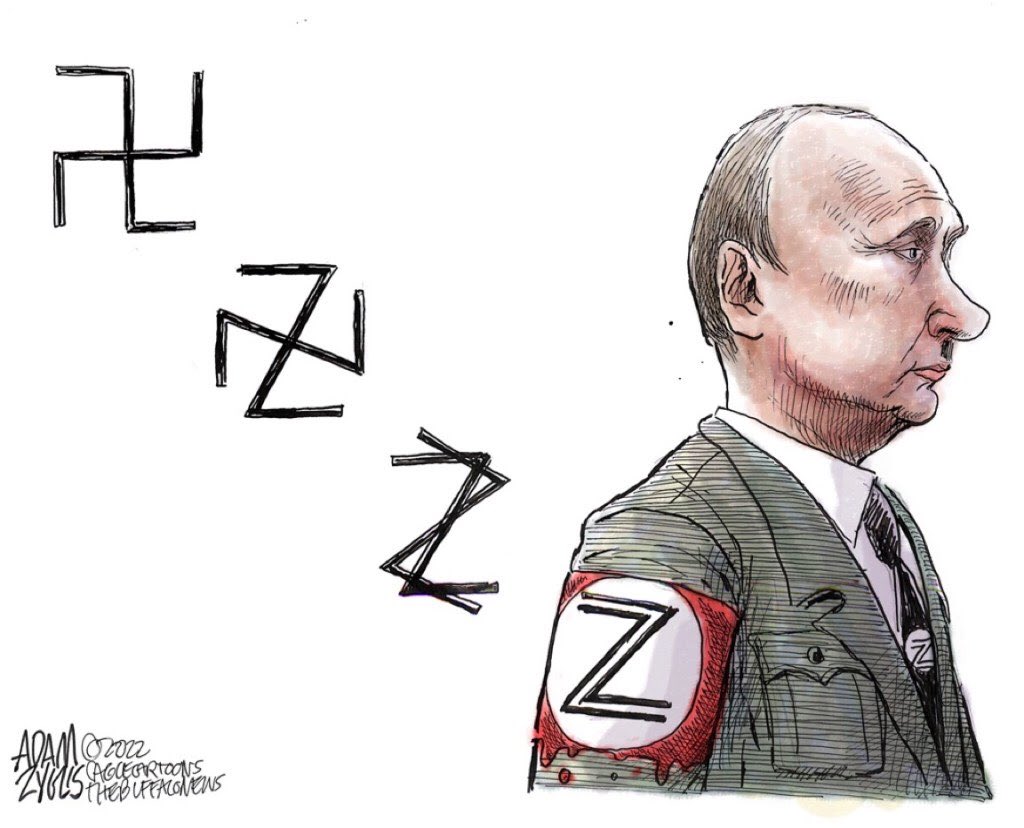 Then there's the Nazi issue. More than three dozen nationalistic or patriotic "volunteer military formations," or dobrobaty, have fought against Russia in eastern Ukraine since 2014. Some are the private armies of oligarchs. The defense and interior ministries have taken control of many. And some accept foreign volunteers into their ranks, or are even composed entirely of "foreigners" from former Soviet republics. One of the dobrobaty, the ultranationalist Azov Battalion, had played a decisive role in the liberation of Mariupol in 2014 — and later been accused of having Nazis in its ranks. Because there were. War junkies, white supremacists, fascists: A number of these had found their way to Azov, which resulted in the group being excluded from receiving American arms or aid as the United States ramped up its military support for Ukraine.
Azov's reputation as a haven for the far-right played well with Russian propaganda aimed at portraying Ukraine as full of Nazis, one of the primary justifications for Putin's war.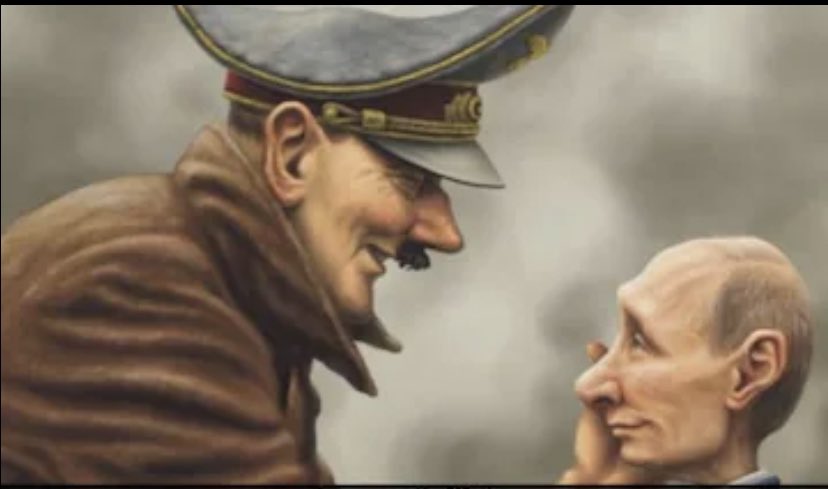 — The Kyiv Independent (@KyivIndependent) March 12, 2022
— Paul Massaro (@apmassaro3) March 12, 2022
— Christopher Miller (@ChristopherJM) March 13, 2022
— The Kyiv Independent (@KyivIndependent) March 12, 2022
— The Kyiv Independent (@KyivIndependent) March 12, 2022
— Mike Mazarr (@MMazarr) March 9, 2022
— Kate Starbird (@katestarbird) March 12, 2022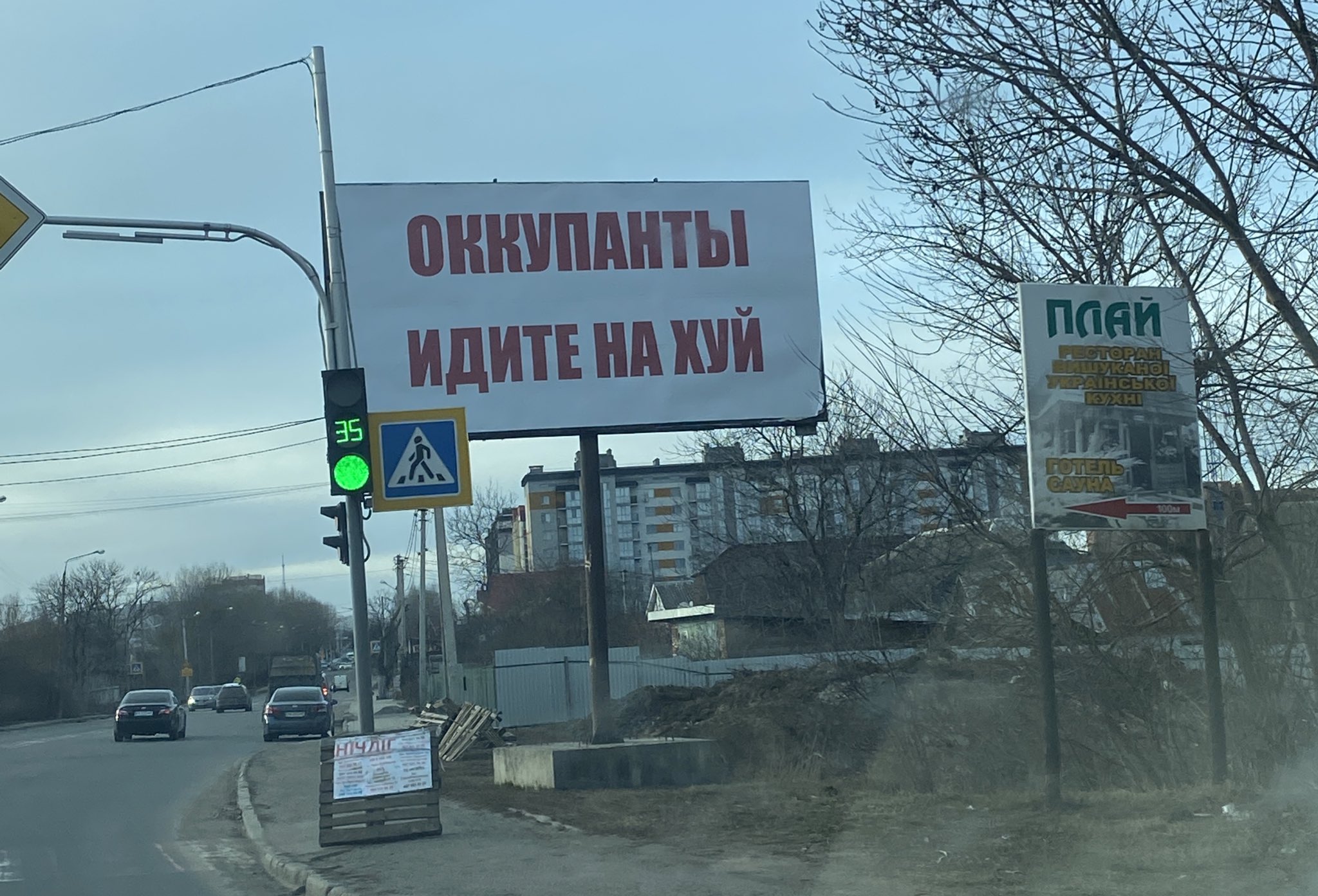 The U.S. and other NATO countries sent more than 17,000 antitank weapons, including Javelin missiles, overland to Ukraine via Poland and Romania in the span of less than a week this month, the New York Times

reported

.

The Javelin has taken on a symbolic valence in pro-Ukraine online chatter. Former reporter Christian Borys created an image of a

saint clutching a Javelin

and its launch unit. The image on stickers and other gear has raised more than $1 million, Borys said on Twitter, which he said will go to a humanitarian aid charity

focused

on Ukraine.

[…]

"The very information about the presence of Javelins in the weaponry of the Ukrainian Armed Forces causes panic among the [Russian flag] occupiers," the tweet said.

Ukraine

claims

that Russia has lost 335 tanks and just over 1,100 armored combat vehicles in the fighting.

But there isn't reliable data on how many Javelin missiles Ukraine has used in battle and to what effect, said Amael Kotlarski, a senior analyst at Janes, an open-source defense intelligence agency.

[…]

Social media has been littered with photos of destroyed Russian tanks with cages. The images have acquired a symbolic resonance so quickly that Internet users have coined the term "cope cage," earning a page on the Internet's primary meme directory.
— Howard Altman (@haltman) March 11, 2022
<
p class="is-empty-p">