Trump's options dwindle to Kleptocene's anti-democratic noise as GA recount favors Biden
Last gasps of biglygate: even Mitt Romney shades Trump as President-elect Biden has not ruled out legal action against the GSA, as Trump will have run out of options very soon.
Why it matters: The president's push to overturn the election results is dispelling the cloud of corruption he alleged by forcing states to create a verified — and legally binding — accounting of his election loss.

"Each loss further cements Biden's win," says election law expert Richard Hasen.
"History shows that any leader who constructs a major myth, that is later shown to be false, will eventually fall," says Harvard science historian and "Merchants of Doubt"

author

Naomi Oreskes. "The risk is that he takes his country down with him."

Reality check: In Georgia, the largest hand recount in U.S. history is underway, with some counties finding exactly the same vote tallies they reported two weeks ago.
— David Sanger (@SangerNYT) November 20, 2020
— Josh Shapiro (@JoshShapiroPA) November 19, 2020
— Liam Martin (@LiamWBZ) November 19, 2020
— George Conway (@gtconway3d) November 20, 2020
— Joshua Potash (@JoshuaPotash) November 20, 2020
— Philip Bump (@pbump) November 20, 2020
— Robert Young Pelton (@RYP__) November 20, 2020
— Heidi Cuda (@Heidi_Cuda) September 29, 2019
— Keith Olbermann (@KeithOlbermann) November 20, 2020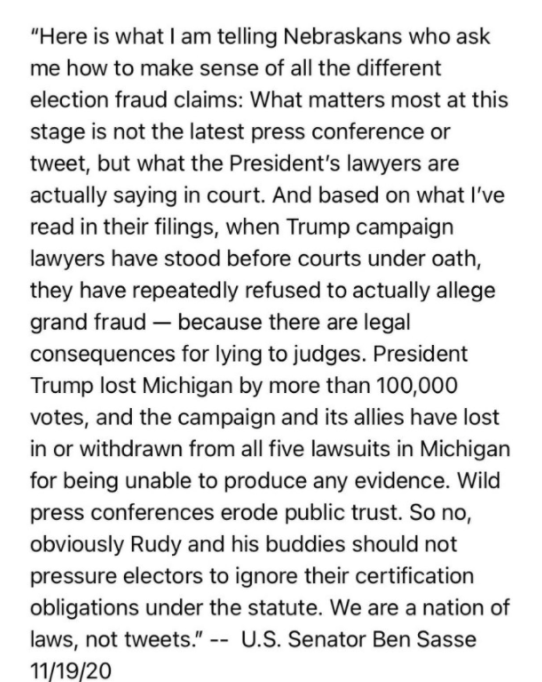 — Daniel W. Drezner (@dandrezner) November 20, 2020
— SafetyPin-Daily (@SafetyPinDaily) November 20, 2020
— The Hill (@thehill) November 20, 2020
— The Lincoln Project (@ProjectLincoln) November 19, 2020
<
p class="is-empty-p">