Trump "showed no remorse and took no accountability" after the 6th January attack
On Friday, three hours of Castor and Schoen defending Trump, demonstrating that there will be very fine people on both sides in an insurrection somehow not connected to the incitement of Trump. Worse will be that somehow Trump had rights to foment violence as a clear and present danger to elected officials.
Probably the weirdest bit of disinformation is Lindsey Graham suggesting Nancy Pelosi having a hand in the insurrection because line of succession, something, something.
McKinnon as Schoen and bring back Bill Murray to host and play Castor.

— Lori Kramer (@lorikramer58) February 9, 2021
Conviction is "out of reach." Notice the lack of agency in that description. Like Jupiter might be out of reach for NASA, or the playoffs out of reach for the Astros. In reality conviction is right here, as soon as 17 of 50 Republicans snap out of it and decide to do their duty. https://t.co/bCzO4qsSHO

— Jay Rosen (@jayrosen_nyu) February 11, 2021
With conviction seemingly out of reach, the managers are seeking to use their moment in the national spotlight to make the searing images of havoc the inexpungible legacy of the Trump presidency. https://t.co/QAifhLU6Ee

— Peter Baker (@peterbakernyt) February 11, 2021
Trump's continuing refusal to concede the election is an ongoing incitement to violence.

— Robert Reich (@RBReich) February 11, 2021
A former U.S. Navy intelligence officer and FBI official from Virginia has emerged as a key figure in the federal investigation of the Jan. 6 Capitol breach, as U.S. prosecutors alleged Thursday that he organized a group of trained fighters and was in contact with self-styled militia groups including the Proud Boys, Oath Keepers and Three Percenters.
Former FBI official, a Navy veteran, is "key figure" in Jan. 6 riot, prosecutors say https://t.co/NufFjEvFVn

— The Washington Post (@washingtonpost) February 11, 2021
In asking a federal judge to detain Thomas Edward Caldwell, 66, pending trial, prosecutors revealed some of the most explicit evidence to date of discussions allegedly indicating 
coordination and planning
 among groups under scrutiny for the assault on Congress that led to five deaths, delayed the confirmation of President Biden's victory and triggered charges against more than 200 people.
Prosecutors say Caldwell used his military and law enforcement background to plan violence — including possible snipers and weapons stashed on a boat along the Potomac River — weeks ahead of the Capitol insurrection.
Oath Keepers founder Stewart Rhodes — identified as Person One by prosecutors
in documents charging Caldwell
— 
c
alled on
 members of the group to "stand tall in support of President Trump" on Jan. 6. and, prosecutors say, Caldwell responded. He had been coordinating with the Oath Keepers since the week after the election, prosecutors allege, when he 
hosted members at his Virginia home
 for a pro-Trump protest that turned violent.
"Next time (and there WILL be a next time) we will have learned and we will be stronger," he messaged others afterward, according to the court documents. "I think there will be real violence for all of us next time. . . . I am already working on the next D.C. op."
Associates of the Oath Keepers had a chat group on the encrypted app Signal to prepare for Jan. 6, according to prosecutors, while Three Percenters met on Zoom.
Five more people were arrested in the Capitol riot investigation, as prosecutors continue to home in on far-right groups like the Proud Boys and examine what planning might have gone into the attack https://t.co/lO87mIn7H5

— The Wall Street Journal (@WSJ) February 11, 2021
Josh Hawley leans back with his feet up ignoring the impeachment proceedings, behaving like a clueless high school jock in algebra class, the tough guys, the big men, the proud-of-how-stupid-but-tough-I-am asses we all remember from our teenage years.https://t.co/gncrAP7P1w

— Thom Hartmann (@Thom_Hartmann) February 11, 2021
https://twitter.com/mikeymusto/status/1359992366359273472?ref_src=twsrc%5Etfw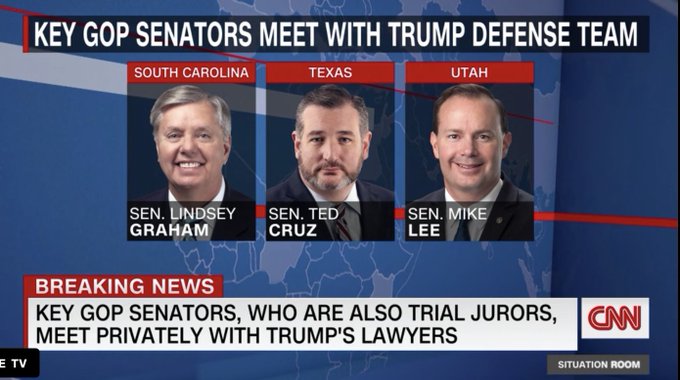 Well this seems aboveboard. But what do you expect from terrorists? https://t.co/UdHlslQD2P

— Adam Parkhomenko (@AdamParkhomenko) February 11, 2021
When I was in the chamber, I saw Graham and Cornyn look at each other and laugh while Raskin was making his final point on the constitutionality argument being "put to bed." https://t.co/wNCpMyhR4c

— Julie Tsirkin (@JulieNBCNews) February 11, 2021
People have rightly ragged on Graham's "what did Pelosi know and when did she know it" idiocy.

But it's also worth noting that the underlying argument — some preplanned Jan 6, and this exonerates Trump — is also nonsense. These known facts demolish it:https://t.co/0ahE3yTjMo pic.twitter.com/ZkLl6flpyT

— Greg Sargent (@ThePlumLineGS) February 11, 2021
One end of the spectrum of disinformation coverage is the network analysis, big data approach. On the other end is Donie's 1:1, heart to heart approach. We need both- these vox pop interviews are crucial to understanding these phenomena. https://t.co/CYrSXdKkji

— Justin Hendrix (@justinhendrix) February 11, 2021
Rep. Ted Lieu said Donald Trump "showed no remorse and took no accountability" after the January 6 attack on the Capitol today during the impeachment hearing. Read the transcript of his remarks: https://t.co/tPVF2cyaFT

— Rev Transcripts (@RevTranscripts) February 11, 2021
Donald Trump ONLY cares about Donald Trump. He sent his mob to kill his own VP. He sent his mob to harm everyone at the Capitol. The fact that some are sitting back, literally, and ignoring the fact that Trump doesn't care if they died is extraordinary. pic.twitter.com/7Q6UjYtbSN

— VoteVets (@votevets) February 11, 2021