Trump Presser – more of the same – another sideshow with few questions
Presser started at 536pm ET. It ended at 613pm.
Trump needed another faux-campaign speech opportunity today — he should be trying to clarify his criticism of Birx — perhaps there'll be some faux-Kumbaya. The new tone will keep the press questions to a minimum. Perhaps Trump will double-down even further on the hydroxycholorquine hype.
One hopes that the press will ask about the Cy Vance investigation.
Trump could be lining up sponsors for the post-POTUS* media productions, again with seemingly random use of government funds that he doesn't directly profit from. At least in this instance.
Others have hoarded the hydroxychloroquine to take advantage of panics and superspreading events.
Someone will, however profit from some of the odd Trump stock touting and financial pimpage.
— Julia Davis (@JuliaDavisNews) July 29, 2020
Trump campaign's legal advisor: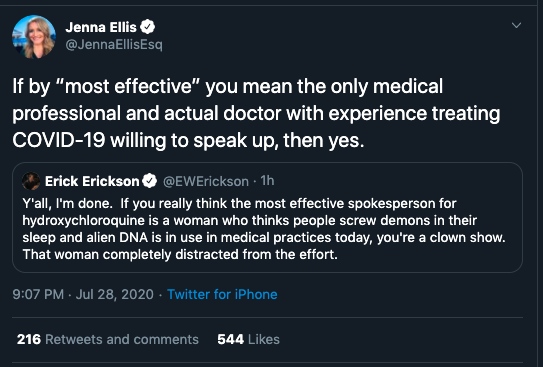 — Steve Cohen (@RepCohen) August 3, 2020
Perhaps 530pm ET start
Today's subtext: New York prosecutor seeking Trump's taxes cites 'protracted criminal conduct' at the Trump Organization
annieli
·
looks like 6pm because the ladder is out
annieli
·
Trump starts at 536pm.
does announcement on hurricane, he's making up for not even tweeting about it.
then goes into "China Virus" talk about Covid: riff talks about "receding virus", using percentages rather than numbers, talks about non-hot-spot states.
repeats his lie about young people not acknowledging their role in spread.
more of the same false comparisons with other countries
wants to open schools
he's getting tried of reading prepared text
"numbers that can noone can really believe" more bafflegab… hypes telehealth (he's running out of positive things) cites signing something, something on "regulatory reform". Talks about Medicare (recall that this was something he talked about in the period before he stopped doing the daily briefing) 
mentions prescription drug prices "favored nation clause" (he hasn't a clue)
whines about big ads against him by big pharma
Trump goes blah-blah about lower drug prices (@ddale8 will undoubtedly fact-check this) 
The crux of this is trying to get back seniors, acknowledging his poll numbers, also rural health care (this addresses Birx comments on Covid spread in rural areas)
Trump has trouble reading the prepared text, another case of it being the first time looking at the text. Starting to go sing-songy.
Trump does boiler plate numbers, can't pronounce "plasma" twice ("plausma")
Trump hypes vaccine trials "far in advance of the end of the year".
QUESTIONS
Q: Marines killed in CA
Trump punts
Q: NYC investigation
Trump goes blah blah "witch-hunt"
— Aaron Rupar (@atrupar) August 3, 2020
— Aaron Rupar (@atrupar) August 3, 2020
— Aaron Rupar (@atrupar) August 3, 2020
Q: national distribution of vaccine?
Trump goes blah-blah
Q: covid attention because of spread
Trump diverts to Covid elsewhere, India, goes blah-blah "Nancy Pelosi has triggered her (Birx) very badly"
Q: TikTok?
Trump goes to landlord-tenant analogy about leases (makes no sense, especially with Microsoft acquisition)
— Aaron Rupar (@atrupar) August 3, 2020
Q: how might you prevent evictions?
Trump starts talking about blaming China for Americans having to go to shelters because shelters could spread Covid. Trump trashes Democratic cities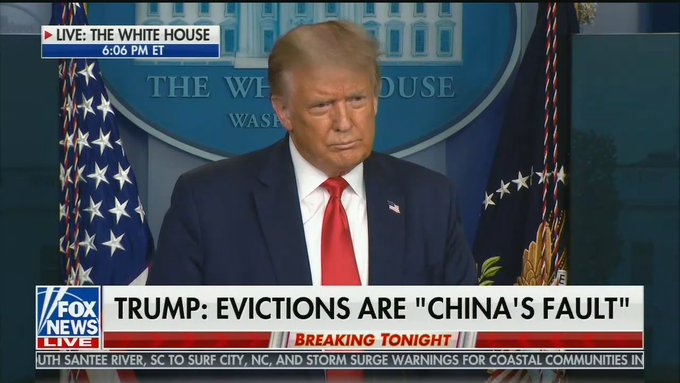 Q: operation Legend?
Trump talking about guns and drugs in Chicago goes to usual riff on Minneapolis, confabulates Chicago drug problem with MS13 
Q: OANN mail-in ballots executive order?
set-up for Trump riff on mail-in ballots cites Carolyn Maloney in NY, Nevada "it's a disgrace" Trump exaggerates delays in counts (Trump still misunderstands absentee and mail-in ballots) does riff hypothetical. Trump trashes USPS.
— Daniel Dale (@ddale8) August 3, 2020
— Aaron Rupar (@atrupar) August 3, 2020
Trump is now doing a campaign speech. hypes health plan "by the end of the month".
— Aaron Rupar (@atrupar) August 3, 2020
<
p class="is-empty-p">
Trump flees at 613pm