No doubt there are Trump pardons, but the cluster falls close to the _____. Apparently Trump has been advised that the optics of guilt are greater exposure to his soon to be mounting legal woes. This includes even the Trumpian small insults, a hastily assembled 1776 position paper to prescribe RWNJ ideologies in reaction to the 1619 Project, and perhaps even not even offering a USAF jet to fly Joe Biden to DC today.
News — Several Republicans alleged to have been involved in the rally that preceded the deadly riot have sought clemency from Trump, but after meeting w/ his legal advisers for hours Saturday, the president isn't expected to pardon them. W @Kevinliptakcnn https://t.co/hWKtrGwn19

— Kaitlan Collins (@kaitlancollins) January 19, 2021
Even as recently as Monday, with hours remaining in his presidency, Trump appeared fixated on pardons.

While he was considering preemptive pardons for his children and his personal attorney Rudy Giuliani, a source close to the process said those are no longer expected. Bannon, who has been indicted on fraud charges, is also not expected to receive a pardon on Tuesday, the source said.

Trump is also not expected to pardon Edward Snowden or Julian Assange, whose roles in revealing US secrets infuriated official Washington.

While he had once entertained the idea, Trump decided against it because he did not want to anger Senate Republicans who will soon determine whether he's convicted during his Senate trial. Multiple GOP lawmakers had sent messages through aides that they felt strongly about not granting clemency to Assange or Snowden.

As he departs office, Trump has expressed real concern that Republicans could turn on him. A conviction in the Senate impeachment trial would limit his future political activities and strip him of some of the government perks of being an ex-president.
Anyways, I hope you read this one.

A good portion of the country is preparing for a judgment day tomorrow, a completely alternate reality where Democrats are rounded up and Donald Trump is redeemed.

What's going to happen when none of this comes to pass?https://t.co/4n8RPXRwU5

— Ben Collins (@oneunderscore__) January 19, 2021
Mitch McConnell just now on the Senate floor: "The mob was fed lies. They were provoked by the president and other powerful people"

— Jesse Rodriguez (@JesseRodriguez) January 19, 2021
Donald Trump is not the only "bad" president this country has had in office, but from historian Kevin Kruse's perspective, he's certainly one of the worst https://t.co/lFM74Uilaa

— The Daily Beast (@thedailybeast) January 18, 2021
One part of the bedroom set-up will be markedly different: unlike the Trumps, the Bidens will be sharing a bedroom.
Melania slept in the large bedroom suite, Trump slept in his own bedroom, which was previously a study or den during other administrationshttps://t.co/2ddOgXylj1

— Julia Davis (@JuliaDavisNews) January 19, 2021
Twelve National Guard troops have been removed from duties related to the inauguration of President-elect Joe Biden, two of them for possible links to right-wing extremist movements, Defense Department officials said on Tuesday https://t.co/x4AZ2NVlXb

— NYT Politics (@nytpolitics) January 19, 2021
On Monday, The final report of the President's 1776 Advisory Commission was released largely because Trump lost the election. As a screed, it does raise some questions about the didactic purposes of the Trump administration beyond calumny and corruption.
The Trump administration is marking Martin Luther King Day by putting out a report that defends the Founding Fathers for owning slaves and attacks the Civil Rights Movement. This is an administration racist to the core. https://t.co/k1sSMC1mgN

— Citizens for Ethics (@CREWcrew) January 18, 2021
NEW from me: The controversial 1776 Report contains at least three instances of recycled and copied work.

An entire page of the report was lifted, near-verbatim and unattributed, from a 2008 article by one of the Commission's members.https://t.co/aywvE58WrX

— Tina Nguyen (@tina_nguyen) January 19, 2021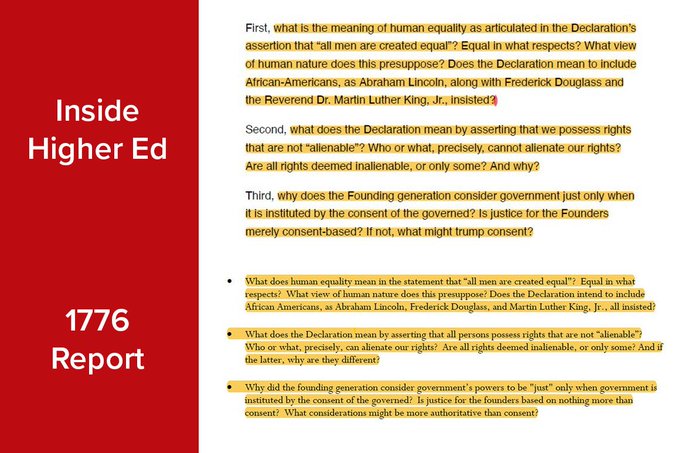 This quote alone disqualifies the strangest piece of dominionist propaganda written by the ideological geniuses of the Trump administration. Written by some of the right wing apologists for the human rights abuses attempted by Trump, it is filled with reactionary positions intended to propose a civic education appropriate for the nation's 250th anniversary in 2026, when presumably Trump would be in his third presidential term. It attacks the intent of the recent NY Times 1619 project, and is a simplistic document from academic backwaters and the dregs of GOP politics, and hardly qualifies as a conservative document, even with a pronounced lack of bipartisanship.
These three items from the Appendix for civic education demonstrate the underlying historical bias and misrepresentation within the document.
Recognizing that political activism has no place in formal education, mock civics and community service projects should be encouraged

Why did the founders opt for representative democracy over the "pure" version of democracy practiced in ancient Athens? How do the two kinds of democracy differ? What did the Federalist assert was the inadequacy of ancient democracy?

How does the Constitution seek to reconcile democracy, which means rule by the majority, with the rights of minorities? Stated differently, how does the Constitution do justice both to the equality of all and to the liberty of each? What exactly is the difference between a democracy and republic?

What economic conditions make American democracy possible? Could American democracy under the Constitution be reconciled with any and every economic system? Why does the Constitution protect property rights? Why do critics of American democracy such as Karl Marx believe that private property (protected by our Constitution) is the root of injustice? How would Madison and Hamilton have responded to Marx and his followers' criticisms?

(p.39)
There is one historian on the commission, the rest are various GOP functionaries and members of think-tanks, some with academic connections.
Today, 77 days after President Trump created the 1776 Commission, the group released a report — 41 pages, with pictures: https://t.co/53nNHopWkm.

The White House says the group is "comprised of some of America's most distinguished scholars and historians."

Reader, it isn't.

— David Gura (@davidgura) January 19, 2021
Larry Arnn chaired the 1776 Commission. He is the president of Hillsdale College and one of The Heritage Foundation's trustees. In 2015, he received the Bradley Prize. (Here is some background, from @WilliamCohan: Larry P. Arnn – Hillsdale College

His Hillsdale colleague, Matthew Spalding, was the Commission's executive director. He is the author of "We Still Hold These Truths: Rediscovering Our Principles, Reclaiming Our Future." Previously, Spalding was a fellow at The Heritage Foundation. Matthew Spalding

Mike Gonzalez, a former reporter, columnist, and speechwriter for a Securities and Exchange Commission chairman, is the "E Pluribus Unum" fellow at The Heritage Foundation. He has no degrees in history. 

Mike Gonzalez

Michael Farris, who also has no degrees in history, is the CEO of Alliance Defending Freedom, a group that advocates "for religious liberty, the sanctity of human life, freedom of speech, and marriage and family."

Michael P. Farris

Charles Kesler, another Bradley Prize winner, is a professor of government at Claremont McKenna College, with expertise in "idealism and nihilism," the "conservative movement in America," and "term limitations." He was Michael Anton's adviser.

Fmr. Rep. Bob McEwen has a bachelor's degree in business administration from the University of Miami, but he did lobby for an historian: Laurent Gbagbo, the former president of Côte d'Ivoire, who was charged with crimes against humanity.

Gay Hart Gaines, who was the head of GOPAC, "studied interior design at the University of Minnesota. "In 2016, Laura Ingraham presented her with the Republican Party of Palm Beach County's 2015 Lifetime Achievement Award. Chris Christie gave the keynote.

Peter Kirsanow, who was a member of the National Labor Relations Board, is a Cleveland-based lawyer. He recently argued in a piece for the National Review that there is no systemic racism in the United States:

Peter N. Kirsanow

John Gibbs is a conspiracy theorist who President Trump recently nominated to be the next Director of the United States Office of Personnel Management. He is a computer scientist.

Ned Ryun, whose father recently received the the Presidential Medal of Freedom, is the founder and CEO of American Majority, "the nation's premier conservative training organization. "He is a self-described "grassroots and conservative activism expert."

Bradley Prize-winner Victor Davis Hanson, a classicist and conservative commentator, is a fellow at Hillsdale College and The Hoover Institution.

Notably, he is not affiliated with Stanford University's classics or history departments — even by courtesy. 

Victor Davis Hanson

Tom Lindsay is a distinguished senior fellow of higher education and constitutional studies at the Texas Public Policy Foundation, a conservative think tank. He is not an historian.

Thomas K. Lindsay, Ph.D.

Attorney Julie Strauss, a conservative activist, is Mark Levin's wife.

Julie Strauss Levin

Phil Bryant, who was Mississippi's 64th governor, studied criminal justice and political science. Previously, he was a deputy sheriff, an insurance investigator, and a state auditor. 

Phil Bryant – National Governors Association

Jerry Davis has been, for 43 years, the president of College of the Ozarks, a Christian college in Point Lookout, Missouri. "Without patriotic education, historic American values and virtues will cease to exist in America's youth," he said.
Historians: Please tell me your favorite part of the 1776 Commission's report.

I'll go first: there are no footnotes/endnotes or bibliography in a document that claims to be the "definitive chronicle of the American founding." https://t.co/GdiF3iiMAJ

— Dr. Jacqueline Antonovich (@jackiantonovich) January 18, 2021
I finished reading the 1776 Commission Report. It claims America is "the most just and glorious country in all of human history"–the nation's great founding truth. But anti-Americans are disregarding this great patriotic truth, the report argues. 1/11https://t.co/v8Qr6gbMjt

— Ibram X. Kendi (@DrIbram) January 19, 2021
---
The Politicus is a collaborative political community that facilitates content creation directly on the site. Our goal is to make the political conversation accessible to everyone.
Any donations we receive will go into writer outreach. That could be advertising on Facebook, Twitter, and Reddit or person-to-person outreach on College campuses. Please help if you can:
---