Trump insurrectionists' economic anxiety resembled his brand of royalty, a "king of debt"
The Washington Post did a version of the NY Times profiles of Trumpists, albeit those who were involved in the 6 January insurrection, and there does seem to be a class struggle, not quite like one would expect.
The participation of people with middle- and upper-middle-class positions fits with research suggesting that the rise of right-wing extremist groups in the 1950s was fueled by people in the middle of society who felt they were losing status and power, said Pippa Norris, a political science professor at Harvard University who has studied radical political movements.

According to the Post, Ryan and a handful of her pro-Trump compatriots chartered a private plane to fly them from their home state to Washington, D.C., where they planned to "storm the capitol" jezebel.com/…

Jenna Ryan seemed like an unlikely participant in the mob that stormed the U.S. Capitol on Jan. 6. She was a real estate agent from Texas. She flew into Washington on a private jet. And she was dressed that day in clothes better suited for a winter tailgate than a war.

Yet Ryan, 50, is accused of rushing into the Capitol past broken glass and blaring security alarms and, according to federal prosecutors, shouting: "Fight for freedom! Fight for freedom!"

Trump's false claims about election fraud — refuted by elections officials and rejected by judges — seemed tailored to exploit feelings about this precarious status, said Don Haider-Markel, a political science professor at the University of Kansas who studies political extremism….
[…]
She said she started reading far-right websites such as Epoch Times and Gateway Pundit. She began streaming shows such as Alex Jones's "Infowars" and former Trump campaign manager Stephen K. Bannon's "War Room: Pandemic." She began following conspiracy theories related to QAnon, a sprawling set of false claims that have coalesced into an extremist ideology. She said she didn't know if the posts were true, but she was enthralled.
"It was all like a football game. I was sucked into it. Consumed by it," Ryan said.

But in a different way, she fit right in.

Despite her outward signs of success, Ryan had struggled financially for years. She was still paying off a $37,000 lien for unpaid federal taxes when she was arrested. She'd nearly lost her home to foreclosure before that. She filed for bankruptcy in 2012 and faced another IRS tax lien in 2010.

Nearly 60 percent of the people facing charges related to the Capitol riot showed signs of prior money troubles, including bankruptcies, notices of eviction or foreclosure, bad debts, or unpaid taxes over the past two decades, according to a Washington Post analysis of public records for 125 defendants with sufficient information to detail their financial histories.

The group's bankruptcy rate — 18 percent — was nearly twice as high as that of the American public, The Post found. A quarter of them had been sued for money owed to a creditor. And 1 in 5 of them faced losing their home at one point, according to court filings.
— ABZ (@youwantawar) February 4, 2021
Capitol insurrection: Most of the people charged, like Jenna Ryan, showed signs of prior money troubles – The Washington Post https://t.co/UKeQygRYDG

— Annie Heckenberger (@anniemal) February 10, 2021
The "King of Debt" promised to reduce the national debt — then his tax cuts made it surge. Add in the pandemic, and he oversaw the third-biggest deficit increase of any president. https://t.co/i8gGHOP24A

— ProPublica (@propublica) February 6, 2021
As the "king of debt" Trump filed 6 corporate bankruptcies and now he's morally bankrupted the GOP.#Resistance https://t.co/tEPF3FNZQs

— jeff rasley (@jeffrasley) February 4, 2021
A few of my takeaways from this important timeline of the "Stop the Steal" campaign from the @AtlanticCouncil's @DFRLab, published today on @just_security: https://t.co/MOdhCFP5gM

— Kate Brannen (@K8brannen) February 10, 2021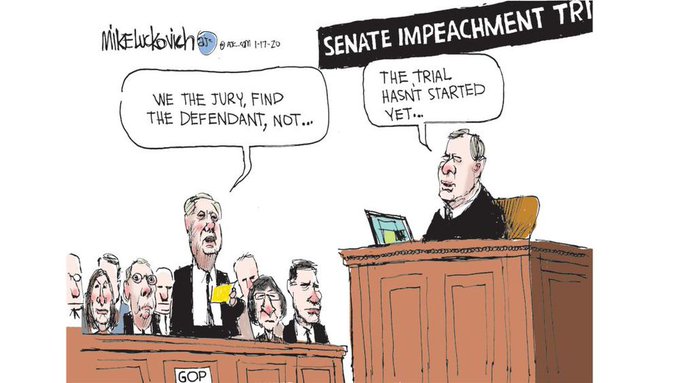 No matter how the senate votes, Trump's legal peril is just beginning

The impeachment managers cleverly included his ordinary election crimes in Georgia as a part of their case.

So their presentation will also feed the Georgia investigation, as I explained to @andersoncooper pic.twitter.com/6H62IcJhzL

— Norm Eisen (@NormEisen) February 10, 2021
.@StaceyPlaskett just destroyed any doubt that the Jan. 6th attack was planned, premeditated, and coordinated by Trump; and was the culmination of a recurring pattern of his incitement of violence among his supporters that he praised as patriotism.#ConvictAndDisqualifyTrump

— Andrew Wortman 🏳️‍🌈🇺🇸 (@AmoneyResists) February 10, 2021