Trump ignored the smoke detector and waited until the (white) house was on fire
7 min read
Aside from sinophobia rather than russophobia, The NY Times has documented more of the details for the 70-days of denial/delay/dysfunction in the Trump White House.  
Aside from the framing of Red Dawn (1984), it's pretty clear that the 2012 remake was on the minds of the email writers, where references to the invading Chinese troops from the PRC were changed to the North Koreans (DPRK) in deference to the marketing of the film.
As expected the Trump propagandists are trying to spin this as though Democrats were at fault. With the availability of the emails, a fulsome critical discourse analysis might be possible by a range of media analysts, as some have opined that this could be the Watergate Tapes of the COVID-19 crisis.
WASHINGTON — As the coronavirus emerged and headed toward the United States, an extraordinary conversation was hatched among an elite group of infectious disease doctors and medical experts in the federal government and academic institutions around the nation.

Red Dawn — a nod to the 1984 film with Patrick Swayze and Charlie Sheen — was the nickname for the email chain they built. Different threads in the chain were named Red Dawn Breaking, Red Dawn Rising, Red Dawn Breaking Bad and, as the situation grew more dire, Red Dawn Raging. It was hosted by the chief medical officer at the Department of Homeland Security, Dr. Duane C. Caneva, starting in January with a small core of medical experts and friends that gradually grew to dozens.

The "Red Dawn String," Dr. Caneva said, was intended "to provide thoughts, concerns, raise issues, share information across various colleagues responding to Covid-19," including medical experts and doctors from the Health and Human Services Department, the Centers for Disease Control and Prevention, the Homeland Security Department, the Veterans Affairs Department, the Pentagon and other federal agencies tracking the historic health emergency.

Here are key exchanges from the emails, with context and analysis, that show the experts' rising sense of frustration and then anger as their advice seemingly failed to break through to the administration, raising the odds that more people would likely die.

[…]

The New York Times has collected more than 80 pages of these emails, from January through March, based in part on Freedom of Information Act requests to local government officials. Some of the emails were reported on last month by Kaiser Health News. Here is a fuller collection, arranged by The Times in chronological order. This file includes a list of many of the medical experts on the email chains. It also contains related emails from certain state government medical experts who were reaching out to the federal government during the same time period.
…the reality is far more complicated: a bureaucratic nesting doll of groups with frequently competing aims and agendas.

As a result,

 

an administration that has lagged behind

 

at nearly every step of the pandemic still has no consensus plan for when or how to reopen parts of the economy, even as the president and many advisers push to do so as soon as May 1. There is still no concerted plan for getting vital medical supplies to states, which are left to fight among themselves or seek favors from Trump. There is also no developed plan for what happens if cases or deaths spike as people begin to return to work, or how to respond if the coronavirus surges again in the fall, as many public health experts and administration officials fear.

Public health experts say that among the keys to returning to normalcy are nationwide virus testing (to determine who has the virus); serological testing (to allow those who have been exposed to the virus and developed immunity to return to work); and contact tracing (quickly tracking all the contacts of an infected person, to halt further spread). Two task force officials said that more important even than nationwide testing is 

surveillance — using data to make informed decisions about public health.

[…]

The Situation Room seating chart — sent out every morning by Short in a PowerPoint — has become one of the task force's hottest documents.

Aides parse the power map for signs of who is up, who is down and who is likely to speak during the news conference that evening, with those closest to Pence having the best odds. Birx is almost always on Pence's right while other, less senior aides are along the back wall or in an overflow room.

One senior administration official described it as a "little reality show drama. Every day we wait for the email. It's like 'Game of Thrones.' "

[…]

During one task force meeting in the Situation Room last month, Trump turned to Fauci and challenged him.

It was the day the administration was adding Ireland and the United Kingdom to its travel restrictions, and Trump wanted to understand why talk of "herd immunity" — allowing the coronavirus to sweep a nation largely unchecked, with the belief that those who survived would then be immune — was such a bad idea.

"Why don't we let this wash over the country?" Trump asked, according to two people familiar with his comments, a question other administration officials say he has raised repeatedly in the Oval Office.

Fauci initially seemed confused by the term "wash over" but became alarmed once he understood what Trump was asking.

"Mr. President, many people would die," Fauci said.

The president said he understood but since then has repeatedly made clear he wants to reopen things soon — although significant roadblocks remain.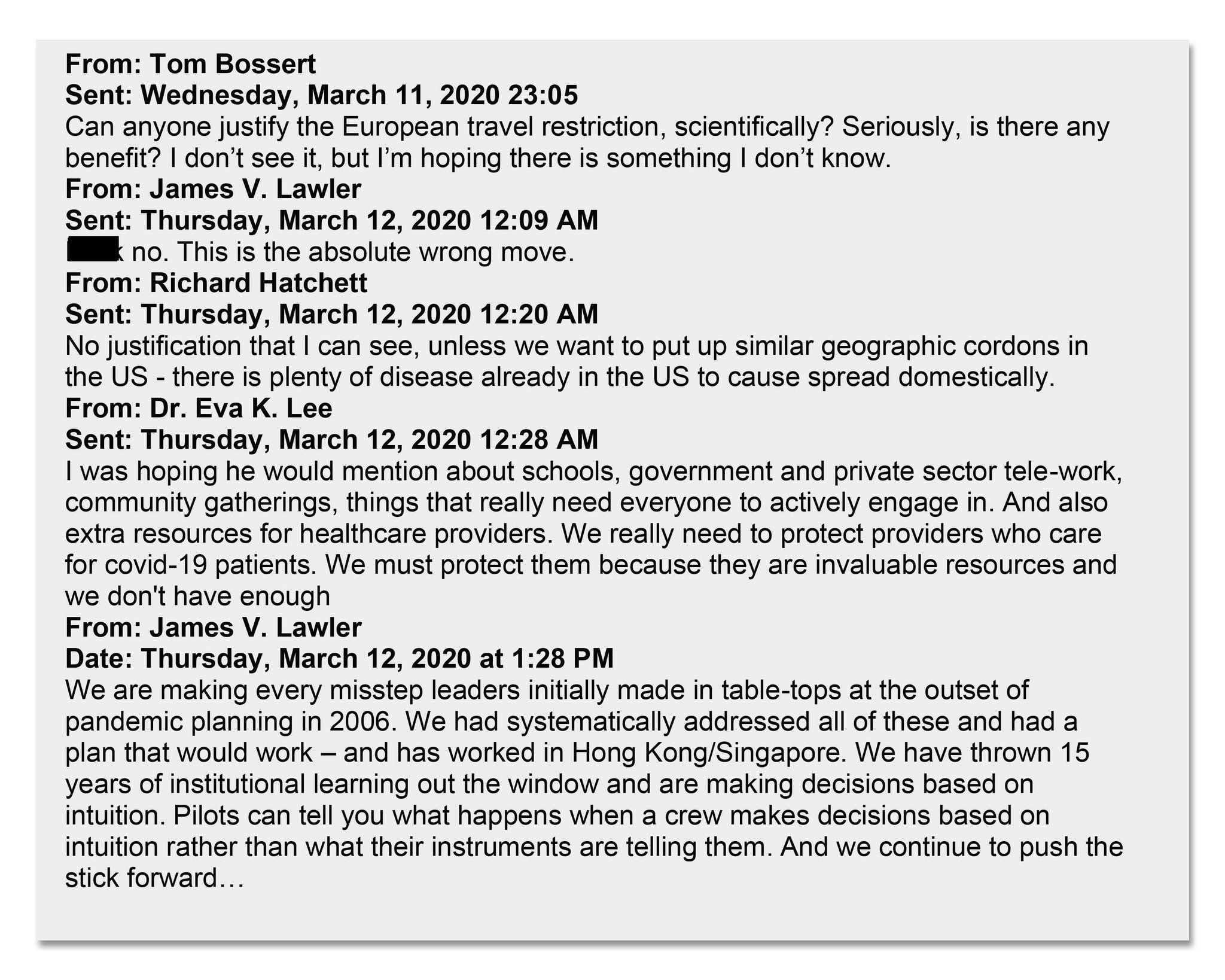 Sean Hannity's

 

latest effort

 

to portray President Trump as a heroic and decisive leader throughout the

 

coronavirus

 

crisis belongs in a time capsule. It will aid future study of one of the most monumental and destructive leadership failures in modern times — and the extraordinary lengths to which Trump's propagandists are going to rewrite it as a spectacular triumph.

Hannity's strategy, of course, is

 

Trump's

 

strategy. Trump has

 

already telegraphed

 

that, however extensive the eventual coronavirus damage in American deaths and economic carnage, Trump will take credit for having kept it to that supposed minimum.

This requires memory-holing Trump's catastrophic refusal to take coronavirus seriously

 

for weeks and weeks

, and instead substituting a narrative in which he acted decisively throughout.

[…]

But Hannity doesn't tell you that Trump

 

repeatedly and explicitly undercut

 

the CDC's efforts to create a sense of public urgency about the threat.

For instance, CDC officials had to actively work to reverse Trump's downplaying of coronavirus. In February, after Trump

 

claimed

 

coronavirus would "miraculously" go away in the spring, CDC Director Robert Redfield contradicted Trump,

 

noting

 

it would remain "beyond this year."

Trump also actively contradicted CDC officials himself. After one

 

declared

 

it's a "question of exactly when" coronavirus will spread, Trump

 

disputed this, claiming

: "I don't think it's inevitable."

Second, Hannity's timeline cites two acts to show the administration's decisiveness: Health and Human Services Secretary Alex Azar's declaration on Jan. 31 of a public health emergency, and Trump's appointment of Vice President Pence as head of the response on Feb. 26th.

What Hannity doesn't tell you is that the internal dynamics involving both Azar and Pence actually showcased Trump's refusal to treat coronavirus urgently — in a particularly vivid way.
— Kevin M. Kruse (@KevinMKruse) April 12, 2020
— Brian Tyler Cohen (@briantylercohen) April 10, 2020
<
p class="is-empty-p">