Slowly we turn…. more Trump revelations ahead as his recorded talks with Putin are now available to Biden and Ukraine releases tapes of Giuliani hectoring them to investigate Biden. Then again there's the distant hope that a vain Trump will be frustrated enough to testify before the Senate. Maybe a cat lawyer would be better.
(parody)
On a scale of one to 10, with 10 being the angriest, Trump "was an eight,"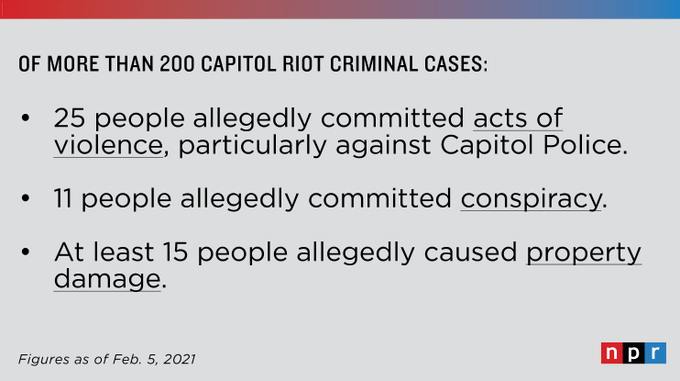 A group this large defies generalization. The defendants are predominantly white and male, though there were exceptions. Federal prosecutors say a former member of the Latin Kings gang joined the mob, as did two Virginia police officers. A man in a "Camp Auschwitz" sweatshirt took part, as did a Messianic Rabbi. Far-right militia members decked out in tactical gear rioted next to a county commissioner, a New York City sanitation worker, and a two-time Olympic gold medalist. www.npr.org/…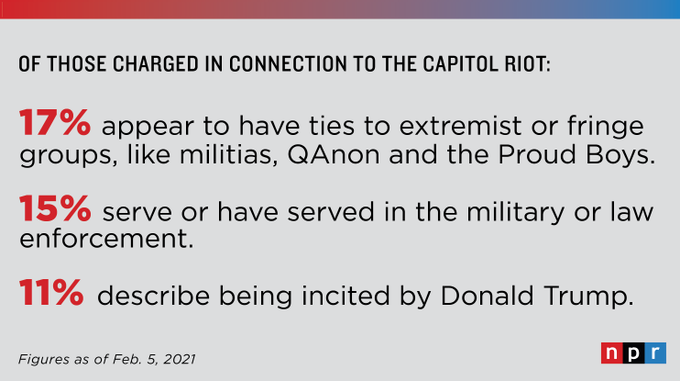 There were those with connections to extremist groups or fringe ideas. At least 13 defendants appear to have expressed support for QAnon, the pro-Trump conspiracy theory.
At least 10 of the defendants appear to have links to the Proud Boys, a far-right gang. The group was recently declared a terrorist group in Canada. Their values have been widely described as racist, misogynist, anti-immigrant and hateful against other minority groups.
At least four of the defendants have alleged ties to the Oath Keepers, which the Anti-Defamation League calls an "anti-government right-wing fringe organization."
The group is known to target and recruit current and former law enforcement officers and military veterans. At least three of the defendants are allegedly affiliated with the Three Percenters, another anti-government extremist organization.
"Let these investigations go forward," said Giuliani on the tape. "Get someone to investigate this."
"The 40-minute call, a transcript of which was obtained by TIME, provides the clearest picture yet of Giuliani's attempts to pressure the Ukrainians on Trump's behalf," said the report. "The President's personal lawyer toggled between veiled threats — 'Be careful,' he warned repeatedly — and promises to help improve Ukraine's relations with Trump. 'My only motive — it isn't to get anybody in trouble who doesn't deserve to be in trouble,' Giuliani said. 'For our country's sake and your country's sake, we [need to] get all these facts straight,' he added. 'We fix them and we put it behind us.'"
Can the managers of former President Donald Trump's impeachment trial force him to appear and testify?
Last week, House impeachment managers requested that he give testimony either before or during the trial, which begins Wednesday. But Trump senior adviser Jason Miller said the former president will not testify at what he considers to be an "unconstitutional proceeding."
Both houses of Congress have constitutional power to issue subpoenas and compel testimony to pursue a valid legislative purpose. The impeachment function is committed solely to Congress, so subpoenaing witnesses for a trial in the Senate is likely a "valid legislative purpose."
"Donald Trump may not know much about the Framers. But the Framers knew all about Donald Trump."
<
p class="is-empty-p">
---
The Politicus is a collaborative political community that facilitates content creation directly on the site. Our goal is to make the political conversation accessible to everyone.
Any donations we receive will go into writer outreach. That could be advertising on Facebook, Twitter, and Reddit or person-to-person outreach on College campuses. Please help if you can:
---