Grabbing goop everywhere. When you're a star they let you do it.
x
Associates who've spoken with Trump say he's used the same vulgarity he used about Pence to describe McCarthy, saying he bowed to pressure with his House floor speech.— Maggie Haberman (@maggieNYT) January 18, 2021
— Yashar Ali 🐘 (@yashar) January 18, 2021
This Gwyneth Paltrow candle didn't pass the smell test, according to a report.
A "This Smells Like My Vagina" candle that the actress peddles on Goop exploded into flames in the living room of a UK woman who won the odoriferous product in a quiz, the Sun reported.
"The candle exploded and emitted huge flames, with bits flying everywhere," Jody Thompson, 50, told the outlet.
"I've never seen anything like it. The whole thing was ablaze and it was too hot to touch. There was an inferno in the room," the media consultant from Kilburn, North London, added.
x
Kevin McCarthy is not just disliked, but reviled. Many people will not forgive his blatant acts to embrace and perpetuate dangerous lies from Trump and others that threatened democracy, says @miriampawel. https://t.co/KVUHuThtkt

— New York Times Opinion (@nytopinion) January 17, 2021
x

We wound up in this predicament because all the Kevin McCarthys and the radio talk-show hosts and the right-wing columnists and donors thought they had a racket going: Lie to the mob and instill in them fear of and unhinged anger against the other party. https://t.co/HBHbICQjga
— Jennifer 'It's time to grow up' Rubin (@JRubinBlogger) January 18, 2021
After replaying the remarks from House Minority Leader Kevin McCarthy (R-Calif.) during the impeachment debate, Tapper noted: "Zero acknowledgment that McCarthy himself, for two months, pushed that very same big-lie rhetoric." He continued: "McCarthy, House Minority Whip Steve Scalise and 124 other House Republicans went so far as to
sign on
to that joke of a lawsuit from the Texas attorney general which lent further credibility to the big lie."
The Jan. 6 insurrection did not come out of the blue, nor was it the work of only one man. "Millions of Americans infected with the virus of disinformation," Tapper said. "It was a joint effort by far-right hate groups that the president has been playing footsie with for years and radicalized, infected Trump supporters and MAGA media." Tapper added: "Multiple dead bodies later, no contrition, no apologies, no acknowledgment of what they did until those who spread the big lie worked to correct it putting out a vaccine of facts and truth."
There you have it: One congressman is a dedicated public servant who puts personal tragedy aside and speaks with a patriot's devotion, knowing his own obligation to defend and protect the Constitution from enemies foreign and domestic. The other is a cowardly nonentity who fails to take his oath seriously and allows himself to be swept up in the tide of white supremacy and authoritarian contempt for elections. Raskin leads citizens; McCarthy incites and then follows the mob.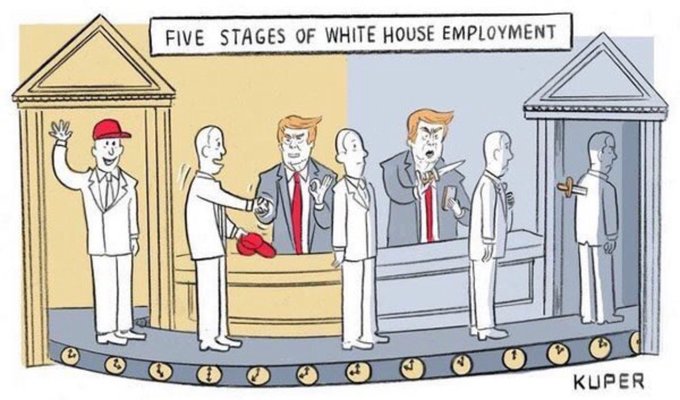 x
.@GOPLeader Kevin McCarthy and the other House Republicans WELCOMED @RepBoebert into Congress with open arms DESPITE this insane RAP SHEET *AND* her current husband's arrest for EXPOSING HIMSELF TO A MINOR!

The Republican party is DOOMED in 2022 and 2024. pic.twitter.com/VZkfwCAs8N
— Don Winslow (@donwinslow) January 18, 2021
— Jim Sciutto (@jimsciutto) January 18, 2021
x
Delusions as part of a mental disorder are characterized as idiosyncratic beliefs that are contradicted by reality or rational argument. They can be bizarre or non-bizarre. Non-bizarre delusions are fixed false beliefs prompted by real-life situations, such as losing an election.
— Duty To Warn 🔉 (@duty2warn) January 18, 2021
<
p class="is-empty-p">
"You're not mopping fast enough. (Laughter) That's a socialist mop. (Laughter and applause) Grab a mop — let's get to work." – Barack Obama (2009); "Soyez réalistes, demandez l'impossible!"