Trump as dignity-free zone, conceding to Biden on Twitter, but no-take-backsies on an Egyptian river
3 min read
Will he claim that those five million votes were Californians illegally voting.
— James Kosur (@JamesKosur) November 15, 2020
WASHINGTON — President Donald Trump seemed to acknowledge his defeat to President-elect Joe Biden on Sunday morning, complaining in a tweet that "He won because the Election was Rigged."
This was the first direct signal from Trump that he recognizes the reality of his impending eviction from the White House. News outlets and social media jumped on the apparent concession, eight days after the outcome became clear and Biden declared victory.
Biden swept Trump him by more than 5 million votes and a decisive victory in the Electoral College, 306-232 — precisely the margin Trump boasted was a landslide victory four years ago over Hillary Clinton, when she collected 3 million more votes.
Within an hour, though, Trump sought to mop up the impression created with the phrase "He won."
"He only won in the eyes of the FAKE NEWS MEDIA. I concede NOTHING! We have a long way to go. This was a RIGGED ELECTION!" he tweeted.
"They say the first stage is denial," Jon Ossoff, Democratic nominee one of the Georgia runoffs that will determine control of the U.S. Senate, said moments later on ABC's "This Week." "Trump is leaving, whether he knows it or not."
"It's perfectly in character. It displeases him when reality doesn't conform to the image that he has of it," Trump's former national security adviser John Bolton said on ABC. "I do not expect him to go graciously. I do expect him to go."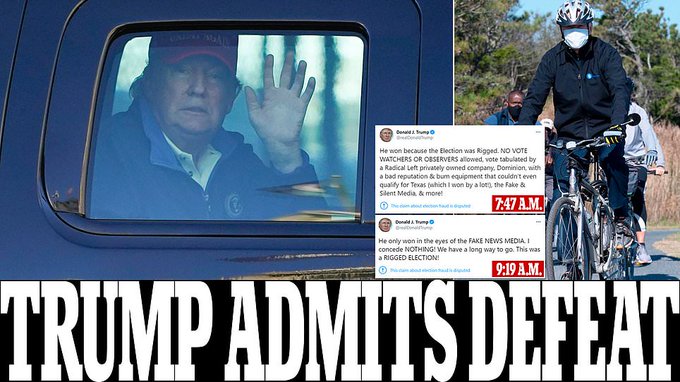 There is no legal or constitutional requirement for a defeated president to concede, though it has always been the norm in American politics for the loser in an election to do so and to congratulate the winner – out of sportsmanship, in deference to the way democracy works, and to give emotional solace to disappointed supporters.
— Invisible Fist (@matrbk) November 15, 2020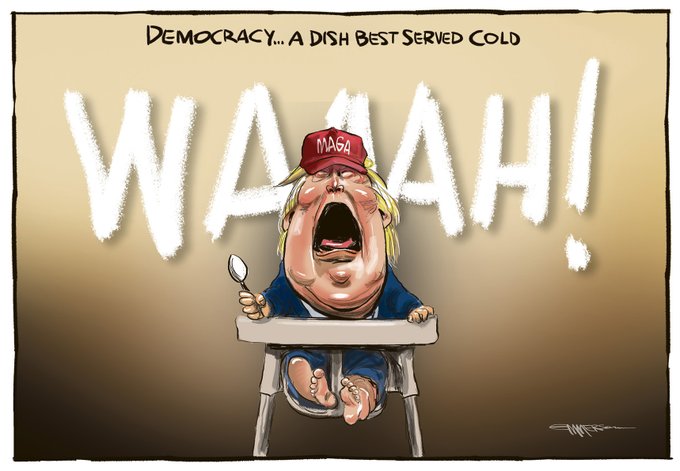 — The Washington Post (@washingtonpost) November 15, 2020
— Dave Wasserman (@Redistrict) November 15, 2020
<
p class="is-empty-p">