Tom Vilsack led USDA for both terms of the Obama administration. He's back.
Tom Vilsack returns to the position he held during the Obama administration at USDA. Why hasn't the pandemic compelled a rethinking of factory farming. Changing trends toward sustainability must show that the structure of industry needs to change. We'll see. At least Biden is motivated by actual contacts rather than seeing cabinet members on Fox News. Perhaps the tariff/trade mess created by Trump might get reversed, as well as the destruction of the USDA research division.
Biden's rural advisers, with deep ties to corporate agriculture, have advocates for family farmers concerned. They cite in particular the influence of former Agriculture Secretary Tom Vilsack, now a lobbyist for the dairy industry, and former North Dakota Sen. Heidi Heitkamp, whose new organization One Country claims to speak for rural America. "The Biden team has too few voices in their ear claiming to represent rural and ag issues," says Joe Maxwell, president of Family Farm Action and a leading critic of Big Ag monopolies.

At the heart of the dispute is a conception of how to revitalize rural America. Business-friendly ag advisers emphasize trade, believing that promoting overseas markets will translate to prosperity for family farmers and ranchers. But "farmers do not export, Cargill exports," Maxwell counters, arguing that Big Ag domination is a far greater challenge. If you don't profit from what you produce, he reasons, more trade won't fix the problem.

Export strategies force farmers into monoculture crops and overproduction, which pushes down prices. Add to that increasing input costs for seed and machinery and you squeeze working farmers, who must compete with industrial-sized Big Ag operations. Small livestock producers are forced to sell low to concentrated meatpackers and watch as they pass on inflated prices to groceries, enjoying the middleman profits. "The big guys won't process for the little guys and are putting the little guy out of business," says Carrie Balkcom, executive director of the American Grassfed Association and a family rancher in South Florida.

Standing up against farmer abuse from ag monopolies would be popular in battleground Midwest states with farm districts, like Minnesota, Wisconsin, Michigan, and Iowa, and advocates for a prairie populist strategy are armed with polling that says so. One poll shows that over 80 percent of rural voters reject ag monopolies and factory farms. The Biden team, by toeing the corporate ag line, is "leaving votes on the table that perhaps they shouldn't," Maxwell says.

Farmers are increasingly desperate to deliver this message. "We've pleaded for years and years that the farmers are being screwed and our independence is being ripped away from us," says Chris Petersen, a specialty hog farmer in Clear Lake, Iowa. "You can talk to Vilsack and Heitkamp all you want, but more corporate control of ag is not the answer."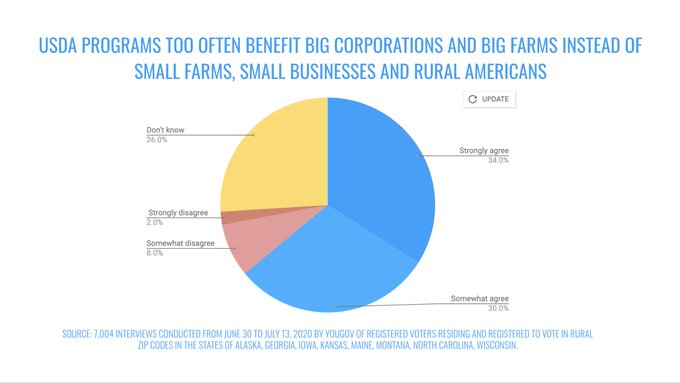 One person familiar with Biden's thinking said Tom Vilsack's previous experience running the department was instrumental in the decision because the president-elect wanted someone who could immediately tackle the hunger and farm crises that have been exacerbated by the pandemic. This person added Biden was impressed by Vilsack's tenure as the head of the department.

While leading USDA, Vilsack focused on leveraging the $150 billion department's mission beyond its traditional focus on farmers, delving deeper into other areas like rural development and nutrition programs that aid millions of low-income Americans

.

He oversaw a major update to school nutrition standards that was spearheaded by former First Lady Michelle Obama.

Since the end of the Obama administration, Vilsack has been leading the U.S. Dairy Export Council, a trade group that advocates for the dairy industry overseas. Vilsack is expected to be formally announced as the pick as soon as this week.

The USDA is expected to play a major role in the Biden administration's response to climate change, which likely made the job more attractive for Vilsack to return. After decades of resistance to even talking about climate change, farm groups are

starting to warm up to policies

that give farmers incentives to capture and store carbon in their soil. An idea recently gaining traction is to expand the USDA's Commodity Credit Corporation borrowing authority to create a carbon bank to help pay farmers and other landowners for carbon sequestration.
— Kyle Griffin (@kylegriffin1) December 8, 2020
<
p class="is-empty-p">