Letting a cabal like Council for National Policies choose the tropes: "Buy Mr. and Mrs. Potato Head because it's the end of an era. It is the end of freedom in America". Because of course you learn gender roles from potatoes, your ideology from conservative lobbying groups, and then there's the coordination 6 January's insurrection.
Council for National Policy

cfnp.org

The Council for National Policy is an umbrella organization and networking group for conservative and Republican activists in the United States. It has been described by The New York Times as "a little-known club of a few hundred of the most powerful conservatives in the country," who meet three times yearly behind closed doors at undisclosed locations for a confidential conference.

The Nation has called it a secretive organization that "networks wealthy right-wing donors together with top conservative operatives to plan long-term movement strategy".[5]

The organization has been described as a "pluto-theocracy".

[6]
Please read. Like, now.

How Republican Politics (And Twitter) Created Ali Alexander, The Man Behind 'Stop The Steal' https://t.co/V86poN3I5j

— Lincoln's Bible (@LincolnsBible) March 7, 2021
SPLC in 2016 put out the 2014 membership list they were able to obtain. https://t.co/7gXul4D9Zh What makes things understandable 1) Justice Thomas MUST resign or be impeached as he is tied into it.
2) The CNP and Federalist Society are extremely dangerous as they are linked.

— tellthetruth (@9_tellthetruth) March 1, 2021
NEW at @EXPOSEDbyCMD: At the CPAC Trumpfest, members of right-wing influence groups Council for National Policy and ALEC promoted the "big lie" of widespread voter fraud—the same myths that inspired the deadly insurrection at the Capitol. https://t.co/QA05R5aHpr

— Alex Kotch (@alexkotch) March 2, 2021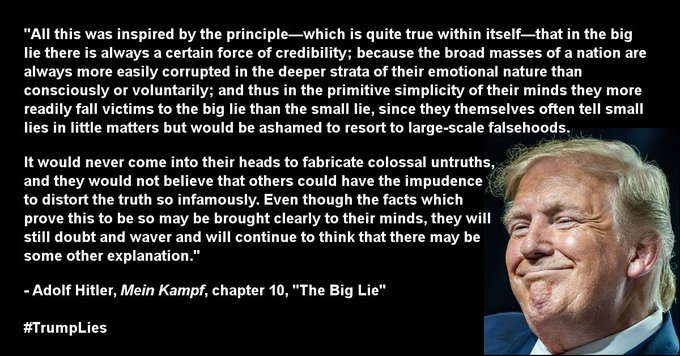 Four minutes of FDR explaining exactly what Trump and the GOP are doing RIGHT NOW with their "Big Lie" about election fraud. Really worth your time to watch.

The GOP is today recycling their 1944 strategy that they abandoned during the Eisenhower years.https://t.co/67lu9jCiYG

— Thom Hartmann (@Thom_Hartmann) March 8, 2021
Now that Donald Trump has lost all of his election challenges in the Supreme Court, he, Josh Hawley, Ted Cruz and the other 145 members who challenged the election results will drop the big lie, right?https://t.co/rE8GauDv2k

— Citizens for Ethics (@CREWcrew) March 8, 2021
Hugo Boss, like many at the time a supporter of and supplier of materiel to the Nazi regime. And prepared to use forced labourhttps://t.co/q1FhgJVj6t

— Graeme Leggett (@GrumFromNorwich) March 2, 2021
Why in the world would you support his white nationalist tweets?

— Devin Nunes' cow 🐮 (@DevinCow) March 9, 2021
Former President Trump asked supporters in an email tonight to donate directly to him and not other Republicans — hours after the Republican National Committee rejected his demand to stop using his name and likeness in fundraising appealshttps://t.co/hgc0jS8va7

— Axios (@axios) March 9, 2021
---
The Politicus is a collaborative political community that facilitates content creation directly on the site. Our goal is to make the political conversation accessible to everyone.
Any donations we receive will go into writer outreach. That could be advertising on Facebook, Twitter, and Reddit or person-to-person outreach on College campuses. Please help if you can:
---