The orange grifter won by a Lot, but did his wife turn into assault
4 min read
Ann Coulter tells Texas crowd "a second term of Trump would have killed us": "I'm glad he lost" "It's like he didn't know he was president.."
He didn't.
These remain dangerous times, but they will get better. Looking back will always bring salty tears.
But there's cause for comfort, of a sort, in signs that the president is preparing for life outside the White House in exactly the way one would expect — by initiating new grifts. Trump has been sending out frantic fund-raising requests to "defend the election," but as The New York Times reports, most of the money is actually going to a PAC, Save America, that "will be used to underwrite Mr. Trump's post-presidential activities." Axios reports that Trump is considering starting a digital media company to undermine Fox News, which he now regards as disloyal.

These moves suggest that while Trump may be willing to torch American democracy to salve his wounded ego, at least part of him is getting ready to leave office.

[…]

"His whole life he's been involved in a bunch of litigation," said the superstar liberal attorney Roberta Kaplan. But post-presidency, "I have to assume that, given the amount of civil litigation and potential criminal exposure, it's going to be at a completely new dimension."

Kaplan is pursuing three high-profile lawsuits against Trump, including the writer E. Jean Carroll's defamation case. Carroll, you might remember, accused Trump of raping her in a department store dressing room during the 1990s. Trump called her a liar, and she's suing him for damaging her reputation.

Under Attorney General Bill Barr, the Department of Justice has tried to shut down the suit, arguing that Trump was acting in his official capacity when he said Carroll had made up the story to sell books. In October a judge rejected the department's theory, but had Trump been re-elected, Kaplan expected an appeal.

Once Biden is president, Kaplan told me, "it's hard for me to imagine that the D.O.J. won't change its position." So the case is likely to proceed. Kaplan expects it to go into discovery shortly after Biden's inauguration. She anticipates deposing Trump and collecting his D.N.A. to compare with male D.N.A. found on the dress Carroll was wearing at the time of the alleged attack.

If Kaplan and Carroll prevail at trial, it would be a high-profile legal validation of Carroll's claims. Her suit has not, so far, been a major news story — there's too much else going on. But a verdict in her favor could be the #MeToo version of the civil judgment against O.J. Simpson — not justice, exactly, but a powerful rejection of impunity.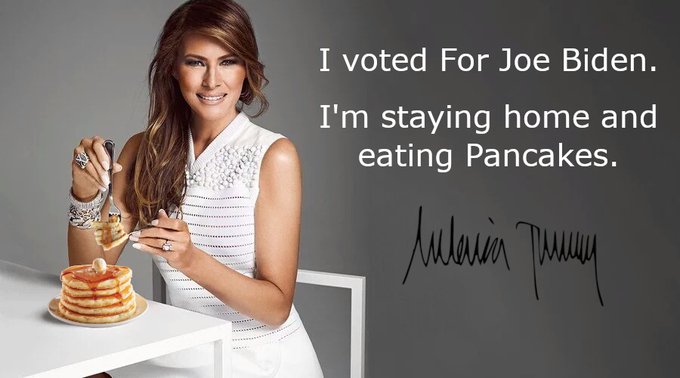 "Who gives a fuck about Christmas stuff and decorations but I do it. Right?"

Melania has reportedly been privately urging her loser husband to concede the election he lost, a sign that perhaps she can't wait to get the fuck out of the White House. I don't blame her; I too would like her and her husband to get the fuck out!

But how will she occupy her time now that she doesn't have to pretend to care about the needs of everyday Americans? Other former First Ladies, after all, have parlayed their time post-White House into continuing fame and fortune. Michelle Obama, her immediate and widely beloved predecessor in the East Wing, has become the mogul of her own mini-media empire, with a best-selling memoir that included a stadium tour, a popular podcast, and along with her lesser-beloved husband, a multi-year producing deal with Netflix.
— mollyswordmcdonough 🌊 (@mollysmcdonough) November 16, 2020
<
p class="is-empty-p">