The Kraken Caucus makes itself known. GOP sedition messaging harkens back to the 19th Century, except Trump's lost cause won't rise again. This time it's not a Brooks Brothers Riot but pseudo-secessionist displays. "Trump can't handle the concept of the label 'loser'" as he pimps a 'seditious abuse of justice', and Jake Tapper brands another crowd of GOP cowards. The clown show ends next week as Limp Gasbag hints at secession, but SCOTUS will reject these suits on the merits.
The Kraken Caucus — 106 House Republicans (and 18 state attorneys general) who signed onto a anti-democracy lawsuit to disenfranchise millions of their fellow Americans, based on lies and conspiracy theories.

x

It's Supreme Court's fault for opening this door with Bush vs. Gore.— Denise Wu (@denisewu) December 11, 2020

A staggering 106 Republican members of Congress have filed a brief in support of Texas' improbable Supreme Court lawsuit aiming to overturn the results of the 2020 presidential election. Given that every state has certified its electoral results, President-elect Joe Biden is expected to win the Electoral College once it officially votes on Monday. The suit alleges that states changed their voting systems in a way that facilitated fraud. As Texas has no authority over other states' laws, experts predict the case is virtually assured to get dismissed.
x
Factcheck: True.

Never before has there been so much official support for a coup. And not since the Civil War has there been such a ferocious internal attack on American democracy. https://t.co/34NKlPNOwl— David Corn (@DavidCornDC) December 11, 2020
— Armed Conflict Location & Event Data Project (@ACLEDINFO) December 10, 2020
— Michelle Ye Hee Lee (@myhlee) December 2, 2020
x

Wednesday: "I actually think that we're trending toward secession."

Thursday: "I simply referenced what I have seen other people say." https://t.co/fx4T0Q30jc

— Peter Wade (@brooklynmutt) December 10, 2020
Rush Limbaugh: "There cannot be a peaceful coexistence" between liberals and conservatives
After conservative radio host Rush Limbaugh says 'there cannot be a peaceful coexistence' between liberals and conservatives, a viral map from 2004 resurfaces, combining coastal 'blue' states with Canada and dubbing the remaining 'red' states 'Jesusland'
x
Query: If a group of armed demonstrators surrounded Sen. McConnell's house accusing him of being a political terrorist, would they have been arrested for threatening? Why weren't the Michigan Trump supporters arrested? Get answers from the police.— Dominick Thomas (@Dominic66184723) December 7, 2020
x

"The man who oversaw the prosecution of Oklahoma City bomber Timothy McVeigh is as alive as anyone to the threat of far right and white supremacist violence." https://t.co/1ZTnTPjUqt
— Greg Sargent (@ThePlumLineGS) December 10, 2020
I know there are progressives who think Garland is too moderate and want greater diversity in Biden's Cabinet. There are other fine candidates on Biden's shortlist, including former deputy attorney general Sally Yates, former Massachusetts Governor Deval Patrick and outgoing Sen. Doug Jones (D-Ala.).
But it is precisely because so many Republicans have extoled Garland's qualities — some even
tried to recruit him to be FBI director
after Trump fired James B. Comey in 2017 — that he is the ideal person to untangle the mess that Trump and Attorney General William P. Barr will leave behind. This includes deciding what to do about potential violations of law during Trump's presidency.
Yes, Garland has a moderate's demeanor, but Republicans kept him off the court precisely because his rulings on issues ranging from labor rights to the environment were consistent with progressive values. He is a champion of racial justice, and his experience as a prosecutor could make him precisely the right person to implement the far-reaching reforms our criminal justice system so urgently requires.
— Four Seasons Total Landscaping (@TotalSeasons) December 10, 2020
x
This isn't a game. Trump lost. End of story.

But he's still trying to drag down our democracy, invalidate millions of votes, and overturn the election.

And for what? To raise money? To run again?

These members of Congress should be ashamed. History will remember the enablers. https://t.co/5VqzHbEKoA
— Adam Schiff (@RepAdamSchiff) December 10, 2020
x

I'm still seeing a lot of concern about the Texas Supreme Court filing, which is understandable. From a certain angle, it looks imposing.

So here, in sum, is why there's no need for alarm (thread):
— Elie Honig (@eliehonig) December 10, 2020
1)
The case asks the Supreme Court to exercise "original jurisdiction," skipping lower courts. The Court rarely does this. The Court *can* exercise this jurisdiction in state v. state disputes, but doesn't have to. It takes 5 justices to hear this case, rather than the usual 4.
2)
Usually original jurisdiction applies to state v. state disputes over borders, etc. – for example when NJ and NY sued over control of Ellis Island (Jersey!). The TX case is something else entirely and could have been heard in lower courts (many have rejected similar claims).
3)
The heart of Texas's claim is that it objects to election procedures used in four other states. This is unconstitutional and would lead to utter insanity. First, The Constitution specifically gives each state the right to run its elections as it sees fit. Done and done.
4)
And to allow one state to sue over another state's processes would lead to absurd results. Any state could sue any other state over the election. NJ could sue Alabama, Alaska, Idaho. Arkansas could sue MA, NY, and CA. It would never end. The Court won't countenance that.
5)
Texas does not base its claim on voter fraud, nor does it offer any viable proof. Its attention-grabbing "one in a quadrillion" statistical "analysis" assumes votes don't change from one election to another (Why even hold elections then? Just declare the last guy the winner).
6)
The statistical junk also assumes there's no such thing as different areas, different neighborhoods, tending to vote more one way or the other politically. And it ignores the inarguable fact that Dems voted by mail far more than GOP voters.
7)
Yes, 17 state AGs (all GOP) have signed onto the case. Here are some folks who have not: (1) many other Republican AGs, (2) the Solicitor General of TX itself, who often appears in the Supreme Court and has to maintain dignity and credibility, (3) the US Department of Justice.
8)
It's too late, in several respects. Texas easily could have filed this challenge well *before* the election. Yet it waited until not only after the election but after all states had certified the results. The Court can reject on this basis alone.
(9)
We are now past the Safe Harbor date (Dec. 8). So state certifications of election results are presumptively legally valid and binding on Congress.
10)
If the Court took the case now and overturned results, it would disenfranchise millions of votes and throw the political process into mayhem. Dem states would fire back with similar suits. The Court is famously (and rightly) reluctant to get involved in political matters.
11)
For example, earlier this week, the Supreme Court flatly rejected a different case seeking to overturn the election results in PA with a one-line rejection that noted zero dissents — not from any of the conservatives, including the three justices appointed by Trump himself.
12)
So yes, there's a lot of chest-pounding in certain quarters about how this is the big one. I get why it looks scary. But don't fear. The Court won't take this case and even if they do, they'll reject it on the merits. (END)
x
20 states, 2 U.S. territories, and D.C. urge SCOTUS to reject the Texas lawsuit.

"By demanding this Court police state interpretation of state law, Texas's theory of the Electors Clause would reorder the Constitution and undermine our federalist system."https://t.co/H9ZLLBfRWW
— Kyle Griffin (@kylegriffin1) December 11, 2020
<
p class="is-empty-p">
"Fire is materialised time" – Hegel, Philosophy of Nature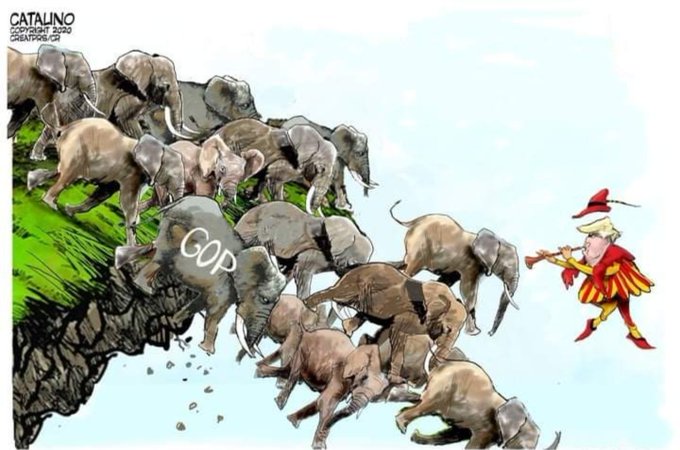 "You're not mopping fast enough. (Laughter) That's a socialist mop. (Laughter and applause) Grab a mop — let's get to work." – Barack Obama (2009); "Soyez réalistes, demandez l'impossible!"