person woman man camera television
---
Presently it's an 88-12 likelihood of a Biden win and a 343-195 Electoral College margin.
The model first averages the polls, weighting them by their sample sizes and correcting them for tendencies to overestimate support for one party. It then combines this average with our forecast based on non-polling data, pulling vote shares on each day slightly towards the final election-day projection.
— Philip Bump (@pbump) August 18, 2020
One thing we can be confident about, though, is Trump's presentations of what the polls say can be broadly discounted. Trump has repeatedly disparaged the 2016 polling, conflating national polling (which was mostly accurate) with inaccuracies in state polling that led to misleading forecasts.
In an interview on Fox News on Monday, Trump went further, alleging that national polling was meant to suppress enthusiasm for his candidacy. There's no way to describe this claim besides "ludicrous." Polls conducted by responsible media outlets are accurate, statistically valid measures of public sentiment. Besides, if one's goal were to suppress support for Trump, you'd do that when people are actually voting and there's a point to do it.
Over the weekend, Trump introduced a new argument to support his claim that his supporters are loath to be honest with pollsters. (This is somewhat at odds with his "suppression polls" claim, but consistency is not one of Trump's hallmarks.) He said during a news briefing and again on Fox that 62 percent of people say they're not honest with pollsters — apparently an effort to retrofit
a July poll
from the Cato Institute, which dealt broadly with people's comfort levels in being honest in their political discourse to polling specifically.
In other words, Cato found that more than half of Americans have withheld their opinions at some point out of concern they'd be considered offensive. To Trump, this apparently means that 62 percent of Americans tell pollsters they support Biden instead of him.
As always, Trump isn't trying to accurately convey information about polling; he's trying to

blur

that reality. In this case, the reality is that Biden has a healthy lead over Trump, one which is probably stronger coming into the convention than that seen by any Democrat since at least 1968.
<
p class="is-empty-p">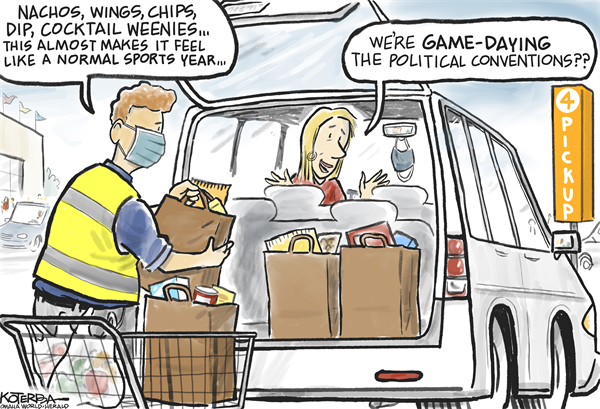 — The Hill (@thehill) August 18, 2020
<
p class="is-empty-p">
"You're not mopping fast enough. (Laughter) That's a socialist mop. (Laughter and applause) Grab a mop — let's get to work." – Barack Obama (2009); "Soyez réalistes, demandez l'impossible!"