"the disgraceful attack on our Constitution and democracy, known as the 'impeachment hoax'"
We are now in the realm of stupid, since the second impeachment is apparently another "hoax", even though actual deaths have occurred. This leaves the two prior Trump hoax claims: the numerous counts of obstruction of justice from the Mueller Report and the first impeachment's near-conviction, short by a couple of votes. Even as McConnell has scheduled the Senate Trial until after Trump has left office, it could alter any possibility of Trump returning to public office.
(APPLAUSE)

Our country has had enough.

We will not take it anymore, and that is what this is all about.3

3

Another reference to the desperation of the moment. As with some of the above, it includes no reference to the crowd using force — which Trump will avoid throughout the speech — but pitches the moment as some kind of last stand.

(APPLAUSE)

And to use a favorite term that all of you people really came up with,

we will stop the steal4.

4

"Stop the Steal" is a group that organized this rally and others like it across the country. One of its organizers is Ali Alexander, a conspiracy theorist who has inhabited the fringes of the conservative movement. The name, as with much of Trump's rhetoric, references the idea that the election is being deliberately stolen rather than that there are simply doubts about its legitimacy. Here, Trump assures his audience that the stolen election "will" be stopped.

(APPLAUSE)

Today I will lay out just some of the evidence proving that we won this election and we won it by a landslide. This was not a close election. You know I say sometimes jokingly, but there's no joke about it. I have been in two elections. I won them both and the second one I won much bigger than the first, okay?

[…]

And I actually, I just spoke to Mike. I said, Mike, that doesn't take courage, what takes courage is to do nothing. That takes courage, and then we are stuck with a president who lost the election by a lot, and we have to live with that for four more years. We're just not going to let that happen.6

6

This is a crucial section: Trump concludes his recounting of a conversation with Vice President Pence by, again, suggesting that his supporters won't abide a lack of compliance. Legal experts and many Republican lawmakers agreed that Pence could do nothing to prevent Congress from accepting the certified results of these states, and Pence had signaled that he would not attempt to. But Trump suggests that there is something the rally could — and will — do to halt that.

[…]

If this happened to the Democrats, there'd be hell all over the country going on. There'd be hell all over the country.8 But just remember this, you're stronger, you're smarter. You've got more going than anybody, and they try and demean everybody having to do with us, and you're the real people. You're the people that built this nation. You're not the people that tore down our nation.9

8

This is a favorite rhetorical device of Trump's: alluding to the idea that Democrats are somehow tougher and more willing to raise "hell" in such situations. Given how often Trump employs this device, it's not difficult to read it as implying that he'd like to see his own supporters respond more forcefully — whatever form that force might take.

9 A particularly striking line given that shortly after this speech, Trump's supporters would storm the Capitol — a deliberate attempt to tear down our government.

[…]

I think you have 250,000 people — 250,000. Looking out at all of the amazing patriots here today, I have never been more confident in our nation's future. Well, I have to say, we have to be a little bit careful. That's a nice statement, but we have to be a little careful with that statement. If we allow this group of people to illegally take over our country because it's illegal, when the votes are illegal, when the way that they got there is illegal, when the states that vote are given false and fraudulent information —23

23

This is a key section — and one that merits probing. Trump doesn't finish his thought, but he seems to suggest that he might not be so proud of the people gathered if they "allow" the wrong outcome to happen. Their power to stop it — beyond protesting and supporting lawmakers who fall in line — though, would seem to have been quite limited. Nonetheless, Trump suggests that the situation is somehow under their control, and that they will be judged by the results.

[…]

So we are going to walk down Pennsylvania Avenue — I love Pennsylvania Avenue — and we are going to the Capitol. And we are going to try and give — the Democrats are hopeless, they are never voting for anything, not even one vote — but we are going to try to give our Republicans — the weak ones because the strong ones don't need any of our help — going to try and give them the kind of pride and boldness that they need to take back our country. So let's walk down Pennsylvania Avenue.25

25

Here's Trump's other allusion to walking down Pennsylvania Avenue to the Capitol. It's worth noting that organizers had planned to do this already, but Trump on two occasions encouraged it — even though he had tweeted earlier promoting the idea that the demonstration would be "wild." Trump was essentially telling supporters to bring the wild scene to the doorstep of American government — and that's the most generous interpretation.
— Laurence Tribe (@tribelaw) January 13, 2021
— Shane Worth (@tatzanx) January 13, 2021
— NYT Politics (@nytpolitics) January 13, 2021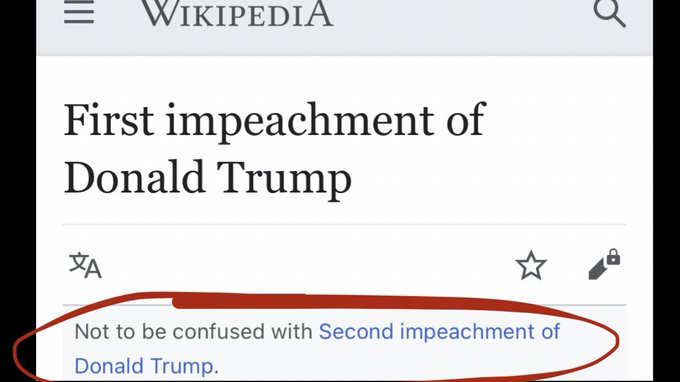 <
p class="is-empty-p">