some suspensions are not so permanent: ex-POTUS* to eventually return to YouTube
Can't afford to keep Trump off their channel. Trump will be back as they say, with a vengeance and a renewed grift.
YouTube CEO says Donald Trump suspension isn't permanent because of "grace period" https://t.co/WkdRZjmyc2

— Justin Hendrix (@justinhendrix) March 5, 2021
In remarks to the Atlantic Council, YouTube CEO Susan Wojcicki said her platform would eventually reinstate former President Donald Trump, who was suspended from the site after posting videos deemed to incite violence after the events of January 6th at the US Capitol. Despite posting multiple videos that violated YouTube policies, his account benefited from a "grace period", she said, and so it has not accumulated enough strikes against it to earn a permanent ban.

"I do want to confirm that we will lift the suspension of the channel, we will lift the suspension of the Donald Trump channel, when we determine that the risk of violence has decreased," said Wojcicki. "That's per our policies. That's how our three-strike system works.  But when the channel is reinstated, it will be subject to the same policies that every other channel is – that follows. So if we see content that is uploaded that in any way violates any of our policies, incitement to violence or any kind of election-integrity policy violations, then a second strike would be issued. And when there are three strikes within a 90-day period, then the channel is removed."

[…]

A report by the Election Integrity Partnership found that YouTube was a key platform for sharing election-related disinformation. The platform "functioned both to provide official and familiar looking 'evidence' for misleading narratives and to consolidate otherwise disparate narratives as part of a broader picture," and noting that Trump's YouTube channel in particular put out videos that linked to six distinct incidents of election disinformation that "were viewed more than any other repeat spreader's videos." The Election Integrity Partnership report found YouTube's stated policies were the least comprehensive in relation to Twitter and Facebook, and assessed its policies around fraud and delegitimization of election results as "non-comprehensive."
Performative outrage A marketing tactic where media actively looks for unintentional, out of context, or irrelevant things to be outraged over, usually through identity politics, to create a manufactured feeling of us vs them to keep the working class divided. Instead of fixing bigotry it exacerbates it.
Former president Trump releases a statement calling on Fox News to 'get rid of' Republican strategist Karl Rove
Why some New Agers think Trump is a 'lightworker' — in a troubling parallel to mysticism in Nazi Germany https://t.co/BnM9bNH3hN

— #TuckFrump (@realTuckFrumper) March 5, 2021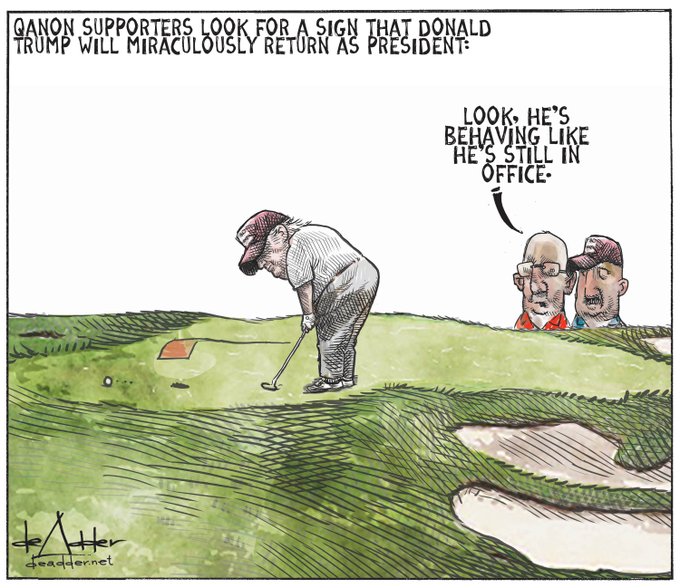 So – here's Donald Trump giving himself this one yesterday at the Trump National Doral Miami.

As a competitor it's offensive. Just Putt it out, dude.

If you'll cheat in golf you'll cheat at anything…pic.twitter.com/zQgUcP5LV3

— Rex Chapman🏇🏼 (@RexChapman) March 4, 2021
Fox News hosts have spent 3 days soiling themselves over Dr Seuss pic.twitter.com/yNYOk8S78M

— Aaron Rupar (@atrupar) March 5, 2021
Just got back from the QAnon inauguration of Donald Trump. Lovely event. The Martians especially enjoyed it.

— Albert Brooks (@AlbertBrooks) March 4, 2021
Live image of……#TrumpInauguration pic.twitter.com/G6eN9ozEBU

— Jen🛹💙🍷 (@Jennanrun) March 5, 2021