SCOTUS rejects Texas suit supported by the Kraken Caucus and its 'unelected dictator'
— Steve Vladeck (@steve_vladeck) December 11, 2020
The Supreme Court on Friday dismissed a long-shot bid by President Trump and the state of Texas to overturn the results in four states won by Democrat Joe Biden, blocking the president's legal path to reverse his reelection loss.
The court's unsigned order
was short: "Texas has not demonstrated a judicially cognizable interest in the manner in which another state conducts its elections. All other pending motions are dismissed as moot."
Justices Samuel A. Alito Jr. and Clarence Thomas, as they have in the past, said they did not believe the court had the authority to simply reject Texas's request. "I would therefore grant the motion to file the bill of complaint but would not grant other relief, and I express no view on any other issue."
Trump, who has appointed three of the court's nine members, has long viewed the Supreme Court as something of an ace-in-the-hole, and called for the justices to display "courage" and rescue him in post-election litigation.
[…]
Trump has refused to acknowledge defeat, instead embarking on a noisy campaign to discredit the election. He has made unproven charges of corruption and a rigged election in states he lost and unsubstantiated claims of illegal voting, votes switched by computer software and rampant fraud.
Darn that sedition. One representative, Bill Pascrell jr (D-NJ), admonished the now 126 GOP members of the House who signed on to the Texas AG's plan to get himself a pardon by appealing to SCOTUS to overturn the election. This Kraken Caucus as named by Jake Tapper, decided to use this stunt to pledge their Trumpian allegiance in what MSM called a "long-shot". The 2022 campaign in 126 districts has begun.
"A press release masquerading as a lawsuit"
— Bill Pascrell, Jr. (@BillPascrell) December 11, 2020
— Jake Tapper (@jaketapper) December 10, 2020
— Charlie Sykes (@SykesCharlie) December 11, 2020
Welcome to the Countdown Journal. There are three (3) days until the Electoral College votes, and then 40 days until the Inauguration of Joe Biden.
A reminder that Texas's frivolous, clownish, anti-democratic, "seditious abuse of the judicial process" is going nowhere.
But it felt like a landmark moment in the ongoing deracination of conservative principles when 18 states and a majority of the Republican congressional caucus signed on to the attempt to nullify the votes of tens of millions of Americas. (BTW:
here is a thorough fact check of the five conspiracy theories

in the Texas attorney general's lawsuit.)

Over the last years, we've grown used to disillusionment and soul-crushing disappointment. But what do we make of this slouch toward raw authoritarianism?

Jonah Goldberg notes that the Texas lawsuit "is a betrayal of everything defenders of federalism and the Electoral College claim to believe."

The decision by Republicans to embrace the attempt to steal the election, he writes, is "an act of cynical, unpatriotic, undemocratic hypocrisy unrivaled in American history, a pure power play on behalf of a president whose disregard for the very Constitution these people have long claimed to adore is total. It is shameful. Infuriatingly shameful."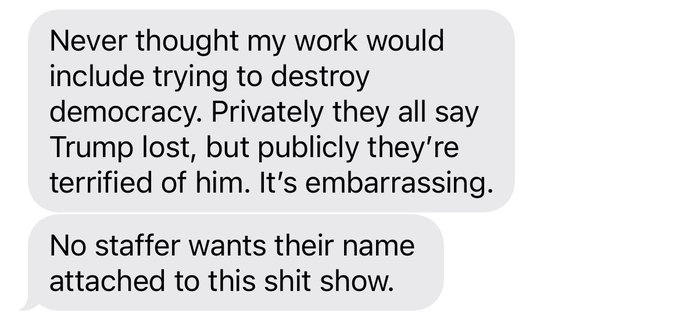 ---
Alabama
Rep. Gary Palmer, Fifth Congressional District
Rep. Mo Brooks, Fifth Congressional District
Rep. Bradley Byrne, First Congressional District
Rep. Robert Aderholt, Fourth Congressional District
---
Arizona
Rep. Andy Biggs, Fifth Congressional District
Rep. Debbie Lesko, Eighth Congressional District
---
Arkansas
Rep. Rick Crawford, First Congressional District
Rep. Bruce Westerman, Fourth Congressional District
---
California
Rep. Kevin McCarthy, 23rd Congressional District
Rep. Ken Calvert, 42nd Congressional District
Rep. Doug LaMalfa, First Congressional District
Rep. Tom McClintock, Fourth Congressional District
---
Colorado
Rep. Ken Buck, Fourth Congressional District
Rep. Doug Lamborn, Fifth Congressional District
---
Florida
Rep. Matt Gaetz, First Congressional District
Rep. Ted Yoho, Third Congressional District
Rep. Gus Bilirakis, 12th Congressional District
Rep. Mario Diaz-Balart, 25th Congressional District
Rep. John Rutherford, Fourth Congressional District
Rep. Daniel Webster, 11th Congressional District
Rep. Michael Waltz, Sixth Congressional District
Rep. Ross Spano, 15th Congressional District
Rep. Neal Dunn, Second Congressional District
---
Georgia
Rep. Doug Collins, Ninth Congressional District
Rep. Rick W. Allen, 12th Congressional District
Rep. Earl Carter, First Congressional District
Rep. Drew Ferguson, Third Congressional District
Rep. Austin Scott, Eighth Congressional District
---
Idaho
Rep. Russ Fulcher, First Congressional District
Rep. Mike Simpson, Second Congressional District
---
Illinois
Rep. Mike Bost, 12th Congressional District
Rep. Darin LaHood, 18th Congressional District
Indiana
Rep. James Baird, Fourth Congressional District
Rep. Jim Banks, Third Congressional District
Rep. Trey Hollingsworth, Ninth Congressional District
Rep. Greg Pence, Sixth Congressional District
Rep. Jackie Walorski, Second Congressional District
---
Iowa
Rep. Steve King, Fourth Congressional District
---
Kansas
Rep. Ron Estes, Fourth Congressional District
Rep. Roger Marshall, First Congressional District
---
Louisiana
Rep. Steve Scalise, First Congressional District
Rep. Mike Johnson, Fourth Congressional District
Rep. Ralph Abraham, Fifth Congressional District
Rep. Clay Higgins, Third Congressional District
---
Maryland
Rep. Andy Harris, First Congressional District
---
Michigan
Rep. Jack Bergman, First Congressional District
Rep. Bill Huizenga, Second Congressional District
Rep. Tim Walberg, Seventh Congressional District
Rep. John Moolenaar, Fourth Congressional District
---
Minnesota
Rep. Tom Emmer, Sixth Congressional District
Rep. Jim Hagedorn, First Congressional District
---
Mississippi
Rep. Michael Guest, Third Congressional District
Rep. Trent Kelly, First Congressional District
---
Missouri
Rep. Sam Graves, Sixth Congressional District
Rep. Vicky Hartzler, Fourth Congressional District
Rep. Jason Smith, Eighth Congressional District
Rep. Ann Wagner, Second Congressional District
Rep. Blaine Luetkemeyer, Third Congressional District
---
Montana
Rep. Greg Gianforte, at-large district
---
Nebraska
Rep. Jeff Fortenberry, First Congressional District
Rep. Adrian Smith, Third Congressional District
---
New Jersey
Rep. Jeff Van Drew, Second Congressional District
---
New York
Rep. Elise Stefanik, 21st Congressional District
Rep. Lee Zeldin, First Congressional District
---
North Carolina
Rep. Dan Bishop, Ninth Congressional District
Rep. Ted Budd, 13th Congressional District
Rep. Virginia Foxx, Fifth Congressional District
Rep. Richard Hudson, Eighth Congressional District
Rep. David Rouzer, Seventh Congressional District
Rep. Gregory Murphy, Third Congressional District
---
Ohio
Rep. Jim Jordan, Fourth Congressional District
Rep. Bob Gibbs, Seventh Congressional District
Rep. Bill Johnson, Sixth Congressional District
Rep. Robert E. Latta, Fifth Congressional District
Rep. Brad Wenstrup, Second Congressional District
---
Oklahoma
Rep. Kevin Hern, First Congressional District
Rep. Markwayne Mullin, Second Congressional District
---
Pennsylvania
Rep. John Joyce, 13th Congressional District
Rep. Fred Keller, 12th Congressional District
Rep. Mike Kelly, 16th Congressional District
Rep. Dan Meuser, Ninth Congressional District
Rep. Scott Perry, 10th Congressional District
Rep. Guy Reschenthaler, 14th Congressional District
Rep. Glenn Thompson, 15th Congressional District
---
South Carolina
Rep. Jeff Duncan, Third Congressional District
Rep. Ralph Norman, Fifth Congressional District
Rep. Tom Rice, Seventh Congressional District
Rep. William Timmons, Fourth Congressional District
Rep. Joe Wilson, Second Congressional District
---
Tennessee
Rep. Tim Burchett, Second Congressional District
Rep. Chuck Fleischmann, Third Congressional District
Rep. Mark Green, Seventh Congressional District
Rep. David Kustoff, Eighth Congressional District
Rep. John Rose, Sixth Congressional District
Rep. Scott DesJarlais, Fourth Congressional District
---
Texas
Rep. Dan Crenshaw, Second Congressional District
Rep. Kevin Brady, Eighth Congressional District
Rep. Michael Burgess, 26th Congressional District
Rep. Michael Cloud, 27th Congressional District
Rep. Mike Conaway, 11th Congressional District
Rep. Bill Flores, 17th Congressional District
Rep. Louie Gohmert, First Congressional District
Rep. Lance Gooden, Fifth Congressional District
Rep. Kenny Marchant, 24th Congressional District
Rep. Randy Weber, 14th Congressional District
Rep. Roger Williams, 25th Congressional District
Rep. Ron Wright, Sixth Congressional District
Rep. Jodey Arrington, 19th Congressional District
Rep. Brian Babin, 36th Congressional District
---
Virginia
Rep. Ben Cline, Sixth Congressional District
Rep. Rob Wittman, First Congressional District
Rep. H. Morgan Griffith, Ninth Congressional District
---
Washington
Rep. Dan Newhouse, Fourth Congressional District
Rep. Cathy McMorris Rodgers, Fifth Congressional District
West Virginia
Rep. Carol Miller, Third Congressional District
Rep. Alex Mooney, Second Congressional District
---
Wisconsin
Rep. Tom Tiffany, Seventh Congressional District
"Trumplets who can't put on their own pants" — Michael Steele
— digby (@digby56) December 11, 2020
"Right now, the most serious attempt to overthrow our democracy in the history of our of country is underway. Those who are pushing to make Donald Trump President, no matter the outcome of the election, are engaged in a treachery against their nation."
— Greg Sargent (@ThePlumLineGS) December 11, 2020
<
p class="is-empty-p">