Revising the invention of tradition(s): more on the Garrett Felber affair at U. of Mississippi.
This continues the diary of two days ago.
Nostalgia is a coping mechanism at the place known for its association with William Faulkner. Oxford Mississippi is a place where the nostalgia for a lost cause remains a kind of delusion. When injuries are imagined and retribution seems easy, this happens where 'contingent' populations are peripheral to the center of excellence, where "HR" as human capital objectively replaces the personnel office.
www.cnn.com/… www.cnn.com/… explorepartsunknown.com/…

"If you are focused on change, you will likely be frustrated. But if you like the good, old school s**t, you will find it in Mississippi." Anthony Bourdain wrote on the show's website after the episode aired.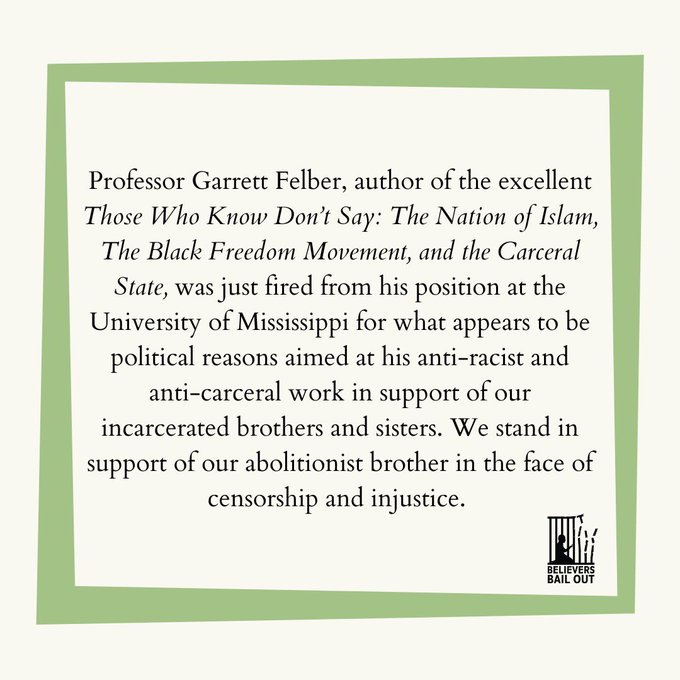 The University of MIssissippi's case of historian Garret Felber, graduate of Kalamazoo College, Columbia University, and the University of Michigan begins with his receipt of the pro forma one-year termination notice for tenure track faculty. Probably what's most surprising is the lack of threatened lawfare so far.
The usual path continues, outrage by various academic organizations, threats of boycotts, and the usual defenses of academic bureaucracy with its attendant transactional costs for careers and reputations. These are all cast against the problematic history of lost causes, Jim Crow, and secession/sedition when naming things like academic departments and buildings in the context of the history of slavery and Civil War. The latest episode illustrated above was the moving of a confederate soldier monument from the center of campus to a grove with confederate soldier graves. From Massa-plan to Master Plan, it is always about the social construction of history..
"

Feel free to note the increasing levels of paranoia on campus.

"

Today, (15 December 2020) sources provided the Mississippi Free Press with a copy of a termination letter sent to Dr. Garrett Felber, a tenure-track assistant professor in the Arch Dalrymple III Department of History. Dr. Felber has undertaken an intimate study of the American carceral state and dedicates much of his time to educating and empowering those who are imprisoned in the United States.

History department chair Dr. Noell Wilson publicly praised Felber, author of "Those Who Know Don't Say:The Nation of Islam, the Black Freedom Movement and the Carceral State," in August after he was awarded a one-year fellowship at the W.E.B. Du Bois Research Institute at Harvard University's Hutchins Center for African and African American Research, for which he is on leave from UM for the 2020-2021 academic year. Felber is also the co-author of "The Portable Malcolm X Reader" with the late Manning Marable who won a Pulitzer Prize for his biography of Malcolm X.

[…]

"I am writing to inform you that I have recommended to the Dean of the College of Liberal Arts that you receive a one-year notice of nonrenewal pursuant to the University of Mississippi's Termination of Untenured Faculty policy," Wilson wrote to Felber. "Your employment with the University will end on December 31, 2021, and your employment contract will not be renewed after that date. At the pertinent time, I will notify you of your assigned responsibilities for the fall 2021 academic semester."

Wilson referred frequently to what she claims is Felber's refusal to speak with her, concluding her letter: "Respectfully, your effort to dictate or restrict the means by which I communicate with you is untenable. Your repeated refusal to talk with me makes it impossible for me to maintain a productive working relationship with you or supervise your faculty responsibilities."

The history professor says, however, that he did not refuse to communicate with Dr. Wilson, choosing to do it in writing. Emails between the department chair and professor, who is currently living in Oregon during the pandemic, show that Felber and Wilson communicated multiple times throughout November and December. Wilson also communicated with Felber through an administrative assistant.

'A Chilling Effect'

On Oct. 28, 2020, Felber announced on his Twitter feed that Wilson had rejected a $42,000 grant the department was awarded for a program called "Study and Struggle," which the professor is involved with and describes as a political education project on mass incarceration and immigrant detention.

Felber tweeted that Wilson communicated to him that the project was political rather than historical and could potentially harm the history department's ability to procure funding. According to that thread, this rejection came two days after the university publicized a $57,000 grant from FWD.us, an organization funded by technology companies that focuses on immigration and prison-systems reform.

In October, Felber made clear his position that the university's relationship with powerful, racist donors was once again at play on the Oxford campus, tweeting, "The real issue is that (UM) prioritizes racist donors over all else. So it's not some mythic politics v. history binary, but that this antiracist program threatens racist donor money. And racism is the brand. It's in the name."

Felber then described where the "Study and Struggle" grant money goes.

"This grant supports things like books for incarcerated participants, commissary for study groups to buy food and stamps to write pen pals, honoraria for our award-winning speakers, web design, and Spanish-translation, ASL teams, and close captioning for greater accessibility," he tweeted.


"We're now in the process of finding a new fiscal sponsor and removing all existing money from the University of Mississippi related to @study__struggle. We're also looking to expand and deepen our work, so please reach out if you want to support radical study groups in prisons."

The history professor told this reporter in October about the consequences of a university catering to the desires and complaints of racist donors.

"What it does, it has a chilling effect on the ability of faculty and other people within the university to do anti-racist work. Because the university seems to be responding to the will of donors who by my definition are racist," Felber said.

The professor has had to reconcile an undertaking of anti-racist work at a university that has never properly faced and attoned for its racist past, he explained.

"It's been a challenge for me. I just continue to do the work," he said in the interview. "With this particular project, the work is going to happen regardless of whether the University of Mississippi wants to be affiliated with it. Unfortunately, what it does, it makes that work much more difficult, and the weight is on faculty and largely those of us who, like in my own case, are untenured and have the most other responsibilities and the least protections. I just keep doing the work that I know is important, and I don't let the university define for me what constitutes important research, or activism, or teaching, or any combination of those things."

Felber is known for being vocal about prominent university faculty members and organizations. In December 2019, he kicked off the "Making and Unmaking Mass Incarceration" conference at The Lyric near the Oxford Square by revealing that it was originally supposed to be at the

Overby Center for Southern Journalism and Politics

.

But organizers moved the conference, Felber said, due to the center's namesake, who teaches journalism at the university, being on the board of directors of CoreCivic, the nation's second-largest for-profit private-prison company, since 2001. Felber projected images of Overby and information about CoreCivic onto the large overhead screen.

www.mississippifreepress.org/…

The center is named for Charles L. Overby, editor of the Daily Mississippian at Ole Miss from 1967-1968. Overby was the CEO of the Freedom Forum and Newseum until his retirement in 2012.
The following Garrett Felber interview by Kenneth Donovan of the Gotham Center for New York City History gives us a better sense of his research that culminated in his 2018 book, Those Who Know Don't Say: The Nation of Islam, the Black Freedom Movement, and the Carceral State, UNC press.
Can you tell us a little about how you came to work on the Nation of Islam?

This work started for me when I joined the Malcolm X Project, directed by Dr. Manning Marable at Columbia University, as a research assistant in 2008. It was a robust, decades-long project that I came to in the final years leading up to the publication of his Pulitzer prize-winning biography, Malcolm X: A Life of Reinvention. During those years, Dr. Marable would pose the question of whether Malcolm's break with the Nation of Islam (NOI) was driven by the political or personal — over his diverging strategic vision from Elijah Muhammad and other leadership in Chicago or his devastation at learning of Muhammad's affairs with young secretaries in the Nation, one of whom Malcolm had once been engaged to.

But several unspoken pieces of that question, especially in relation to what I was finding in the archives, continued to linger enough to prompt my writing this book on the NOI and its politics.

The first was the focus on top-down leadership and the idea that the politics of a mass organization could be discerned from those in elite positions.
The second was this division between Malcolm as political and the NOI as apolitical.
And the last was a "reading backwards" of Malcolm's departure from the NOI (which is common among many of the harshest critics of the NOI) so he is depicted as ideologically outside an organization of which he was once the national spokesperson.

A great deal of my thinking on this subject is also owed to a fellow Malcolm X Project researcher, Zaheer Ali, who is writing a brilliant dissertation on the Nation of Islam in New York. I came to radically different conclusions about the NOI than did Dr. Marable, who passed suddenly of complications from a rare lung disease in 2011. But I am grateful that I was able to do so through my work with him, which is evidence of the value he placed on scholarly and political disagreement as generative.

Discourse and knowledge production surrounding the NOI play an important role early in the book. What was — and maybe still is — the popular perception of the NOI and to what extent does your work challenge these perceptions?

Judging from the number of journalistic requests I get to discuss the Nation of Islam as anti-Semitic or a "hate group," I'm afraid the current popular perception of the NOI owes much to the discourse of Cold War anticommunism and racial liberalism prevalent when the NOI first came to the attention of the mainstream media in the late 1950s. Whether in the FBI's leaked "Black Identity Extremists" report or through liberal advocacy organizations such as the Southern Poverty Law Center, the NOI remains popularly identified with hate and extremism. This was precisely the same terrain that Malcolm X was navigating in 1962 in Los Angeles when he delivered one of his greatest speeches after the police killing of Mosque secretary Ronald Stokes and riffed on the question "who taught you to hate?"

The second popular misconception, also rooted in midcentury politics and inextricably linked to the first, is the idea that Muslims in the Nation of Islam are not recognized as "true" or "authentic" by other Muslims. While it may be true that many Muslim groups do in fact distance themselves from the NOI, I would argue this is cannot be separated — as it could not then — from anti-Blackness and anti-radicalism. That's not to downplay the significance of theology or religious practices, but rather to suggest that you cannot answer this question without considering structural racism and state violence.

In the introduction to the book, I quote Malcolm X after he had left the Nation of Islam. He said, "No matter what you think of the philosophy of the Black Muslim movement, when you analyze the part that it played in the struggle of Black people during the past twelve years you have to put it in its proper context and see it in its proper perspective." At the most basic level, I wanted people to interrogate where their ideas about the Nation of Islam come from and realize how embedded [they] are with white supremacy and Islamophobia.