Nostalgia is a coping mechanism at the place known for its association with William Faulkner. Oxford Mississippi is a place where the nostalgia for a lost cause remains a kind of delusion. When injuries are imagined and retribution seems easy, this happens where 'contingent' populations are peripheral to the center of excellence, where "HR" as human capital objectively replaces the personnel office.
www.cnn.com/… www.cnn.com/… explorepartsunknown.com/…

"If you are focused on change, you will likely be frustrated. But if you like the good, old school s**t, you will find it in Mississippi." Anthony Bourdain wrote on the show's website after the episode aired.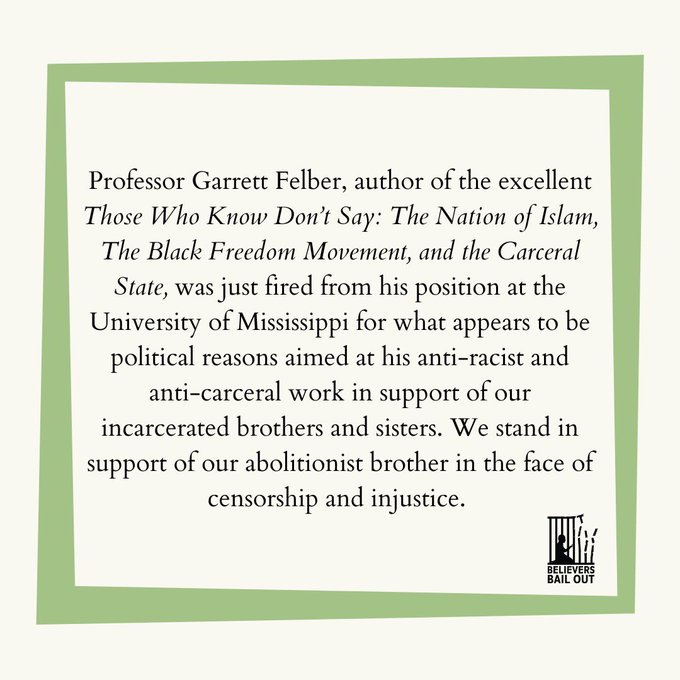 The University of MIssissippi's case of historian Garret Felber, graduate of Kalamazoo College, Columbia University, and the University of Michigan begins with his receipt of the pro forma one-year termination notice for tenure track faculty. Probably what's most surprising is the lack of threatened lawfare so far.
The usual path continues, outrage by various academic organizations, threats of boycotts, and the usual defenses of academic bureaucracy with its attendant transactional costs for careers and reputations. These are all cast against the problematic history of lost causes, Jim Crow, and secession/sedition when naming things like academic departments and buildings in the context of the history of slavery and Civil War. The latest episode illustrated above was the moving of a confederate soldier monument from the center of campus to a grove with confederate soldier graves. From Massa-plan to Master Plan, it is always about the social construction of history..