Psaki: Biden "has not spent a moment thinking about the color scheme of Air Force One"
2 min read
Back to softball questions, even though Trump's proposed color scheme simply repeats his private jet's colors and is dreadfully boring, in fact an imitation of one of American and Delta's schemes from 20 years ago. Psaki's answer was sarcasm.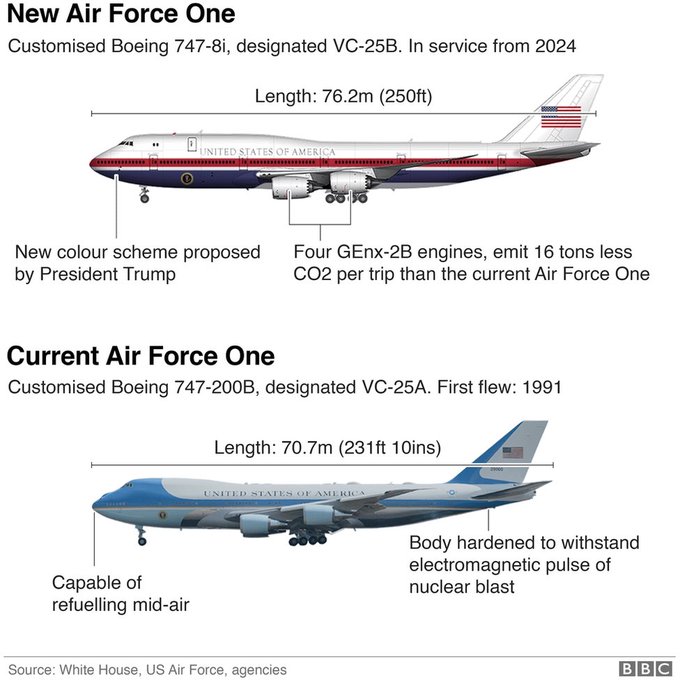 This week's Raymond Loewy design is one of his longest lived designs, although President Trump just announced he's going to redesign Air Force One ("I think we need lots of gold"). Loewy was the designer, although notes from RL's archive says JFK picked the blue color. pic.twitter.com/vDcD0LUFym

— John Wall (@Designwriter57) July 16, 2018
WASHINGTON — President Donald Trump did not ultimately change the course of either the Pentagon's Air Force One replacement or JEDI cloud computing programs, the Pentagon's outgoing acquisition chief said Tuesday.

Ellen Lord, who will exit office at noon on Wednesday as the Trump administration comes to a close, told a group of reporters that despite reported pressures and public statements from the president, Trump's influence on defense acquisition programs was extremely small.

In 2017, Trump claimed that he had personally shaved a billion dollars in costs off the plane, something the White House later walked back to merely "millions" in savings. In the end, Trump's influence was largely cosmetic, Lord said.

"The president had a lot of interest on a few programs. I don't think he influenced the programmatics," Lord said. "What he was interested in was the presidential aircraft. I was in the Oval for a meeting on that. But he, frankly, was focused on performance and the look of the aircraft, the color scheme and so forth."
Ellen Lord, the Pentagon's top weapons buyer, told reporters yesterday that Trump didn't really influence the Air Force One program

"He, frankly, was focused on performance and the look of the aircraft, the color scheme and so forth," she said: https://t.co/J9EcIyGY8K

— Valerie Insinna (@ValerieInsinna) January 20, 2021
Trump's focus on changing the color scheme for the Air Force One replacement began in 2018 with the president seeking to alter the traditional baby blue color scheme, in use since the administration of John F. Kennedy, with a replacement scheme more in line with the American flag he floated as a proposal.
Maybe because you used "alternative facts" (aka you lied) at your first press briefing? That's never a good way to start your tenure. https://t.co/wLRjcK03Yl

— julie k. brown (@jkbjournalist) January 21, 2021