pre-symptomatic 'President Trump's debate performance was degrading and sinister in equal measure.'
5 min read
Did Trump truly believe that he could avoid catching the virus, as so much contact tracing must be done for the several days of exposure to a symptomatic Hope HIcks.
---
"This is deadly stuff, the
plague
, so easily transmissible.."
---
Aside from Karmic justice, Trump's inner circle has spread COVID-19. He will quarantine as the oldest POTUS in history. We'll soon see whether he's caught a hoax. This is the best way to get out of further debates, complete with excuses for losing because he couldn't have more super-spreader rallies. We'll know a lot more in 14 days.
— Steven Beschloss (@StevenBeschloss) October 2, 2020
Trump getting COVID does seem part of the reality TV kayfabe with a miraculous recovery becoming the "October surprise" even as it seems like the HRC frailty at this same time in 2016. Maybe he's going to be like Brazil's Bolsonaro, ready to normalize the coming higher death toll.
— Donald J. Trump (@realDonaldTrump) October 2, 2020
— Jennifer Jacobs (@JenniferJJacobs) October 2, 2020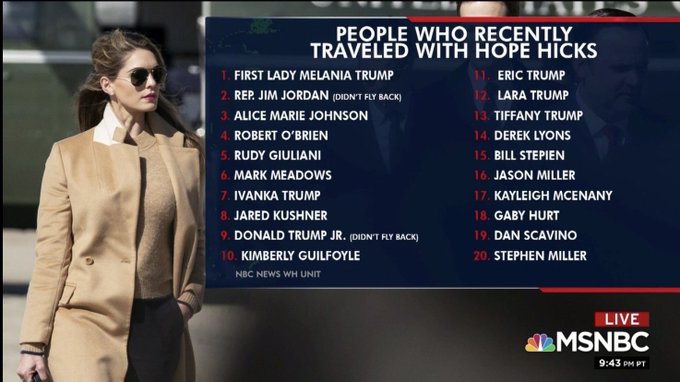 — Kelly O'Donnell (@KellyO) October 2, 2020
— Michael Barbaro (@mikiebarb) October 2, 2020
— Kyle Griffin (@kylegriffin1) October 2, 2020
Perhaps POTUS Pelosi? And will Biden now take an immediate test considering how much yelling was happening on Tuesday.
— Aaron Rupar (@atrupar) October 2, 2020
— Susan Glasser (@sbg1) September 30, 2020
Fareed Zakaria tries to be optimistic about the nation's chances.
By every indication, Trump is well behind in this election. We are watching him under pressure. And if things continue to look bleak for him, he will get more desperate, more unethical and more vicious. Let's hope American democracy can withstand the assault.

Democracy cannot function without some adherence to norms. You cannot hold presidential debates if one of the two sides simply refuses to abide by the rules, interrupting constantly, heckling his opponent and contesting everything he says. Trump also does something novel and far more damaging. He lies in a way that no previous candidate has ever done, utterly unconstrained by facts. Republicans have recognized that repealing Obamacare with nothing to replace it is politically unpopular, yet they cannot agree on an alternative. For Trump this poses no problem. He simply asserts that he has an alternative.

Trump has broken so many norms that it is difficult to tabulate them. Far from accepting the opposing party as legitimate, he called for his opponent in the 2016 race to be jailed. He has refused to separate himself from his business interests and, while president, has allowed foreign governments to shower him and his family with gifts in the form of

trademarks

and

hotel revenue

. White House officials have

openly promoted

the business interests of Trump and his family. He has used his power to reward and threaten companies — and, most worrying, to intimidate the free press. At the direction of the White House, several federal agencies have been working to

strike at Twitter

after the platform's decision to flag some of his most egregiously false tweets. The use of the awesome powers of the state against political opponents is one of the most troubling signs of authoritarianism.
— Ilhan Omar (@IlhanMN) October 1, 2020
— Kyle Griffin (@kylegriffin1) October 2, 2020
— Kathryn Brown (@KathrynCAgirl) September 26, 2020
<
p class="is-empty-p">