Last updated on March 9, 2021
As Meghan Markle and Prince Harry embrace life in California with 22-month-old son Archie and a second baby on the way, another chapter has officially closed with an Oprah interview on CBS.
So much idiotic gossip mongering occurred, but the show was revelatory in terms of seeing how backward that thing called the monarchy is as it now seems obvious that the Prince Chuck division is responsible for its failure. Rather than the media monster created in the marriage with Diana, it does now seem like the real and deep neocolonial divisions in the former Empire remain, especially when "senior members" of the Royal family got concerned about the skin color of the next child of Prince Harry and Meghan Duchess of Sussex.
In the Oprah interview, partially a non-explosion gender reveal among other things, is a look at the post-Diana monarchy in parallel to media productions like The Crown. The global audience for British Royal-watching now has more fodder, especially with the British tabloids. This did show how pernicious the "Tabs" have become in terms of its relation to the "Firm's" PR needs.
This will all change when Prince Charles becomes King. For example because of becoming King, security will become mandatory for his grandson, Archie. If anything the interview reveals how priggish the Palace has always been, and that it actually has a human resources department. Unfortunately it is as meaningful as even paying attention to the story of Trump's trying to get a date with the newly divorced Princess Diana.
Here, Harry throws his father under a bus
He says when we were in Canada I had 3 conversations with my grandmother (Queen) and 2 conversations with my father (Prince Charles) "before he stopped taking my calls."
He (my father) asked me for it all in writing.#OprahMeghanHarry

— Chris Ship (@chrisshipitv) March 8, 2021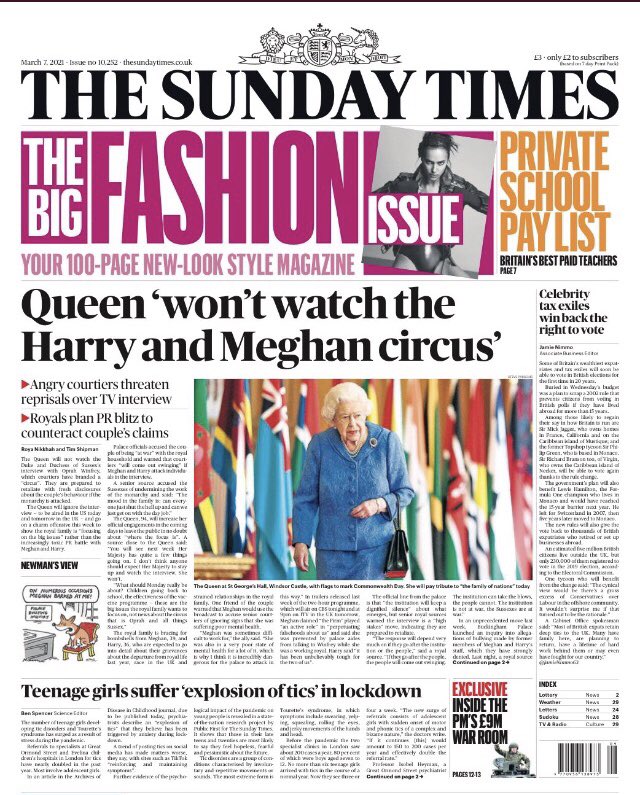 The British really need to end the monarchy once and for all. Once the Queen dies, sunder it. Why are the British workers still supporting this classist, racist institution when even its members refer to it in business terms like The Firm. #OprahMeghanHarry

— Victoria Brownworth (@VABVOX) March 8, 2021
And the royals were going to conduct an investigation into bullying????!!!!!!

— Jennifer 'pro-voting' Rubin (@JRubinBlogger) March 8, 2021
---
The Politicus is a collaborative political community that facilitates content creation directly on the site. Our goal is to make the political conversation accessible to everyone.
Any donations we receive will go into writer outreach. That could be advertising on Facebook, Twitter, and Reddit or person-to-person outreach on College campuses. Please help if you can:
---