It's not the Bastille. Trump did incite a riotous mob to disrupt the legislative branch. People died. Trump got excited about the chaos he'd caused. The last day of Trumpstock.
x

White House officials were shaken by Trump's reaction to a mob of his supporters descending on the Capitol today. He was described to me as borderline enthusiastic because it meant the certification was being derailed. It has genuinely freaked people out.— Kaitlan Collins (@kaitlancollins) January 7, 2021

— Laurence Tribe (@tribelaw) January 7, 2021
He stirred up the crowd as he has done throughout his presidency. He spoke to the angry and the disaffected, the racists and the right-wing extremists, and he did the opposite of what leaders do. He sought to promote division and confrontation. From his cheerleading for white supremacists in Charlottesville to his encouraging police officers to use force, from identifying non-existent threats from the left and encouraging mobs to hunt them down, Trump has been telegraphing that this day was coming for years.
x
Here's how the pro-Trump mob moved from the Mall through the Capitol doors and into the chambers of the House and Senate (not to mention Nancy Pelosi's office) https://t.co/LmIK2qI63z
— New York Magazine (@NYMag) January 7, 2021
x
I asked Fox News multiple times about claims that were made on its air and by its personalities suggesting Antifa was perhaps responsible for the mayhem at the US Capitol. Absolute silence. Zero response from the network's PR team.
— Oliver Darcy (@oliverdarcy) January 7, 2021
x
"after Trump tweeted that Mr. Pence "didn't have the courage to do what should have been done," dozens of messages on Gab called for those inside the Capitol building to hunt down the vice president…protesters could be heard chanting "Where is Pence?"" https://t.co/kJb27HlRGA
— Tommy Vietor (@TVietor08) January 7, 2021
The woman shot and killed at the Capitol was a former Police Officer.

— Laura Rozen (@lrozen) January 7, 2021
A Capitol Police officer yelled from a higher stairway at the intruders, ordering them to stop, but when they didn't, the officer fired at a man coming at him, two law enforcement officials said. Amid shouts and people rushing to get away from the sound of gunfire, rioters saw a woman in their group collapse. Police believe she was unarmed, a law enforcement official said, but the officer who shot her did not know that. Capitol Police had already been warned by D.C. police that many in the crowds were secretly carrying weapons.
x
The woman identified as the person killed in DC today, Ashli Babbitt, appears to have had a Twitter feed totally consumed with conspiracy theories and QAnon content. pic.twitter.com/1DDnw58Koi— Anna Merlan (@annamerlan) January 7, 2021
— Cyrus Sanati (@BeyondBlunt) January 7, 2021
x
My day inside the Senate, the evacuation to a secure location, the madness, the chaos. The odd calm.

I'll never forget the officer standing in the middle of the Senate, an orange POLICE sash draped over one shoulder. A semi-automatic over the other.https://t.co/qM6d0ZTdWe
— Paul Kane (@pkcapitol) January 7, 2021
x
On the matter of the objection to the AZ vote count, the following six United States Senators and Senators-elect supported the Trump led coup attempt:

Ted Cruz (TX)
Josh Hawley (MO)
John Kennedy (LA)
Cindy Hyde-smith (MS)
Roger Marshall (KS)
Tommy Tuberville (AL)

Remember them
— Ali Velshi (@AliVelshi) January 7, 2021
— David Cay Johnston (@DavidCayJ) January 7, 2021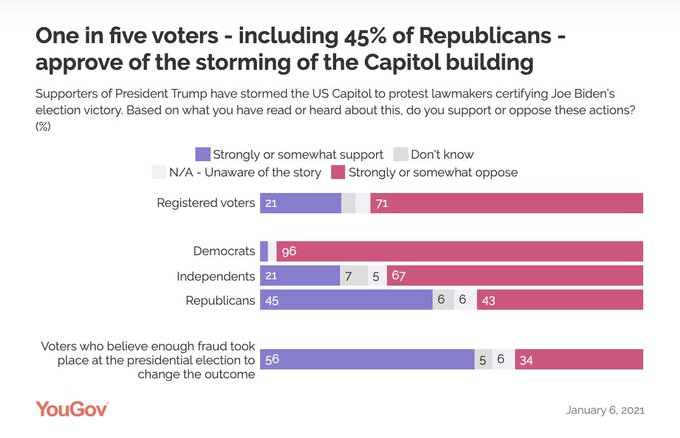 — MeidasTouch.com (@MeidasTouch) January 7, 2021
x
Elizabeth Warren calls Trump a "lying coward" and says Republicans like Hawley and Cruz are "supporting a coup" pic.twitter.com/hgQScNiryT
— Aaron Rupar (@atrupar) January 7, 2021
x
Per source, White House counsel Pat Cipollone told west wing staffers today not to help Trump stage a coup or else they could be prosecuted for treason. My latest:https://t.co/NYBITQB8kC

— Gabriel Sherman (@gabrielsherman) January 7, 2021
Civil rights lawyers and activists said they believed if Black protesters had stormed the U.S. Capitol, the consequences would have been immediate and deadly.

x

So, did police use batons, stun grenades, rubber bullets?Did they make arrests, take mug shots, force court costs?
Why not? ask #BLM activists.
"Black and Brown people have been shot and arrested for far less."https://t.co/qh2kely87I @deray #CapitolBuilding
— David Beard (@dabeard) January 7, 2021
x
Consider surrounding it with strong adjectives and context, such as "violent protest" or "rioting protesters."
Calling it a "mob" or a "riot" would also be appropriate, especially when the protesters' actions were wild, widespread, violent and uncontrolled.
/5
— APStylebook (@APStylebook) January 6, 2021
x
"The story is clear. These people—almost exclusively white, it's worth noting—decided to reap the rewards of their unbridled patriotism. They love their country so much, they'd rather destroy it than see control of it handed to anyone else." https://t.co/rCAD0p4grf

— Maclean's Magazine (@macleans) January 7, 2021
x
Man, remember when a newly sworn-in GOP congresswoman addressing the Trump ralliers in DC yesterday said, "Hitler was right about one thing. He said, 'Whoever has the youth has the future'" and it barely even registered in the news?

That was wild https://t.co/NM9BkeVLL7
— Adam Weinstein (@AdamWeinstein) January 7, 2021
x
Our photo editor @markmurrmann pulled together an amazing series of photos from today and I promise that even if you've been glued to Twitter and cable news all day, these will still blow your socks off: https://t.co/QbIJ5AJmlY
— Clara Jeffery (@ClaraJeffery) January 7, 2021
<
p class="is-empty-p">
"You're not mopping fast enough. (Laughter) That's a socialist mop. (Laughter and applause) Grab a mop — let's get to work." – Barack Obama (2009); "Soyez réalistes, demandez l'impossible!"