On Dec 19, Trump tweeted, "Wait until January 6! It's going to be wild!"
It's not the Bastille. Trump did incite a riotous mob to disrupt the legislative branch. People died. Trump got excited about the chaos he'd caused. The last day of Trumpstock.
He stirred up the crowd as he has done throughout his presidency. He spoke to the angry and the disaffected, the racists and the right-wing extremists, and he did the opposite of what leaders do. He sought to promote division and confrontation. From his cheerleading for white supremacists in Charlottesville to his encouraging police officers to use force, from identifying non-existent threats from the left and encouraging mobs to hunt them down, Trump has been telegraphing that this day was coming for years.
— New York Magazine (@NYMag) January 7, 2021
— Oliver Darcy (@oliverdarcy) January 7, 2021
— Tommy Vietor (@TVietor08) January 7, 2021
The woman shot and killed at the Capitol was a former Police Officer.

— Laura Rozen (@lrozen) January 7, 2021
A Capitol Police officer yelled from a higher stairway at the intruders, ordering them to stop, but when they didn't, the officer fired at a man coming at him, two law enforcement officials said. Amid shouts and people rushing to get away from the sound of gunfire, rioters saw a woman in their group collapse. Police believe she was unarmed, a law enforcement official said, but the officer who shot her did not know that. Capitol Police had already been warned by D.C. police that many in the crowds were secretly carrying weapons.
— Cyrus Sanati (@BeyondBlunt) January 7, 2021
— Paul Kane (@pkcapitol) January 7, 2021
— Ali Velshi (@AliVelshi) January 7, 2021
— David Cay Johnston (@DavidCayJ) January 7, 2021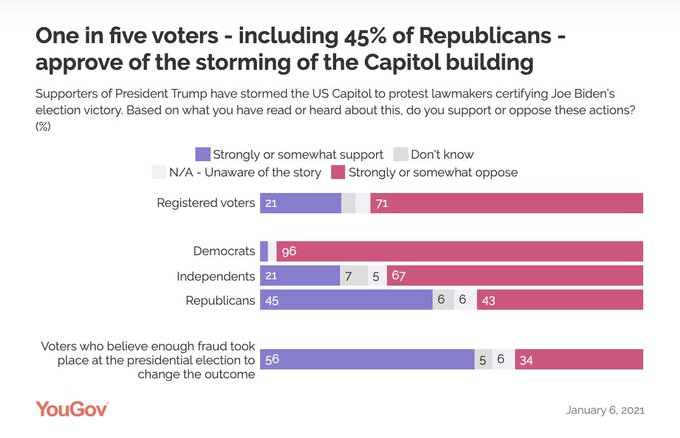 — MeidasTouch.com (@MeidasTouch) January 7, 2021
— Aaron Rupar (@atrupar) January 7, 2021
Civil rights lawyers and activists said they believed if Black protesters had stormed the U.S. Capitol, the consequences would have been immediate and deadly.
— David Beard (@dabeard) January 7, 2021
— APStylebook (@APStylebook) January 6, 2021
— Adam Weinstein (@AdamWeinstein) January 7, 2021
— Clara Jeffery (@ClaraJeffery) January 7, 2021
<
p class="is-empty-p">