not a 5G antenna or data port but perhaps a french fry interface, as Borat praises Trump
3 min read
The Trumpist idiots pushed all the 2016 conspiracy theories prior to the debate, as if one would assume Trump would play fair or act normal. Trump joked about French Fry grease and his hair. We are not yet distracted from the continuing dumpster fire. $70,000 for hair styling and they leave some tools behind. Then again, Borat seems to love Trump.
Trump ads push baseless Biden earpiece conspiracy
New Facebook advertising paid for by the Trump campaign makes unfounded claims about his opponent.

US President Donald Trump's re-election campaign is running hundreds of Facebook advertisements pushing an unfounded conspiracy theory that Joe Biden cheated during the first US presidential debate.

The adverts show the Democratic Party challenger with an earpiece, and say that he refused to have his ears checked for devices prior to the debate.

The Biden campaign rejected the claims.

The Trump campaign adverts ask: "Why won't Sleepy Joe commit to an ear test?" and "Who is in Joe's ear?"

Accusations that presidential candidates have received debate help via hidden hearing devices are familiar, albeit unproven. Such allegations have been levelled against both Republican and Democratic candidates in the past.

Prior to Tuesday's debate, the rumour about Mr Biden's supposed earpiece was circulating on several social networks, and was being promoted by the Trump campaign.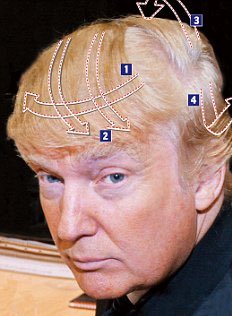 Professor Junji Fukuda of the Yokohama National University just published a paper in the journal
Biomaterials
announcing the discovery of a new method for the mass preparation of hair follicle germs (HFGs) that "may lead to a new treatment for hair loss." A key ingredient in this new method is a chemical by the name of dimethylpolysiloxane (DMPS), which just happens to be
an ingredient in the oil that McDonald's uses to cook its French fries and other fried food
.
— R K (@kitten_rick) September 30, 2020
— Guardian US (@GuardianUS) October 1, 2020
— MSNBC (@MSNBC) October 1, 2020
— Walter Shaub (@waltshaub) September 30, 2020
<
p class="is-empty-p">