"nihilistic death cult" incites mob that then attacks the Capitol, because Democracy?
3 min read
Liz Cheney: "We just had a violent mob assault the US capitol … No question the President formed the mob, the President incited the mob, the President addressed the mob. He lit the flame."
We love you. You're special. and the media frame of election fraud gets repeated again by the Arsonist-in-Chief because the Capitol perimeter got breached by rioters. The building is now secured as the DC curfew begins at 6pm ET. One person has died, she was shot in the chest. Trump's last two tweets have been deleted (by Twitter).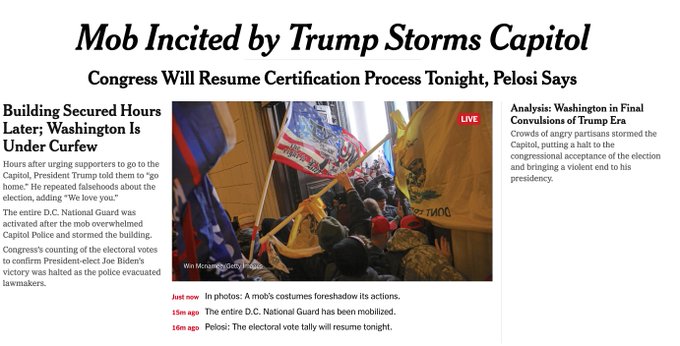 — Daniel Dale (@ddale8) January 6, 2021
— Donald J. Trump (@realDonaldTrump) January 6, 2021
— Rebexem (@Rebexem) January 6, 2021
— NBC News (@NBCNews) January 6, 2021
— Katelyn Burns (@transscribe) January 6, 2021
— Chad Loder (@chadloder) January 6, 2021
— Chad Loder (@chadloder) January 6, 2021
— Senator Jeff Merkley (@SenJeffMerkley) January 6, 2021
— NBC News (@NBCNews) January 6, 2021
— Jeff Sharlet (@JeffSharlet) January 6, 2021
— Eric Feigl-Ding (@DrEricDing) January 6, 2021
— Jezebel (@Jezebel) January 6, 2021
— David Corn (@DavidCornDC) January 6, 2021
<
p class="is-empty-p">