The results of MoveOn's first membership-wide straw poll and survey for the 2020 presidential elections are in: Support from members is up for grabs among a wide and diverse field of potential candidates.
What's not up for grabs is what MoveOn members hope for in the next president: The top factors MoveOn members said they were looking for describe candidates who inspire the public with deep progressive values and will move us toward a more progressive future where everyone can thrive (63.4%), and who make the connections between racial, social, and economic injustice and commit to platform positions to see these connections through (54.3%). (Respondents were allowed to choose more than one characteristic or value.)
According to the straw poll, the plurality of members were undecided on whom they will support in 2020 with no front-runner, expressing support for Beto O'Rourke (15.6%), Joe Biden (14.9%), Bernie Sanders (13.1%), Kamala Harris (10%), Elizabeth Warren (6.4%), and others—but more votes were cast for "Don't Know" than for any candidate. And with small margins, it's a sign that MoveOn members are waiting to see who can inspire us by articulating an agenda of bold ideas.
Which is why we are announcing that in early 2019, MoveOn will hold a series of events in early-primary states to allow the presidential candidates and other progressive champions to offer big, bold ideas and win over support of MoveOn members and activists in those states and across the country.
Here is a snapshot of the poll results.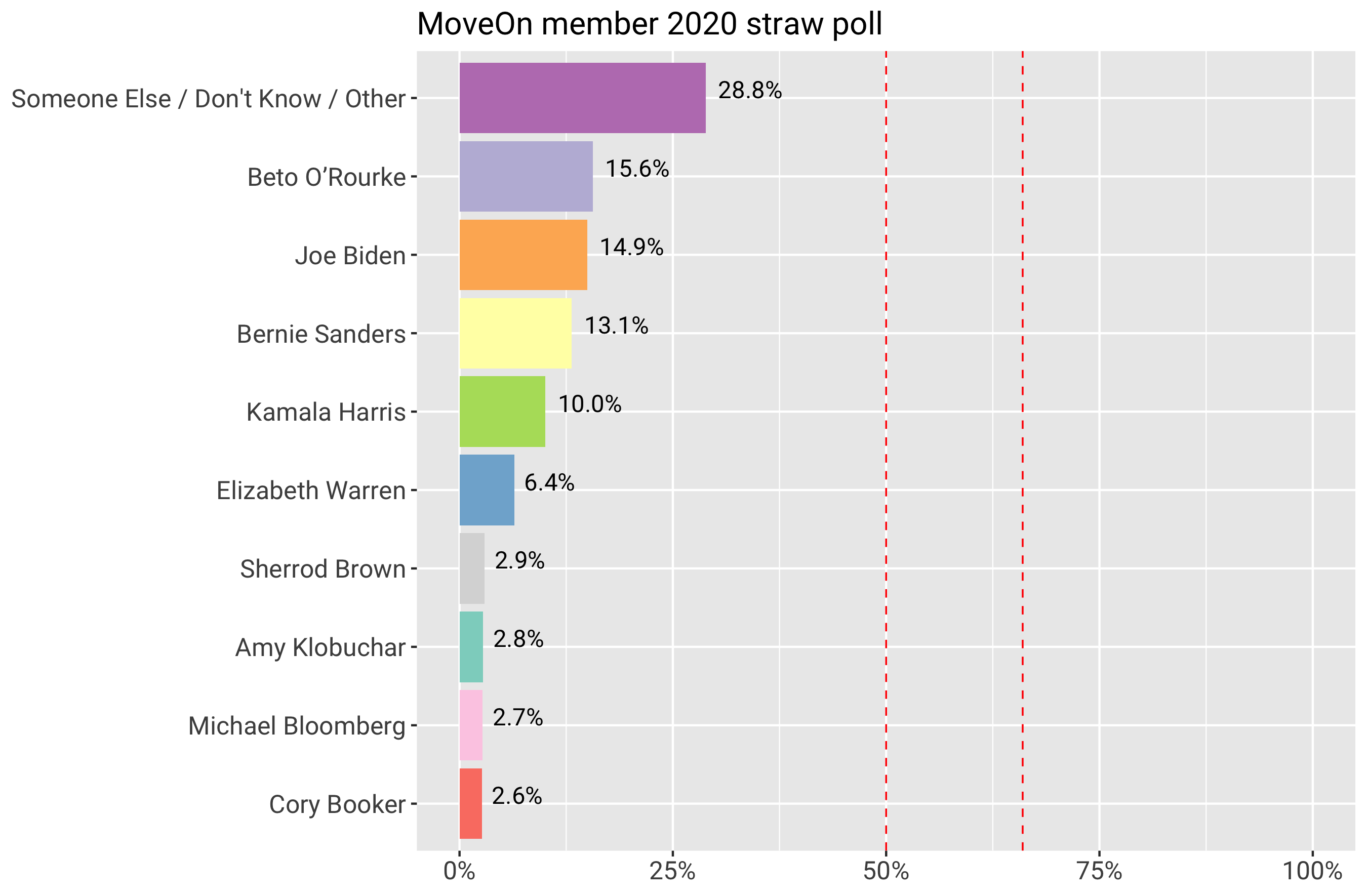 The full results from the straw poll are below.
The Big Idea Series will promote the best ideas in the months ahead and will help shape the landscape for dynamic political fights in 2019 and a transformative presidential campaign in 2020. We'll put our Video Lab, social media, mobile reach, and tech tools to work to achieve these aims.
Think about big ideas that have galvanized the electorate. The $15 minimum wage. Legalization of marijuana. Voting rights for formerly incarcerated people. Single-payer health care.
These are ideas that have gone from the fringe to the heart of our political discourse. And we're seeing big ideas such as a Green New Deal gaining traction as inspiring new members of the House of Representatives head to Washington.
We need those big ideas. They will mobilize an electorate that can defeat Donald Trump. They will chart a progressive agenda on which a new president and Congress can govern. And they will help imagine a world that can move beyond the fear and division of the Trump Republican Party.
MoveOn members will be championing these ideas through the campaigns we fight, promoting these ideas at every turn to shape the 2020 election cycle, and listening for these ideas from the political leaders who could become the leaders of our country.
MoveOn has a long history of involvement in Democratic presidential primaries, including member-driven endorsements. Shortly before Super Tuesday in 2008, MoveOn members voted 70%-30% to endorse Barack Obama in the Democratic primary. In the 2016 cycle, MoveOn launched the "Run Warren Run" campaign to encourage Elizabeth Warren to enter the race, and we went on to endorse Bernie Sanders for the Democratic nomination after he won 78.6% of the member vote in the primary. In 2004, however, Howard Dean—the top member-supported primary candidate—fell short of the 50% vote threshold, so MoveOn didn't endorse.
And since there is no clear front-runner in the MoveOn straw poll, presenting compelling and inspirational ideas will help the political leaders of today make their mark on the politics of tomorrow.
So we'll be inviting them to share their ideas—and all of you to listen, debate, and take action—as we put big ideas at the center of this wide-open 2020 presidential election, take on Trump and the GOP, and energize a new era of politics.
FULL RESULTS
Candidates:
Someone Else/Don't Know 17.89%
Beto O'Rourke 15.60%
Joe Biden 14.95%
Bernie Sanders 13.15%
Kamala Harris 10.02%
Elizabeth Warren 6.42%
Sherrod Brown 2.92%
Amy Klobuchar 2.75%
Michael Bloomberg 2.71%
Cory Booker 2.63%
Joseph Kennedy III 1.90%
Stacey Abrams 1.16%
Kirsten Gillibrand 1.09%
Tulsi Gabbard 0.78%
John Hickenlooper 0.71%
Eric Holder 0.59%
Eric Swalwell 0.54%
Julián Castro 0.48%
Jeff Merkley 0.42%
Jay Inslee 0.38%
Andrew Gillum 0.36%
Mitch Landrieu 0.35%
Chris Murphy 0.33%
Tom Steyer 0.28%
Marianne Williamson 0.26%
Deval Patrick 0.24%
Eric Garcetti 0.20%
Richard Ojeda 0.18%
Steve Bullock 0.17%
Pete Buttigieg 0.12%
John Delaney 0.11%
Bill de Blasio 0.10%
Howard Schultz 0.10%
Terry McAuliffe 0.10%
Top qualities that matter to members:

Inspires the public with deep progressive values and will move us towards a more progressive future where everyone can thrive (63.4%)
Makes the connections between racial, social, and economic injustice, and commits to platform positions to see these connections through (54.3%)
The post MoveOn 2020 Straw Poll: Support Up for Grabs Among Wide, Diverse Field appeared first on MoveOn.Org | Democracy In Action.
MoveOn is where millions mobilize for a better society—one where everyone can thrive.