More Dicks vote GOP, as it claims it will outnumber Dems' election day votes
4 min read
"Hostility to the opposition party and its candidates has now reached a level where loathing motivates voters more than loyalty."
As the presidential election nears, the risk of violence appears to be growing. Increasingly heated presidential rhetoric, political polarization, COVID-19-related anxiety, mobilization and counter-mobilization related to Black Lives Matter protests, and other concerns all pose risks for election security and public safety. Law enforcement agencies, social media companies, and others anxious to preserve the peace are scrambling to identify, and disrupt, possible threats, but their efforts may not be enough. Much depends on a wild card—the actions of the president of the United States—and the prognosis there looks quite grim. If violence does occur, which seems likely, a key challenge could be to stop it from cascading, leading to more lives lost and a greater disruption of traditional peaceful politics.

The stakes are high for this election and the national mood appears dark. For the past several months, President Trump has been fanning the flames of domestic discontent by repeatedly making baseless claims about voter fraud, proclaiming at a September campaign rally in Nevada that, "The Democrats are trying to rig this election because that's the only way they're going to win." Related to these claims, the president has urged his supporters to "Be poll watchers when you go there. Watch all the thieving and stealing and robbing they do." And it is not just President Trump. His family members, close advisers, far-right media figures, and "an online army of disciples" have been relentlessly pushing the narrative of a "rigged" election, apparently with little understanding, or perhaps little concern, about the ways in which these exhortations could translate into real world-violence.

At the first presidential debate, Trump told the white nationalist group the Proud Boys to "stand back and stand by," a message that many counterterrorism analysts perceived as a dog whistle, or maybe just a regular whistle, to the far-right. The conspiracy movement QAnon, which Trump refused to condemn in his most recent town hall, and the far-right extremist group The Oath Keepers, have both suggested that they might resort to violence if Trump loses the election. Fear that armed vigilantes could be stalking polling stations could very well deter voting.

At the same time, there is a greater level of polarization in American society, breeding the idea that those who vote for the other party are at best misguided fools and at worst, enemies and traitors. One academic study found, "Hostility to the opposition party and its candidates has now reached a level where loathing motivates voters more than loyalty." Misguided activists like Kyle Rittenhouse, the teenager who killed two protesters demonstrating for racial justice on the streets of Kenosha, are lauded as heroes by many on the right as someone who is "bravely defending" his Christian community, according to one fundraising website that raised hundreds of thousands of dollars for his defense.
"Why the risk of election violence is high" https://t.co/JZnD1SGSpj via @ColinPClarke @dbyman

"The vast majority of those polarized do not support, let alone would conduct, violence, but terrorism is a small-numbers game."
And the numbers have been driven higher

— Peter W. Singer (@peterwsinger) November 2, 2020
Liddle Marco thinks violence in politics is cool. https://t.co/BxIRLHGmAc

— Adam Parkhomenko (@AdamParkhomenko) November 2, 2020
Probably a pretty busy time for the FBI seeing if any of these 940 hate groups are going to go all Rambo if Trump loses.https://t.co/zkwqJuxd2f

— Rich Engstrom (@rdengstrom) November 2, 2020
2004 is the only year since 1988 when the Republican nominee won the most popular votes in the presidential election. Yet Republican presidents have appointed 6 of the 9 Supreme Court Justices. QED.

— Laurence Tribe (@tribelaw) November 2, 2020
Federal agents are erecting a massive "non-scalable" fence around the White House ahead of Election Night https://t.co/LJjOYa0wyN

— The Daily Beast (@thedailybeast) November 2, 2020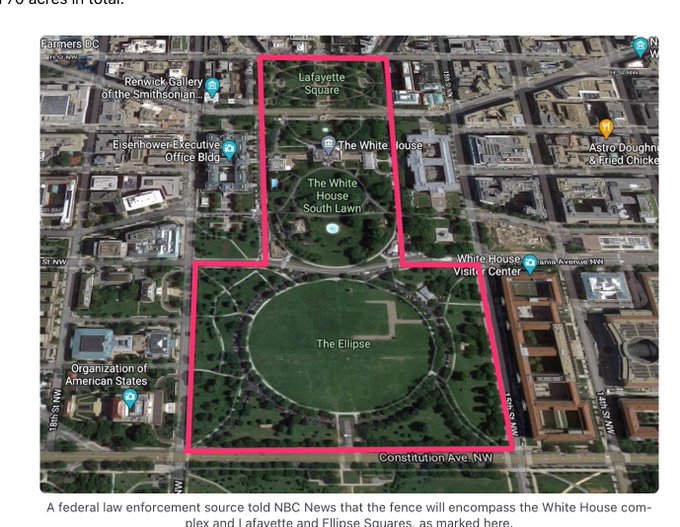 The reason is that the race remains close in most of the eight swing states we've identified as critical battlegrounds.

What's clear, in the final days, is that the election will be decided on a swing state map unlike any from the past. Here's a look 👇 https://t.co/lpEhwQupWH pic.twitter.com/TtSyTBstdR

— POLITICO (@politico) November 2, 2020
What an accurate presidential library for Donald Trump would look like https://t.co/3Ar6wfluTN

— Fast Company (@FastCompany) November 2, 2020
Anon here made an interactive version of our election-night model. Now anyone can use it! (This is why we open source!) https://t.co/UrYnAPqLMy

— G. Elliott Morris (@gelliottmorris) November 2, 2020
I've made @gelliottmorris The Economist election night model in python and available on kaggle: https://t.co/hvVecqd9DL https://t.co/qFUnm9EWWJ

— 903124 (@903124S) November 1, 2020
THE 100 CRINGEWORTHIEST TRUMP MOMENTS: From confusing "Herd Mentality" for "Herd Immunity" to staring at the sun, from blaming Parkland on the Russia investigation to Herman Cain, it's the best of Trump's Worst.

Full List of 100: https://t.co/oEEPHKpJ2H
The top 40, below: pic.twitter.com/rXojXm4IP1

— Keith Olbermann (@KeithOlbermann) November 2, 2020
Explainer: U.S. election lingo, from naked ballots to a red mirage https://t.co/xIE3CP2kY8 pic.twitter.com/7BZSj7AvzV

— Reuters (@Reuters) November 2, 2020
The final 2020 ad from @DNCWarRoom is really, really good.

It's been a long four years. Tomorrow, we end the Trump presidency.

Please watch. Please share. Please #VOTE pic.twitter.com/LflAPgQ71r

— Nick Knudsen 🇺🇸 (@NickKnudsenUS) November 2, 2020