Last updated on January 5, 2021
rMoney finds that conscience like a visually impaired squirrel.
Mitt Romney says, "The egregious ploy to reject electors may enhance the political ambition of some, but dangerously threatens our Democratic Republic."

— Niels Lesniewski (@nielslesniewski) January 3, 2021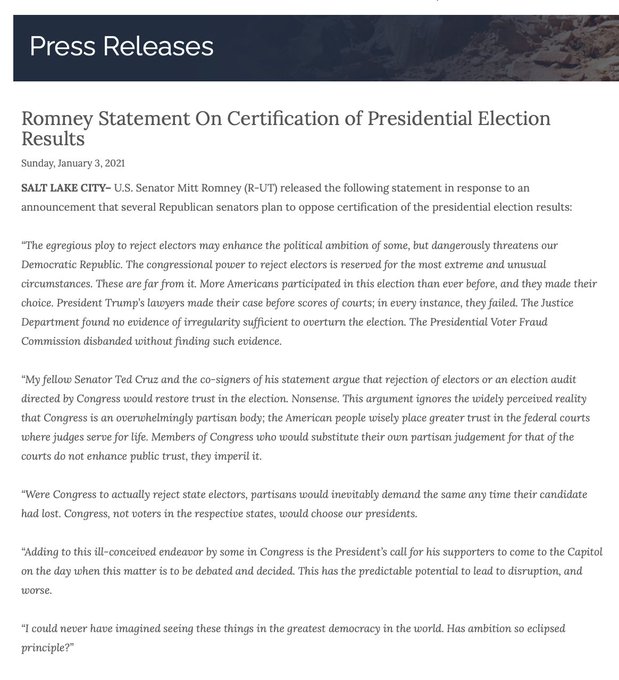 The party could not survive its factionalism. There could be no more accommodation, compromise and partnership between pro-slavery and anti-slavery Whigs. A new political party was born, the Republican Party. That party will divide into irreconcilable factions on January 6th. 2/

— Steve Schmidt (@SteveSchmidtSES) January 3, 2021
President Trump and his supporters are trying to turn the Jan. 6 congressional session for counting electoral college votes into something that it is not and was never intended to be: a forum for litigating Trump's claims of voter fraud.

Never mind that Trump has no evidence to support his assertion that massive

fraud

is what caused Joe Biden to win the popular vote in enough states for an electoral college victory. The critical point is this: Even if there were such proof, the Jan. 6 session is not the place to present it.

The Constitution and the Electoral Count Act of 1887 intended the Jan. 6 session to address a narrow question: Are the electoral votes received by Congress ones cast by electors the states appointed?

This limited inquiry requires Congress simply to authenticate the documents. Remember, these rules were formulated in the 19th century, when there was a realistic risk of counterfeit papers pretending to be official. Thus, the 1887 act

requires

a state's governor to affix "the seal of the State" to the certificate confirming the appointment of electors.
Election law expert Edward Foley: Sorry, President Trump. January 6 is not an election do-over.

"Trump might not care that the Jan. 6 joint session comply with the Constitution and existing law. Principled conservatives in Congress surely should." https://t.co/bfJQzf3xYZ

— Kyle Griffin (@kylegriffin1) January 2, 2021
---
The Politicus is a collaborative political community that facilitates content creation directly on the site. Our goal is to make the political conversation accessible to everyone.
Any donations we receive will go into writer outreach. That could be advertising on Facebook, Twitter, and Reddit or person-to-person outreach on College campuses. Please help if you can:
---