melting Rudy Giuliani explicitly says that Trump's goal is to "overturn the election"
Did Trump actually call the two Wayne County canvassers to try to reverse their reversal.
Autogolpe Trump's widespread effort to delay or undermine certification includes no-take-backsies.
— Aaron Rupar (@atrupar) November 19, 2020
— Aaron Rupar (@atrupar) November 19, 2020
— Aaron Rupar (@atrupar) November 19, 2020
— Aaron Rupar (@atrupar) November 19, 2020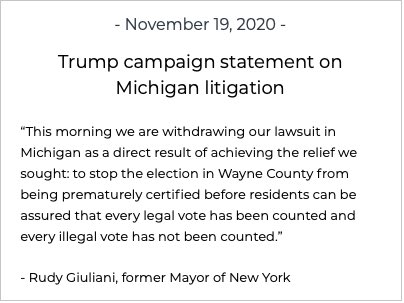 — Paul McLeod (@pdmcleod) November 19, 2020
— Andrew Desiderio (@AndrewDesiderio) November 19, 2020
— Lisbeth Farnum (@LisbethFarnum1) November 19, 2020
— David Corn (@DavidCornDC) November 19, 2020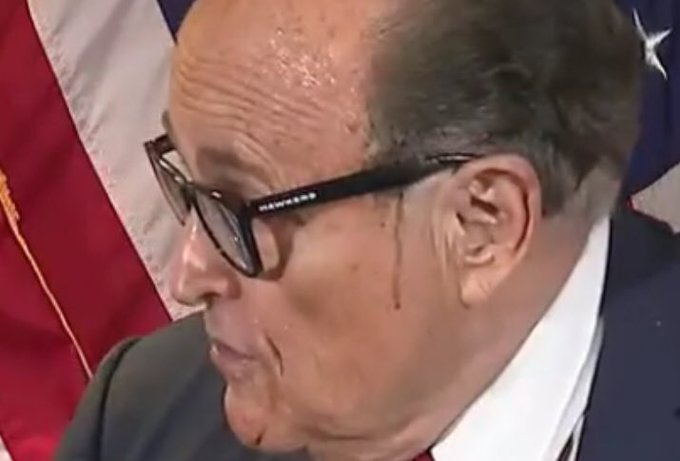 — Chris Megerian (@ChrisMegerian) November 19, 2020
In Wayne County, the two Republican canvassers at first balked at certifying the vote, winning praise from Trump, and then reversed course after widespread condemnation. A person familiar with the matter said Trump reached out to the canvassers, Monica Palmer and William Hartmann, on Tuesday evening after the revised vote to express gratitude for their support. Then, on Wednesday, Palmer and Hartmann signed affidavits saying they believe the county vote "should not be certified."
Time is running short for Trump. Across the nation, recounts and court challenges must wrap up and election results must be certified by Dec. 8. That's the constitutional deadline ahead of the Electoral College meeting the following week.
Matt Morgan, the Trump campaign's general counsel, said last week the campaign was trying to halt certification in battleground states until it could get a better handle on vote tallies and whether it would have the right to automatic recounts. Right now, Trump is requesting a recount in Wisconsin in two counties, and Georgia is doing an hand audit after Biden led by a slim margin of 0.3 percentage points, but there is no mandatory recount law in the state. The law provides that option to a trailing candidate if the margin is less than 0.5 percentage points.
Some in the Republican president's orbit have held out hope that by delaying certification, GOP-controlled state legislatures will get a chance to select different electors, either overturning Biden's victory or sending it to the House, where Trump would almost surely win.
— Sam Stein (@samstein) November 19, 2020
— Judd Legum (@JuddLegum) November 19, 2020
— Judd Legum (@JuddLegum) November 19, 2020
— Laurence Tribe (@tribelaw) November 19, 2020
…Plan B could work out — and therefore likely would work out — is a three-step process.
First Step: the Supreme Court takes up a case, almost any old voting case will do, and regardless of the facts of the case or the ultimate verdict, sets a precedent, stating the opinion that state legislatures, completely on their own, have plenary authority to pick their own electors, as supported by the plain language of Article II.
Second Step: Three state legislatures decide to take the justices up on their kind offer and pick pro-Trump slates of electors. Greg Sargent finds this step utterly crazy in part because "numerous states…would all have to do this extraordinarily rogue act" (emphasis his). But let's be clear on what "numerous" means here. It means "three." Personally, given all the endless radicalism and insanity I have seen over the last four years and the last two weeks, I don't find that very hard to imagine at all.
Third Step? Game over.
— Donald J. Trump (@realDonaldTrump) November 19, 2020
<
p class="is-empty-p">