LiveBlog COVID presser: "Testing is overrated" because Trump still thinks tests cause cases
2 min read
Live Blog below … looks like Trump will be late, sliding into the old habit, so much for that "new tone".
Key takeaway: Jacksonville rally for RNC cancelled. CNN is framing it as Trump acknowledging that he's losing because COVID is the real foe. Backpedaling on schools.
We'll see whether Trump can do anything other than show up with no experts, read prepared text, do a short question period, and quickly flee. Not really a "New Tone" because he's still contradicting himself on Fox News later. So far, Trump inflicts us with less time for the briefing.
He had that NY Post question about Ghislaine Maxwell, so this time there could be a OANN question, but we'll see.
Because suburban women like being called housewives.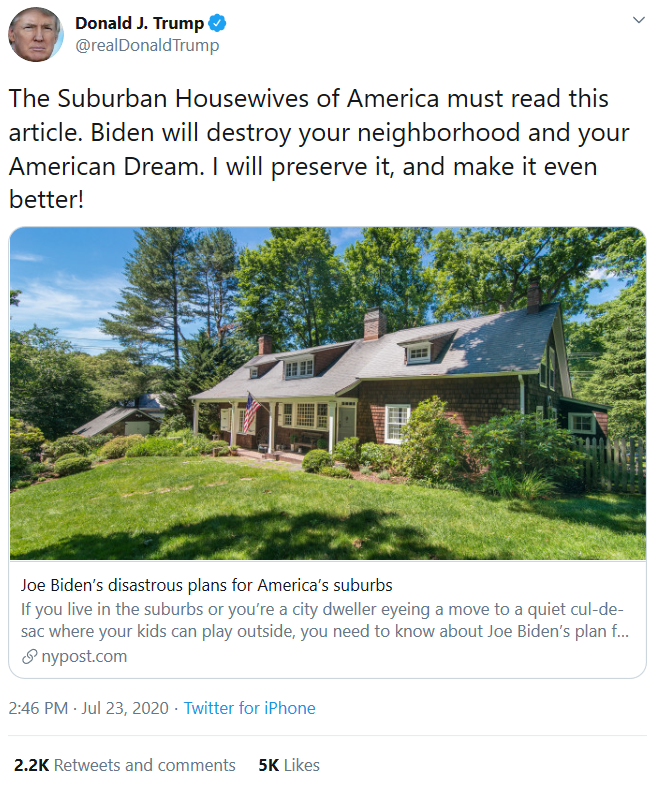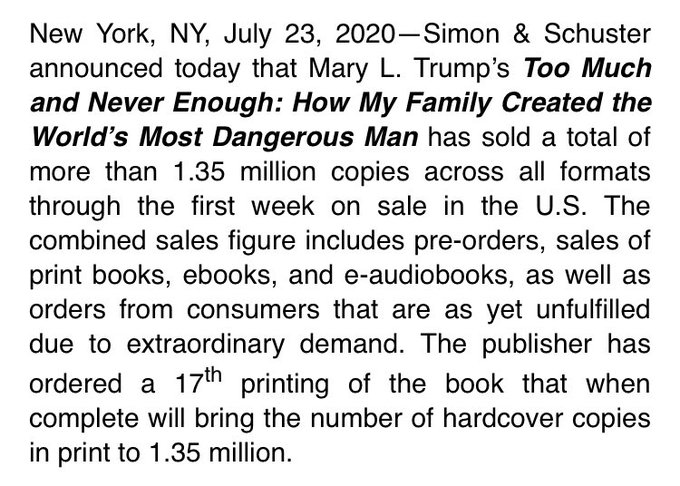 — CAP Action (@CAPAction) July 23, 2020
— Citizens for Ethics (@CREWcrew) July 23, 2020
— David Corn (@DavidCornDC) July 23, 2020
The White House reluctantly dropped its bid to cut Social Security payroll taxes Thursday as Republicans prepared to unveil a $1 trillion COVID-19 rescue package, yielding to opposition to the idea among top Senate allies.

"It won't be in the base bill," said Treasury Secretary Steven Mnuchin, speaking on CNBC about the payroll tax cut, killing the idea for now. The cut in the tax that finances Social Security and Medicare has been a major demand of President Donald Trump.

"The president is very focused on getting money quickly to workers right now, and the payroll tax takes time," Mnuchin said at the Capitol. Only Sunday, Trump said in a Fox News interview that "I would consider not signing it if we don't have a payroll tax cut."

[…]

Given the hold-up, however, Mnuchin and Meadows floated the idea of breaking off a smaller bill hat would be limited to maintaining jobless benefits that would otherwise expire and speeding aid to schools. Democrats immediately panned that idea, saying it would strand other important elements like aid to state and local governments.

"We cannot piecemeal this," said House Speaker Nancy Pelosi of California.
— Joe Biden (@JoeBiden) July 23, 2020
---
live blog
---
No Fauci again (he will throw out the first pitch at the Nationals-Yankees game)
Trump begins…30 minutes late.
"China Virus" again masks, Nursing homes, Pfizer vaccine
RNC jacksonville rally Cancelled —  Trump loves drawings usual blah-blah "sir" "China Virus" "Radical left mob" Trump will do speech from North Carolina.
— Daniel Dale (@ddale8) July 23, 2020
— Daniel Dale (@ddale8) July 23, 2020
Trump looks like this is the first time he's seen the text. On schools, Trump does boilerplate… mentions "China Virus" three times. Trump doesn't understand that the percentage he cites comes to 10,000s. Yankee reliever Mariano Rivera is a guest. Map of hot spots. "Vigilant hygiene" still insisting on school restarting.
— Daniel Dale (@ddale8) July 23, 2020
Now happy talk ad lib on housing, then back to schools. Now to Congress on corona relief bill. Trump pimps "choice" — attempts to use the federal penalty for schools not opening as a voucher. Uses Asian examples (needless to say their case numbers are different and are already in session because they have year-round schedules). 
— Daniel Dale (@ddale8) July 23, 2020
— Daniel Dale (@ddale8) July 23, 2020
<
p class="is-empty-p">
Trump "cupboards bare" meme repeated lie again on PPE supplies, misreads numbers. More of the same BS about tests. Trump forgets he has a map behind him. "Some problems, it'll all work out". More China-blaming, mentions Putin (will there be a question about bounty and vaccine meddling).
---
QUESTIONS
Q: about RNC?
Trump goes bafflegab "we didn't want to take any chances". Now goes blah blah on stock market and Nasdaq. "Best numbers" blah-blah blames China again. "IT means much less to me"
Q: Why Florida cancellation for RNC
Blah-blah more accordion hands
Q: School opening and testing funds as incentive? (Harwood)
Trump doesn't understand the question and goes to bafflegab. Now goes to BS on mortality rate, blames China again. Blah blah on payroll tax-cut. Blames Democrats (not true, GOP members were against it)
Q: Trump has used the RNC announcement to get the press to repeat that topic
Trump goes blah blah talking about Mariano Rivera and baseball. Trump filibustering.
Q: Collins asks about a new FBI building
Trump goes blah blah running track on top
Trump flees. Less than 30 minutes including questions.