Last updated on April 17, 2020
In a total reversal,
Grand Moff
Trump will apparently back off on ordering(sic) a national May 1 "reopening date". He will also punt "shot-calling" to the states, continuing his inability to fully implement the DPA.
Live Blog below
---
6:00* PM EDT (* it almost never starts on time)
The White House (Briefing Room, rats optional)
---
"The regional governors now have direct control over their territories…"
The White House has released the names of the lawmakers on the bipartisan task force on reopening economy.

In the Senate, all Republican members, except Senator Mitt Romney, who voted to convict the president in his impeachment trial, are included. https://t.co/UKcYvPKowb

— Kyle Griffin (@kylegriffin1) April 16, 2020
18-page WH doc for "Opening Up America Again" does not include details for ramping up testing or contact tracing.

Both are under a bold headline:
"Core STATE Preparedness Responsibilities".

Governors are asking for fed help.

Trump has made clear that's not his problem.

— Weijia Jiang (@weijia) April 16, 2020
Which reporter will ask him why the border of China is at Chinatown.
Fact check: We never posted this video. It's obviously local TV coverage of the Speaker visiting Chinatown in San Francisco three weeks prior to the shelter-in-place order. https://t.co/sVCqbkD0DF

— Drew Hammill (@Drew_Hammill) April 16, 2020
He thinks Chinatown is in China;

He thinks we have a land border with China;

He thinks Chinatown in whatever city is part of China within the United States
Crazy Nancy Pelosi deleted this from her Twitter account. She wanted everyone to pack into Chinatown long after I closed the BORDER TO CHINA. Based on her statement, she is responsible for many deaths. She's an incompetent, third-rate politician!
He knows it's in San Francisco, but that clever Pork Chop also knows that linking China, Chinatown and the name of his arch nemesis, Nancy, will give his followers a semi.

— Amy (@AmysGotBirds) April 16, 2020
After taking three doses of the drug combination that Trump has touted since March 19, Ligia suffered cardiac arrest early on the morning of April 7, and died before paramedics could reach her. https://t.co/pzA1VFVscF

— Matt Rogers 🗳 (@Politidope) April 16, 2020
Members of the booming "Michiganders Against Excessive Quarantine" Facebook group want an end to social distancing restrictions. But they also say they definitely won't take a coronavirus vaccine themselves… pic.twitter.com/Cu5DLjRs8I

— Will Sommer (@willsommer) April 16, 2020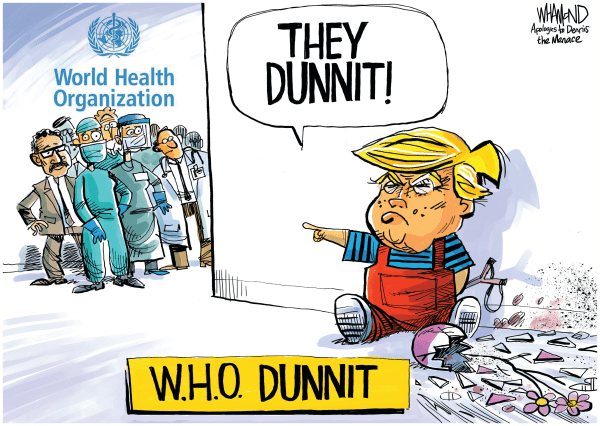 "Like the monomaniacal ship's master in Moby Dick, Trump's obsession fuels his actions."
Ah yes, a graphic from Tony Fabrizio, the Republican operative who was questioned by Mueller's special counsel team about polling data shared with pro-Kremlin pro-Putin individuals in February of 2018. Seems legit!

— Brian Tyler Cohen (@briantylercohen) April 13, 2020
1. DT says something w/absolutely no value
2. Rt Wing media praise him, & he is happy
3 All other media says "hey that had absolutely no value" & he is enraged
4. Having no impulse control, he lashes out
5. RW media praise him more
4. Repeat, every single day. #BailoutHumansNow

— John Fugelsang (@JohnFugelsang) April 16, 2020
---
The Politicus is a collaborative political community that facilitates content creation directly on the site. Our goal is to make the political conversation accessible to everyone.
Any donations we receive will go into writer outreach. That could be advertising on Facebook, Twitter, and Reddit or person-to-person outreach on College campuses. Please help if you can:
---