"least racist" Trump says he's "perhaps the most innocent man anywhere in US history" expect a stunt
3 min read
How many votes remain to be counted? Exit polls show fewer late-deciders than in 2016 Trump-Clinton contest, but Trump seemed to maintain numbers where he needed, numbers that would still defeat improved Biden numbers over Clinton in 2016. Still, final results won't be happening until Wednesday mid-morning at the earliest because counts will not be made until then in key states. If Trump wins, the grief will be enormous and if Democrats win both chambers of Congress, Trump will be impeached again, buy only after so many needless deaths from Trump incompetence and corruption.
An Arlingtonian shows President Trump a finger as his motorcade makes it's way back to the White House after a stop at their campaign headquarters in Rosslyn. pic.twitter.com/q3TfGnSusn

— Jay Westcott (@jwestcottphoto) November 3, 2020
Trump ignores Don Jr's attempt at a hug. A fitting end to the last four years. https://t.co/oXpsBMKs23

— John Aravosis 🇺🇸🇬🇷🏳️‍🌈 (@aravosis) November 3, 2020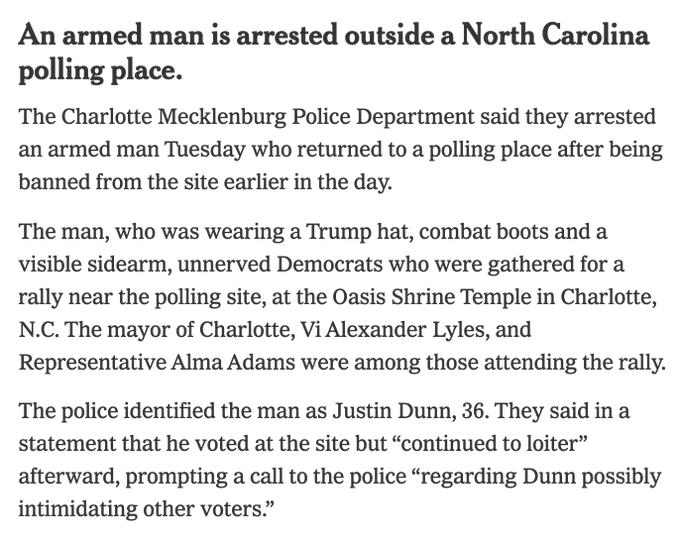 Mail delays got worse closer to election, at same time GOP courts gave voters less time to return ballots. This is unconscionable https://t.co/xgsEYw3Qnw

— Ari Berman (@AriBerman) November 3, 2020
How US President Donald Trump and his administration have silenced scientists, meddled in their reports and ignored their advice. https://t.co/bR56XD4Hv6

— Nature News & Comment (@NatureNews) November 3, 2020

Like his speeches, Trump has a mental bank of self-serving falsehoods that appears in every branding opportunity.
Sean Connery never said "A guy walks into a bar…" joke about Trump
Donald Trump lied about Sean Connery right after Conney's death.

It's just so disgusting. He will lie about EVERYTHING.

Scottish Officials Call Out Trump for Lying About Sean Connery https://t.co/kXF5G0KZKG via @VanityFair

— Don Winslow (@donwinslow) November 3, 2020
Which golf project Trump was making his claim about is unknown, as is just how and when Connery spoke up in a way that supposedly cleared the way for Trump to secure approval for it. The UK's Mirror newspaper stated in 2018 that "There is no evidence to support his claim," and Scotland's The National noted just after Connery's death that "There was no evidence to support Trump's claim at the time, and although Connery was approached for comment, no response from the Scot was reported."
The Guardian reported, in reference to the Trump International Golf Links project, that the rumor was definitely untrue:
Martin Ford, the Aberdeenshire councillor who was chair of the planning committee that initially refused Trump's application to build the resort, told the Guardian: "Mr Connery was not involved in the due process that led to the granting of planning permission for a golf resort at Menie. He did not submit a letter of representation to the council, appear at the planning hearing, or at the public local inquiry."
Ford added: "Opinions offered in press articles are not material considerations in decisions on planning applications."
David Milne, a near neighbour of the Trump golf course in Scotland, and the US president's most vocal local critic, said the claim that Connery helped him land planning permission for his golf resort was "utter bollocks".
IF NETWORKS DECLARE HIM PRESIDENT-ELECT, BIDEN WILL ADDRESS NATION AS THE LEADER: @Axios report is the answer to Trump's plan to "Rosie Ruiz" and declare victory even if he barely leads tonight.

Election Day Olbermann Vs Trump: https://t.co/nNEwCwlxph
Brief Analysis below: pic.twitter.com/6wNYPabN3s

— Keith Olbermann (@KeithOlbermann) November 3, 2020