Last updated on January 5, 2021
Apparently Trump leaked the Raffensperger audio to WaPo — how clueless is that, even if the NY Times is reporting that it was taped and released by the GA SOS. Most of the call repeats his contrived logic and numbers ad nauseam, as if to flood the transcript with his disinformation stream. Trump is so delusional he thinks this call makes him look good, as this follows his typical tactic of doubling down on misinformation conflict.
Trump may have violated laws that prohibit interference in federal or state elections

"Mr. President, the challenge that you have is the data you have is wrong," Georgia Secretary Brad Raffensperger tells President Trump

— Sarah Cooper (@sarahcpr) January 4, 2021
In a recorded hour-long phone call, President Trump told Georgia Secretary of State Brad Raffensperger that he wanted to "find 11,780 votes" in his favor to overturn Joe Biden's win in the state. The Washington Post also reported that Trump appeared to threaten Raffensperger, saying that his refusal to comply with Trump's demands would be "a big risk."
Observations on transcript and audio of Trump's effort to flip the vote in GA: Redacted name is Ruby Freeman (they missed one). Trump moves from solicitation to shakedown. The shakedown story continues. Leaked recording from the WH base on voice volumes.
— Steve Schmidt (@SteveSchmidtSES) January 4, 2021
— Dena Grayson, MD, PhD (@DrDenaGrayson) January 4, 2021
— Keith Olbermann (@KeithOlbermann) January 4, 2021
"You must be a great lawyer. You have a great last name"
(It's better in the original Germany(sic))
— Marc E. Elias (@marceelias) January 4, 2021
— Dave Weigel (@daveweigel) January 4, 2021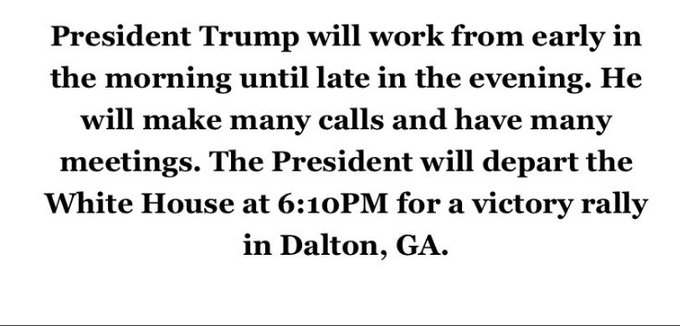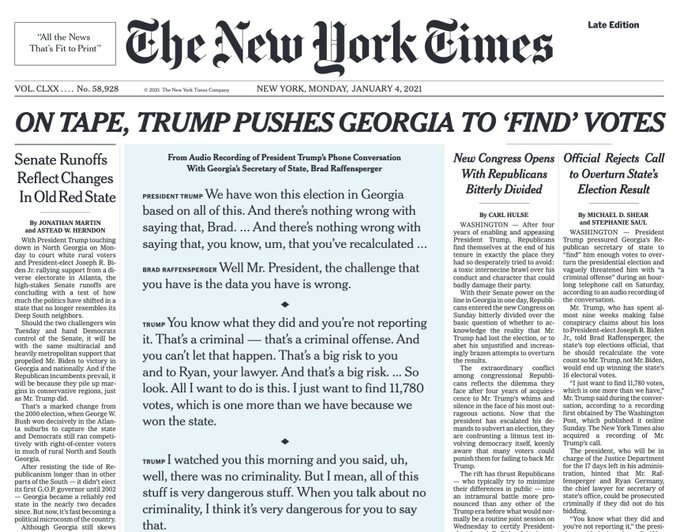 — The Rude Pundit (@rudepundit) January 4, 2021
— Michael Waldman (@mawaldman) January 3, 2021
— Clara Jeffery (@ClaraJeffery) January 4, 2021
— Susan Gardner (@SusanGDailyKos) January 4, 2021
<
p class="is-empty-p">
---
The Politicus is a collaborative political community that facilitates content creation directly on the site. Our goal is to make the political conversation accessible to everyone.
Any donations we receive will go into writer outreach. That could be advertising on Facebook, Twitter, and Reddit or person-to-person outreach on College campuses. Please help if you can:
---