Today's Trump campaign press conference was called by Chris Krebs, late of DHS, the most dangerous piece of television in US history. Jenna Ellis was another lawyer willing to affirm total landscaping loyalty in all four seasons.​
x

Trump's legal adviser Jenna Ellis in 2016 called him an 'idiot' and said his supporters didn't care about 'facts or logic' || Via CNN https://t.co/Sgs5aE8DMZ— SafetyPin-Daily (@SafetyPinDaily) November 19, 2020

In a statement to CNN on Wednesday, Ellis said, "It's no secret that I did not support Donald Trump early in the primary process in 2015, like many others who didn't know him, and I've always been straightforward with my opinions and I've always admitted when my opinion changes. I am glad to have learned that I was completely wrong about Trump back then and I've said that over and over publicly, as I saw him keeping his promises, and then eventually getting to know him personally.

"I appreciate KFILE showing clearly through past statements that I think for myself, and that my mind was changed based on fact and personal knowledge. President Trump is a sincere Christian, the best president in modern history, and made and kept his promises to the American people. I am proud to stand with him and his goals for the future of this country and all of its citizens," she said.

In another

Facebook post

from 2015, Ellis, a conservative evangelical Christian, compared Trump to a "last days" bible verse and shared a post calling Trump "without love," "treacherous," "abusive" and "unholy."
​
x
That press conference was the most dangerous 1hr 45 minutes of television in American history. And possibly the craziest. If you don't know what I'm talking about, you're lucky.
— Chris Krebs (@C_C_Krebs) November 19, 2020
x
"They are waiting for the president to recognize this". How can anyone write this sentence, and how can any new organization print it? It's like saying "I'm waiting for Hitler to recognize that gas chambers are destructive". It's a feature, not a bug. Clearly.
— betsy (@betsyindtx) November 19, 2020
x

Sidney Powell, Mike Flynn's lawyer now working for Trump, says the election was rigged by "communist money" and a scheme devised by the late Hugo Chavez, President of Venezuala. pic.twitter.com/8XTnRHCzAM
— Josh Marshall (@joshtpm) November 19, 2020
x
Left to right: GIULIANI worked with a known Russian agent to push disinformation about the Bidens. POWELL is a QAnon-friendly conspiracy theorist. ELLIS once called Trump an un-American "idiot." DIGENOVA pressed DOJ to drop charges against a mafia-linked Ukrainian oligarch. pic.twitter.com/kArlmVZl56
— Marshall Cohen (@MarshallCohen) November 19, 2020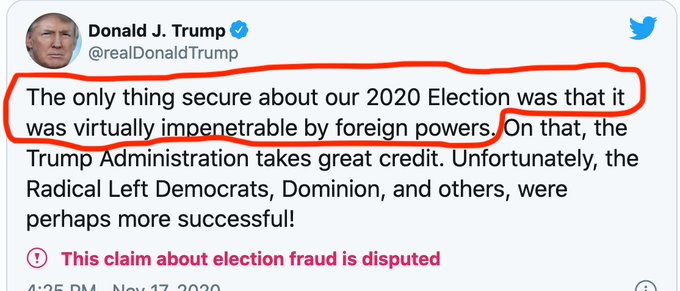 x
There will be more Wayne county style dissenters, michigan was just the first battleground to get to the point of certification.. it will happen again when others

— Reid Atcheson, PhD (@reidatcheson) November 19, 2020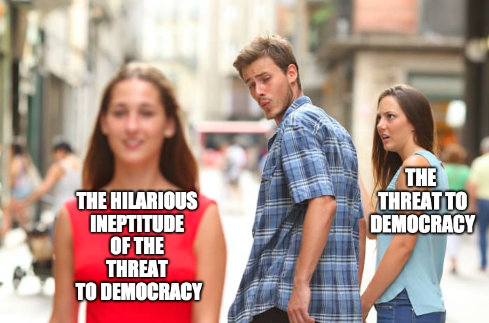 <
p class="is-empty-p">
"You're not mopping fast enough. (Laughter) That's a socialist mop. (Laughter and applause) Grab a mop — let's get to work." – Barack Obama (2009); "Soyez réalistes, demandez l'impossible!"