"…it's up to us to leave those instruments of our democracy at least as strong as we found them."
4 min read
Probably the last official deal crafted by Trump will be his pardon, whether of himself or by Mike Pence after Trump's resignation with hours or minutes to spare.
One wonders if Trump will leave the customary letter to his successor in the Oval Office desk, or perhaps just leave a smoldering turd.
Trump told one adviser during an expletive-laden conversation recently never to bring up the ex-president ever again. During the passing mention of resigning this week, Trump told people he couldn't count on Vice President Mike Pence to pardon him like Gerald Ford did Nixon, anyway.

Eager for a final taste of the pomp of being president, Trump has asked for a major send-off on Inauguration Day next week, according to people familiar with the matter, before one last presidential flight to Palm Beach.

[…]

Early in his presidency, Trump liked to show off to visitors

 the letter he received from President Barack Obama

, which included the now-prescient line: "Regardless of the push and pull of daily politics, it's up to us to leave those instruments of our democracy at least as strong as we found them."

[…]

Initially, Trump had planned to depart the White House a day early. But he now plans to leave on the morning of January 20. His departure aboard Marine One from the White House South Lawn will likely be visible and audible to the Bidens, who will spend the night before the inauguration at Blair House, across Pennsylvania Avenue from the executive mansion. Its use was offered to them by the State Department rather than the Trumps, who refuse to make contact with the incoming president and first lady.

[…]

A person familiar with the matter said the White House Military Office will ensure there are multiple nuclear footballs — one to accompany Trump to Florida and one that will be ready in Washington for when Biden officially becomes president. The nuclear codes Trump carries on a card alongside the football — the so-called "biscuit" — would no longer work past noon.
The cost of pardoning Richard Nixon was was "colossal," @rickperlstein says. "It caused a cascade of élite wrongdoing that was specifically enabled by this single act of determining that the Presidency was 'too big to fail.' " https://t.co/MSp79uMWzt

— The New Yorker (@NewYorker) January 15, 2021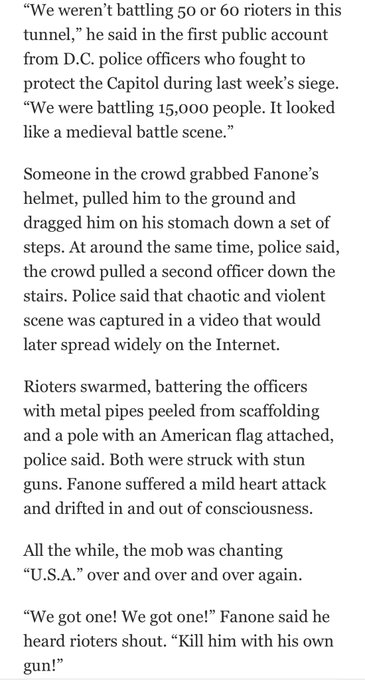 This officer was in the middle of the Capitol riots.

Watch until the end.

— The Lincoln Project (@ProjectLincoln) January 15, 2021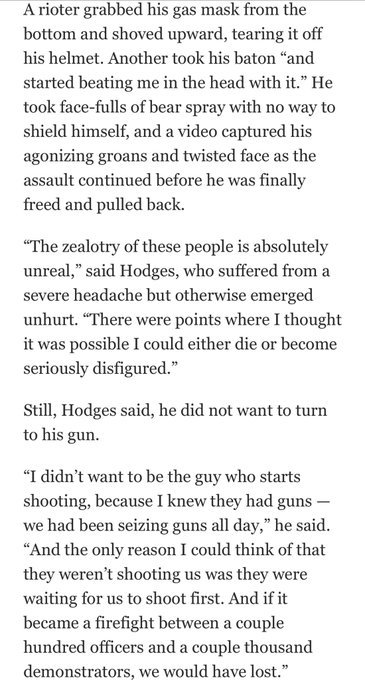 Compromise breeds escalation. That is how America got to a fascist coup: five solid years of compromise with fascists, until they escalated to the point of violently storming the Capitol and taking selfies, because they thought they could get away with it.

So there is a social message of all this violence, too. It's hidden — maybe barely hidden — but I feel as if many Americans are still missing it. It's this. "We can do something this awful, and mostly get away with it. That is how much we can corrode your norms and values. We can do the very worst things imaginable in this society, and not receive nearly the punishment we deserve. That is how badly we have weakened you." Do you se the message? It's always the same: the message of a bully, a thug, a mobster. It's about instilling fear.

It's about terror.
"Either you're a 'real' American or you're not, either you're 'legal' or you're not, either you're fetishistically devoted to Papa Trump, or you're an 'enemy of the people.' They either adore or hate." — @umairh https://t.co/sxZh6fTyXT

— Ken Simon (@KenSimonSays) January 15, 2021
"While Trump's days in office are numbered, Trumpism as a populist political ideology centered on nationalist aggrievement is here to stay." Janna Brancolini reads Gábor Scheiring's "The Retreat of Liberal Democracy." https://t.co/2abxuh0mQL

— LA Review of Books (LARB) (@LAReviewofBooks) January 15, 2021
NEWS: Trump and Bannon have been talking regularly, multiple sources tell me. They've been in communication FOR WEEKS now, patching up earlier rift as Trump sought advice from anyone willing to help him fight his election defeat. https://t.co/hQRa4v32Ha

— Jennifer Jacobs (@JenniferJJacobs) January 14, 2021
The memo repeatedly stresses the point about the election-fraud lie inspiring future violence. It notes, ominously, that "the capability and intent" of domestic violence extremists "to engage in violence at lawful gatherings very likely will increase throughout 2021."
Opinion: A leaked intelligence memo suggests Trump's lies could incite more violence https://t.co/6UFlZ0T837

— The Washington Post (@washingtonpost) January 15, 2021

The memo defines "domestic violence extremists" as U.S.-based actors who seek to realize political or social goals through "unlawful acts of force or violence." This broad term encompasses those who are motivated by anti-government and anti-authority sentiment, among other things.
In other words, the memo concludes, we face a very likely escalation in political violence — violence designed to achieve political ends — and it flows in no small part from the lie that the election's outcome was illegitimate.
Juliette Kayyem, a former Homeland Security official, notes that the memo underscores the dangerously irresponsible nature of Trump's continued refusal to unambiguously declare the election's outcome legitimate.