Justice Roberts won't preside over the Senate trial, if only because of the optics and fortunately the rules allow the Pro Tempore senator to preside.
Let's assume for the moment that former president Donald Trump's efforts to undercut the results of the 2020 election began only when the sun rose the day after last year's election. That's not the case, clearly; Trump had been alleging for months that the results would be marred by fraud, part of an effort to inoculate his base against a seemingly likely loss. Even identifying the starting point as sunrise is a hedge, given that Trump began claiming in the middle of the night after polls closed that he'd won, based on the incomplete tally of cast ballots.

But those assertions were different from what followed the election itself. Over the two months between President Biden's victory being announced and the storming of the U.S. Capitol by Trump supporters who believed the lie that the election had been stolen, Trump repeatedly tried to somehow wrench a victory out of his rejection by voters. It was an effort that involved unprecedented attempts to persuade those he saw as allies to undo the results of a democratic election.

[…]

Repeated claims and lawsuits focused on alleged fraud.

Pressuring officials in Michigan about certifying the election results.
Pressuring Michigan legislators to throw out his loss in the state.
Calling the speaker of the Pennsylvania House to help reverse results.
Pressuring leaders in Georgia and Arizona to overturn their states' votes. 
Directly cajoling Georgia's secretary of state to gin up a reason for throwing out the results.

Entertaining a plot to oust the acting attorney general so that the Justice Department could allege fraud. Perhaps the most remarkable effort to undercut the results in Georgia, though, came through Trump's Department of Justice.

As 

reported

over the weekend, Trump was receptive to a plan that would have involved his firing the acting attorney general, Jeffrey Rosen, and replacing him with a Justice Department lawyer who had openly advocated overturning election results. That attorney, Jeffrey Clark, had been pressuring the department to allege that fraud had occurred in Georgia. Trump was made aware of Clark's advocacy and invited Clark and Rosen to the White House to argue their sides.

Trump decided against the overhaul of the department only after it became clear that firing Rosen would trigger a slew of resignations that themselves would be likely to prompt new congressional investigations into his actions.

Encouraging his vice president to ignore the Constitution. As Trump's time in office wound down, he became fixated on another false claim about how the election could be overturned: Former vice president Mike Pence could simply overturn it.

This was not the case, as demonstrated in part by the fact that at no point in the past 230-plus years had a vice president simply undone the results of a national presidential election. But, lacking many other options, Trump claimed that he could.

Despite Pence himself rejecting the idea, Trump made the same claim on the morning of Jan. 6, at a rally where he addressed thousands of supporters and exhorted them to fight in his defense. Many then did, overrunning the Capitol in an effort to block the ultimate counting of electoral votes that would finalize Trump's loss.

Among the chants heard on Capitol Hill during the attempted insurrection were claims that the election was stolen — and calls to 

assassinate Pence

.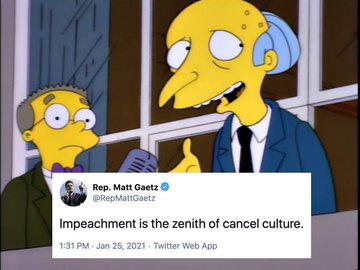 Senate Dems represent 41 million more Americans than GOP but Mitch McConnell blocking Dems from taking over so that 41 GOP senators representing 21% of population can thwart Biden agenda supported by 70% of Americans https://t.co/CJol4P47Np

— Ari Berman (@AriBerman) January 25, 2021
Hawley tries to cancel Senate Democrats for "canceling" him https://t.co/3k5EWaDxj8

— #TuckFrump (@realTuckFrumper) January 25, 2021
New year, new Chart! Media Bias Chart 7.0 is here with some new sources, updated scores reflecting changes in the media landscape.

We now have nearly 300 news sources fully rated, most of which you can already see on our Interactive Chart. https://t.co/JhdsmTbsLe pic.twitter.com/AQmK5bEVIq

— Vanessa Otero (@vlotero) January 25, 2021
NEW–
Latest report in the Countering #TruthDecay series: a synthesis of existing media literacy standards. https://t.co/XYPto0y7MN pic.twitter.com/1DChW44ueG

— Michael Rich (@michaeldrich) January 25, 2021
"Conspiracy Theory". #TeamQ

Also known as sophisticated modern warfare and dangerous cult. #PsychoWarfare #CyberWar #TRE45ON pic.twitter.com/ktBnvHSSZU

— Jzikah (@jzikah) January 25, 2021
Aspiring Consigliere Rundolf Giuliani, disgraced and expelled from capitalist court system, resorts to opiate of the masses by devising religion premised on Trump worship and expensive laxatives. pic.twitter.com/YF1qvWlCXJ

— DPRK News Service (@DPRK_News) January 25, 2021
New – Sen. Patrick Leahy, the Senate pro tempore, is expected to preside in impeachment trial, two sources tell me and @JoanBiskupic – not Chief Justice John Roberts

Senators preside when the person facing trial isn't the current president of the United States, per one source

— Manu Raju (@mkraju) January 25, 2021
---
The Politicus is a collaborative political community that facilitates content creation directly on the site. Our goal is to make the political conversation accessible to everyone.
Any donations we receive will go into writer outreach. That could be advertising on Facebook, Twitter, and Reddit or person-to-person outreach on College campuses. Please help if you can:
---