Last updated on December 6, 2020
Which is it, Don did you "win by a tremendous amount" or did you lose by "12,000 votes".
Trump at the kiddie table damages his brand again. Apparently he's still whining about the election with no evidence for his claim that he won. Apparently he still harbors the belief that he can win the Electoral College. It will be easier to concede while sitting at a small table and framed by an undecorated Xmas tree.
Trump admits that he is trying to overturn the election before the Electoral College votes on December 14. He also claims that if the Electoral College votes for Biden they will have made a big mistake. Trump is openly acknowledging planning a coup. pic.twitter.com/nXSwjnZ9dc

— Sarah Reese Jones (@PoliticusSarah) November 26, 2020
President Trump on Thursday said he would leave the White House on Jan. 20 if the Electoral College declares President-elect Joe Biden the winner of the election, but indicated he was not prepared to concede defeat.

"Certainly I will. And you know that," said Trump when asked if he would leave the White House if the Electoral College voted for Biden.

He added, "If they do, they made a mistake."

"It's going to be a very hard thing to concede," Trump told reporters during a press call on Thursday.

It was the first time Trump has taken questions directly from reporters since the election more than three weeks ago.

Trump has repeatedly this year refused to commit to a peaceful transition of power.

"We're going to have to see what happens, you know, but I've been complaining very strongly about the ballots. The ballots are a disaster," he said in September.

At the time, Trump said such a commitment was not necessary, appearing confident that he would win reelection.
Commenting on the voting infrastructure in the U.S. Trump said, "We are like a third world country."

"I don't know what is going to happen. I know one thing, Joe Biden did not get 80 million votes," said Trump. The president also claimed that he had received significantly more than 74 million votes, insisting that votes for him had been tossed out.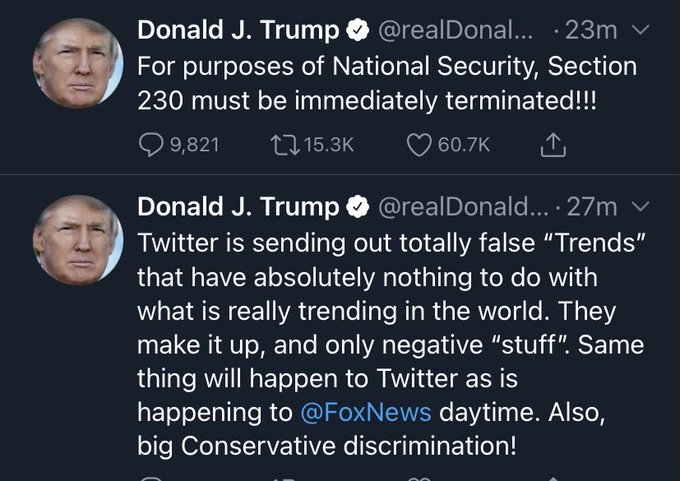 🔥#DiaperDon hates being flagged by @Twitter. Sec 230 protects the right of social media platforms and other providers to "restrict access to or availability of" material the provider finds objectionable, regardless of "whether or not such material is constitutionally protected."

— Venture Capital (@kelly2277) November 27, 2020
This is your occasional reminder that Trump doesn't really have a choice in the matter and if he tries to stay his ass will be hauled out on 1/20/21. https://t.co/XYOrUXAcwB

— Daniel W. Drezner (@dandrezner) November 27, 2020
Namely, there was a lack of precision to many of them; they didn't explain the mechanisms by which the election would be stolen. Often they were a bit Underwear Gnomes-ish:

1. Trump wants to steal the election
2. ???*
3. ELECTION STOLEN

* Or "THE COURTS!!"

— Nate Silver (@NateSilver538) November 24, 2020
---
The Politicus is a collaborative political community that facilitates content creation directly on the site. Our goal is to make the political conversation accessible to everyone.
Any donations we receive will go into writer outreach. That could be advertising on Facebook, Twitter, and Reddit or person-to-person outreach on College campuses. Please help if you can:
---