"How about if we're unified against insurrection? Unity starts with accountability." GOP gaslighting
Trump may have only toyed with the idea of a third party until he realized how much money he needed to grift up front from people who would need to stay out of prison. Gaslight is indeed political vaporware.
Wow, it really is shocking that the people who incited an attack on the Capitol don't want there to be consequences for the people who incited an attack on the Capitol…

— Citizens for Ethics (@CREWcrew) January 25, 2021
https://twitter.com/sethdunlap/status/1353524005886545920?ref_src=twsrc%5Etfw
ABC News-Ipsos poll:

69% approve Biden's response to COVID
57% say they're confident in Biden's ability to unify the country

— Kyle Griffin (@kylegriffin1) January 25, 2021
Warren: "Unity is about doing things the American people want: like $15 an hour minimum wage, like canceling student loan debt, like expanding Social Security — things that are popular across this country."

— Hugo Lowell (@hugolowell) January 24, 2021
Sen. Elizabeth Warren: "It's the Republicans in the Senate who are behind. They're the ones who don't get what's happening in this country and what we need to do to get this country moving forward." pic.twitter.com/O05YMdhJwZ

— The Hill (@thehill) January 25, 2021
Far-right supporters around the world have long traded ideology and inspiration on societies' fringes and online. Now, the riot at the U.S. Capitol has laid bare their violent potential. https://t.co/byiQVEvdxo

— NYT National News (@NYTNational) January 25, 2021
Donald Trump Reportedly Gives Up On Creating Patriot Party #USPolitics https://t.co/e5tnKx6PG9

— The Inquisitr (@theinquisitr) January 25, 2021
Former President Donald Trump is no longer interested in forming a third party that would challenge the GOP from the right, according to New York Times reporter Maggie Haberman.
Citing individuals familiar with the former president's thinking, Haberman reported Sunday via Twitter that he has been "talked out of" the idea.
Trump has made it "clear" to aides and advisers that he won't follow through on the threat, per Haberman's sources briefed on the matter.
Trump reportedly wanted to start a third party, called the Patriot Party, to put pressure on Senate Republicans and force them to acquit him in the upcoming impeachment trial.
However, he has realized that most Republicans probably won't vote to convict him anyway. In addition, aides explained to Trump that he would not be able to primary lawmakers who wronged him if he started the Patriot Party, according to the reporter.
Looks like the Patriot Party has filed docs Donald J. Trump for president, Inc. with the FEC https://t.co/6Xi2h1q7t5 pic.twitter.com/DqNcPxZBpQ

— Outspoken™️ (@Out5p0ken) January 24, 2021
Clear as mud since nominees need to be approved, and will there be witnesses even as Trump might want to testify in order to showboat for more grifting.
Senate Majority Leader Chuck Schumer (D-NY) let Sen. Mitch McConnell (R-KY) know that he won't have a role in controlling the impeachment trial for President Donald Trump. https://t.co/e8sViryD20

— Ladyred #VetsResistSupportSquadron (@ladyred1956) January 25, 2021
Ever since Rand Paul went to Russia to carry a private letter from trump to Putin and hung out there for a few weeks, I wonder whose side he's on. Do you trust him?

— Thomas Kaine (@thomaskaine5) January 24, 2021
https://twitter.com/marceelias/status/1353386215802888200?ref_src=twsrc%5Etfw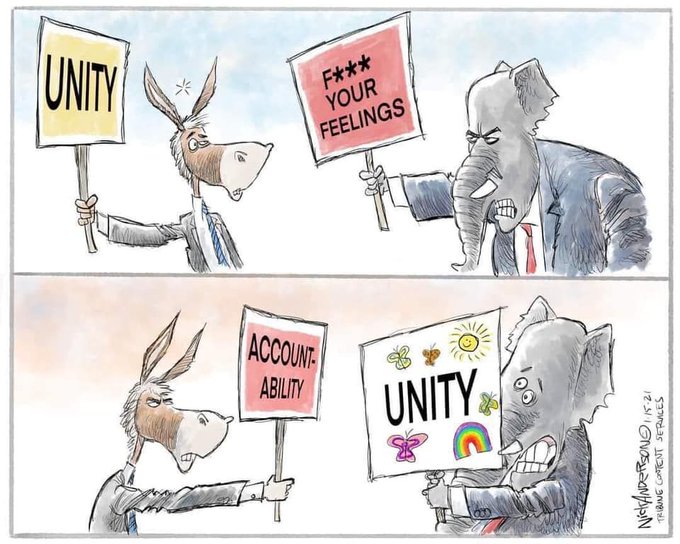 👋 @tedcruz ⁦@RandPaul ⁦⁦@MikeLeeforUtah⁩ ⁦@GOPLeader⁩ ⁦@DevinNunes⁩ ⁦@mattgaetz⁩ – Every Deleted Parler Post, Many With Users' Location Data, Has Been Archived… https://t.co/G85a8ie74p

— Venture Capital (@kelly2277) January 17, 2021