Grand Jury now convened by Cy Vance, as shoes begin to drop
Slowly we turn, step by step, and the shoes will drop in the coming months regardless of the maneuvering in Congress. Procedure, process, and practice continue as evidence accumulates and the predicted timelines make more sense. The show goes on and even Broadway will be back in NYC.
Manhattan DA Cyrus Vance has convened a grand jury in his criminal probe of Trump, suggesting that "Vance believes he has found evidence of a crime — if not by Trump then by someone potentially close to him or by his company," per WaPo.@highbrow_nobrowhttps://t.co/LEeVZhy3iK

— Ale (@aliasvaughn) May 25, 2021
Manhattan's district attorney has convened the grand jury that is expected to decide whether to indict former president Donald Trump, other executives at his company or the business itself should prosecutors present the panel with criminal charges, according to two people familiar with the development.

The panel was convened recently and will sit three days a week for six months. It is likely to hear several matters — not just the Trump case ­— during the duration of its term, which is longer than a traditional New York state grand-jury assignment, these people said. Like others, they spoke on the condition of anonymity to discuss an ongoing investigation. Generally, special grand juries such as this one are convened to participate in long-term matters rather than to hear evidence of crimes charged routinely.

The move indicates that District Attorney Cyrus R. Vance Jr.'s investigation of the former president and his business has reached an advanced stage after more than two years. It suggests, too, that Vance believes he has found evidence of a crime — if not by Trump then by someone potentially close to him or by his company.
"Where's my Roy Cohn?"

— Michael Beschloss (@BeschlossDC) May 25, 2021
1/ Today the @washingtonpost reported that Manhattan DA Cy Vance has convened a grand jury and that this grand jury may eventually consider whether to indict Trump and/or his associates or businesses.
washingtonpost.com/national-secur…
2/ A grand jury is just a group of ordinary people chosen at random who hear evidence presented to them by prosecutors.
Prosecutors have the authority to issue subpoenas for documents and testimony as part of their grand jury investigation.
3/ The mere fact that a special grand jury was empaneled does not mean that any particular person will be charged. It does not necessarily mean that Trump himself will be charged.
But it is fair to say that Vance's investigation is far along and that charges are on the horizon.
4/ This is the second sign in recent days that Vance's investigation has entered the home stretch.
Recently, NY AG Tish James announced that her office would investigate Trump "along" with the Manhattan DA. This just means that some of her staff are joining the DA's effort.
5/ Reports suggest that the investigation is expansive and includes potential tax charges and false statements in financial statements.
This is consistent with reports that Vance is investigating others within the Trump Organization, such as long-time CFO Allen Weisselberg.
6/ Whenever I investigated tax or fraud cases, the case came down to whether we had sufficient proof of the defendant's knowledge of the false statements contained in the documents.
That state of mind is what distinguishes fraud from a mere mistake. A slip-up is not fraud.
7/ Fraud is just when you lie to people to get their money. So the case usually comes down to whether the defendant knew the statements in the documents were false.
It's easier to prove knowledge for people involved in preparing or authorizing the documents, like Weisselberg.
8/ So don't be surprised if people like Weisselberg are their initial target, to induce him or others to flip.
Someone like Trump or his children will only have liability if they knew of the false statements and participated in the scheme in some way or moved it forward somehow.
9/ It looks like the DA is moving quickly, and today's announcement and the AG's recent decision to publicly join the criminal investigation suggests the investigation is in an advanced stage.
But charges could be months away, and we don't know who will be named first. /end
How long before Trump claims the Trump Organization was run by his children and he had nothing to do with it?

— Christopher Bouzy (@cbouzy) May 25, 2021
ABJ revealed memo says Trump's actions posed hypothetically would not amount to criminal obstruction. Having full bad analysis come out now would damage a future prosecution of Trump and also other cases. Buys him time. Helps that Barr and his team are discredited by judge.

2/2

— Jennifer Taub 🌻 🇺🇸 (@jentaub) May 25, 2021
Pretty soon we'll start hearing Trump say "You better not indict me or I'll run in 2024 out of spite — and make my indictment a badge of honor!" He's a steaming tower of spite and revenge. "Make America Growl Again" = his real MAGA motto. Don't let him hold u hostage! Dump Trump!

— Laurence Tribe (@tribelaw) May 24, 2021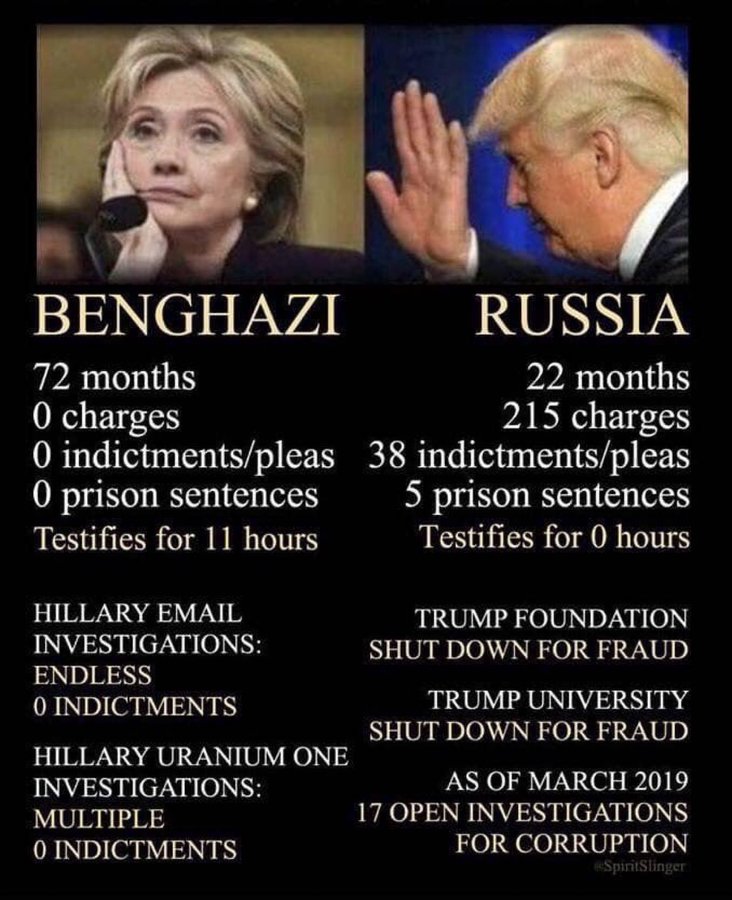 Benghazi:
👉950 days
👉0 indictments, 0 charges

Mueller:
👉674 days
👉37 indictments, 199 charges
👉14 Investigations spawned & still ongoing

Maybe this is why the GOP is #AntiInvestigation?

And bringing this back up👇🏼https://t.co/8MdiaXPi4h

— just thinking (@isawthesethings) May 20, 2021