even with secret pardons, Trump will get cut off by someone
More will be revealed now that Trump is out of power and Congress is moving quickly to the second impeachment as the trial begins 8 February. Lawfare ahead, getting medieval again.
They won't! Nor will the Kremlin (same thing.) Unless he and his sycophants are prosecuted they will continue to be useful weapons

— Olga Lautman 🇺🇦 (@OlgaNYC1211) January 23, 2021
Nobody knows for certain whether a secret pardon would be upheld in court because it has never been tested, writes Jeffrey Crouch https://t.co/0ajdVVKkRT

— Washington Post Opinions (@PostOpinions) January 23, 2021
Donald Trump left office with a spree of last-minute pardons, but is it possible there are more? Did the norm-breaking president break one more on his way out the door, issuing pardons in secret to his friends, family or even himself, break-in-case-of-emergency documents to be produced if necessary? If so, that would be a legally dubious step, inconsistent with the pardon power.
If Trump prepared pardons without telling anyone, he probably saw them as a way to satisfy two competing goals: avoiding offending Republican senators who could still vote to convict him in his impeachment trial and having a hidden defense ready if the Biden Justice Department proceeds against Trump or those close to him. Keeping the pardons quiet unless they are needed would also prevent Trump 
from appearing to dare the Justice Department to challenge a self-pardon
, if he went that unprecedented route.
Nobody knows for certain whether a secret pardon would be upheld in court because it has never been tested. However, the pardon power as imagined by the Constitution's framers is checked by the ballot box, impeachment and the judgment of history. How can a president be made answerable for decisions that no one knows about?
In the heat of Watergate, The Post reported that "there is nothing in the federal regulations that requires public notification," paraphrasing Lawrence M. Traylor, the pardon attorney at the Justice Department. "The president could present himself with a written pardon during the next months, date it and quietly deposit it in a trust vault — ready to be pulled as a defense or waiver at any subsequent trial," The Post noted, according to Traylor.
This view has gained traction recently. Rep. Raja Krishnamoorthi (D-Ill.) 
recently
reintroduced the Presidential Pardon Transparency Act, a bill to prevent a president from issuing a secret pardon, and others have warned that Trump might have the power to do so.
www.washingtonpost.com/…
The Pardon Power was never designed in the way that Donald Trump is using it. That's why I've introduced legislation to prevent secret pardons. https://t.co/iYiKl7foMO

— Congressman Raja Krishnamoorthi (@CongressmanRaja) January 19, 2021
I think secret pardons are constitutionally dubious (since the whole reason the pardon power is virtually unlimited is because Presidents are publicly accountable for them). But here it doesn't matter, even if Trump tried secret pardons, Biden could make them public the next day. https://t.co/Mae4GwfPcU

— Neal Katyal (@neal_katyal) January 19, 2021
I think pocket (secret) pardons are reprehensible but there is no legal requirement of which I am aware that they be made public in order to be valid. https://t.co/kxh6f5zihX

— Glenn Kirschner (@glennkirschner2) January 19, 2021
Reports that Cipollone and others told Trump he should not pardon himself, his family or any GOP lawmakers in a prospective manner UNLESS HE WAS PREPARED TO LIST SPECIFIC CRIMES. i.e they understand the legal vulnerability of a "blanket" pardon for any and all crimes.

— Harry Litman (@harrylitman) January 19, 2021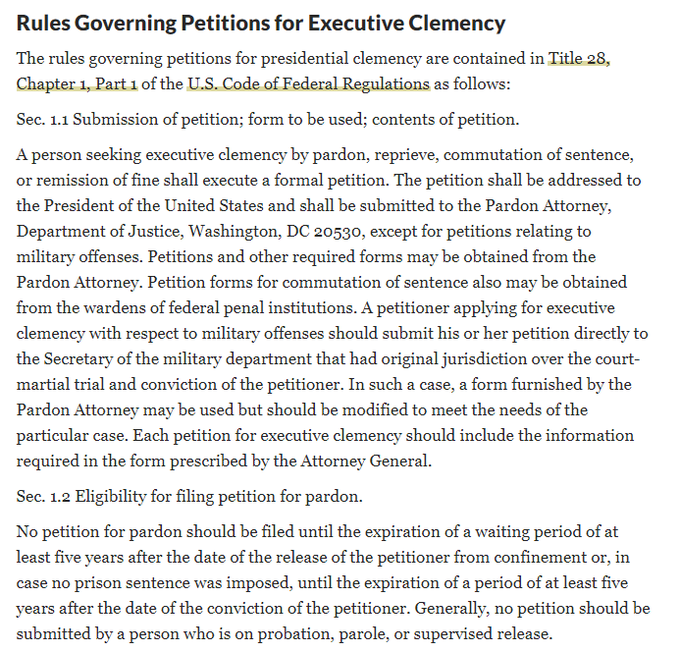 This is so awesome. Trump's lawyers incompetence overwhelmed Trump's corruption, so now pardons for Manafort etc not enough to prevent their prosecution. https://t.co/NfLIqJXCHY

— Neal Katyal (@neal_katyal) January 23, 2021
Of course Trump's pardons are preposterous, but please spare us the shock and outrage. He did not invent this practice, but by taking it to extremes he has once again revealed the almost mediaeval nature of presidential power in the US.
The problem is the system.

— George Monbiot (@GeorgeMonbiot) January 20, 2021
Trump may not have pardoned his kids, but he made sure to pardon the Russian mob sports betting operation that took up an entire floor of Trump Tower. https://t.co/mcX0JXGhQ0

— Eric Garland (@ericgarland) January 20, 2021
Former Google engineer Anthony Levandowski, found guilty of what one judge called the "biggest trade secret crime I have ever seen"https://t.co/QThkv53SwC

— Jake Tapper (@jaketapper) January 20, 2021